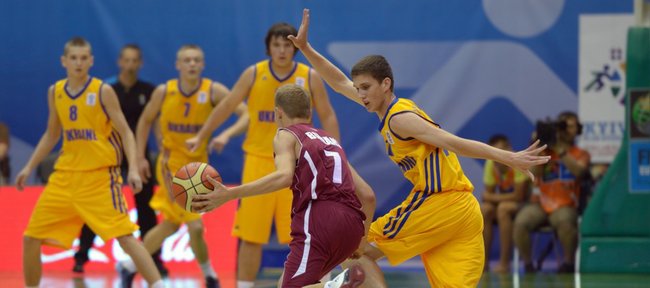 Incoming Kansas University freshman Sviatoslav Mykhailiuk was named most valuable player of the Under 18 European championship Div. B basketball tournament on Sunday in Sofia, Bulgaria.
The 6-foot-8 guard, who averaged 16.0 points in nine games, scored eight points off 3-of-8 shooting in Ukraine's 64-40 loss to Germany in Sunday's final.
Mykhailiuk, who went 0-for-3 from three, also had four rebounds, two steals, five turnovers and no assists in 30 minutes.
For the tournament, Mykhailiuk hit 51 of 122 shots for 41.8 percent. He cashed 13 of 50 threes for 26 percent. He also averaged 4.7 rebounds, 2.0 steals, 1.1 assists and 3.2 turnovers.
Mykhailiuk scored a tourney-high 22 points against Finland and also scored 21 against Bulgaria, 19 against Portugal and 17 against both Denmark and Sweden. By reaching the finals, Ukraine (7-2) booked a spot in Division A for next summer.
Mykhailiuk is slated to begin practicing with Ukraine's World Cup team. If he doesn't make the team, he'll likely be on KU's campus later this month or early September.
Oubre plays: KU freshman Kelly Oubre, who has been battling an ankle sprain the past few weeks, returned to the court over the weekend at adidas Nations in Los Angeles.
Oubre scored 20 points, hitting six of seven three-pointers, in leading his camp-counselors team to an overtime victory in one game Sunday.
"High-level matchup this morning at adidasnations between Stanley Johnson and Kelly Oubre. Both guys going very hard, playing extremely well," tweeted Jonathan Givony of draftexpress.com.
"Kelly Oubre just hit a jumper on Stanley Johnson and as they came to other end told him, 'You're gonna have to come up on me,'" tweeted Nima Zarrabi of Slam Magazine and Hoopshype.
Wiggins not worried: Former KU guard Andrew Wiggins isn't stressing over rumors that he will soon be traded from Cleveland to Minnesota.
"I just want to play for a team that wants me. So whichever team wants me, I'll play for," Wiggins said Sunday on ESPN.
"Right now, I'm just taking it day by day. What happens in the future, happens. I can't control nothing. It's out of my hands. At the end of the day, you've got to remember the NBA is a business before anything so I'm just waiting to hear. I'm a rookie. I don't really have too much say."
Asked how he avoids feeling frustrated, he said: "You can't take it personal. You can't be listening to everything everyone says. You've just got to listen to the people that really know what's going on, your agent, the GM on the team, the coaches on the team. You can't really listen to the outside sources."
Camp coming to SM West: Wiggins and KU coach Bill Self will host a youth basketball camp Saturday and Sunday at Shawnee Mission West High. Camp will be held from 9 a.m. to noon for boys and girls grades 1 through 5 and 1 to 4 p.m. for grades 6 through 12. Self and Wiggins will direct the event and be joined by a selection of high school and college coaches from the area. Registration and more information is available at BillSelfCamp.com.
Joel talks: Former KU center Joel Embiid did a lighthearted interview with ESPN on Sunday, mostly talking about his Twitter account.
"I would say when I get on the court, I am another man. I don't laugh. I don't play. Off the court, I am goofy," said Embiid, No. 3 overall pick in the 2014 NBA Draft by Philadelphia.
"At Kansas, I kind of did it (had fun on Twitter). The Kansas fans know because they were the ones following me."
He said he's recovering nicely from foot surgery.
"I'll be meeting with the doctor every week. It's good news. I've been resting. It's been great," Embiid said. "I think I'll be back 100 percent (as soon as February). I've got to focus on my rehab. Once I'm done, I want to help my team. I have great teammates. Philadelphia is building a great team. It's great."
Recruiting: Allonzo Trier, a 6-3 combo guard from Findlay Prep in Henderson, Nevada, has orally committed to Arizona. He's ranked No. 12 in the Class of 2015 by Rivals.com. He had KU, Georgetown, Oklahoma, Oklahoma State, SMU and many others on his list.
"As good a scorer as there is in the class of 2015, Trier can bomb away from deep, gets to the free throw line and is perhaps underrated as a playmaker for others because of his scoring. He sees lots of opportunity in Tucson," writes Eric Bossi of Rivals.com.
Trier told Bossi: "They are probably going to lose a lot to the draft after this season. They feel I can come in and be the type of player I already am and make plays. They will move me around so the defense can't focus on me so much. They will utilize me in the best way to use my talent and make the talent the most successful."
Donovan Mitchell, a 6-2 senior combo guard who is ranked No. 101 nationally, has cut his list to five: Louisville, Villanova, Boston College, Providence and Florida State. KU was on his original list of schools.