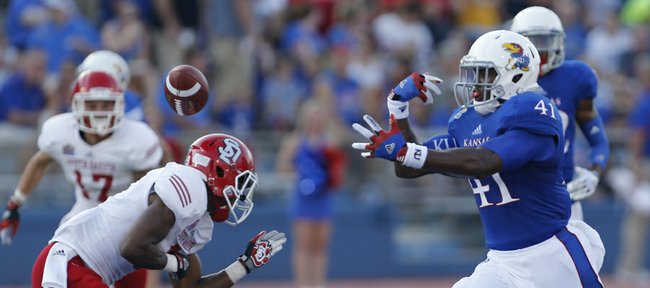 Four years ago, Jimmay Mundine arrived in Lawrence just hoping to carve out a niche for himself on the Kansas University football roster. Never did it go through his head he would turn into a starting tight end, let alone one with his name on the John Mackey Award watch list, as a senior.
Some 400 miles away from his hometown of Denison, Texas, the rookie had speed and athleticism, sure, but that was about it.
"The older tight ends, they were good at the blocking drills, they were doing all of that," Mundine recalled. "And I was just really good at routes and struggling at blocking."
Raw skill carried him in high school, but he didn't want to blow his shot at Big 12 football. Mundine knew he couldn't stay one-dimensional, and got to work.
At his core, he might still feel like that small-town kid from the Lone Star State. But he always believed in himself, even when others deemed some of his football goals unattainable.
"In my head," Mundine shared, "I'm thinking the whole time, 'I know I can do this.'"
Gradually, through his redshirt season in 2010 and first two years of playing on Saturdays for KU, his overall technique advanced. Yet, Mundine remained unsatisfied with his progress. Heading into his junior season, he zeroed in on blocking the point of attack, handling his man and maintaining his blocks.
Only later, after 20 receptions and five touchdowns in 2013, did Mundine realize he had obsessed over the art of blocking so much. In a way, he had neglected the skills that brought him to Kansas. A fifth-year senior, the tight end again concluded one serious facet of his game lagged behind another.
"I feel like the blocking part I've gotten a lot better at and can continue to get better at," Mundine said, "but I just want to be able to be there for my team, as far as making plays on third-and-short and being able to let them know I'm gonna make the play."
Junior-year drops kept him from transforming into the total package he aspired to be, so this summer — while still working on all the things players would prefer to ignore (see: getting down in a three-point stance) — he has lived by three words: catch the ball.

KU's JUGS machine, which fires footballs skyward, became his best friend, even if it created a few enemies for him in the process. Each day, Mundine catches at least 150 automated passes. Some days he goes for 400. On others, 1,000. One day, after hauling in 600 passes with the help of an assistant strength coach, his collaborator declared: "I'm not shooting any more balls."
If one helper turned him down, the resolute tight end would find another. It became almost impossible for KU tight ends coach Jeff Blasko to text Mundine, "catch the ball," without the senior responding, "I already caught 150 today."
Mundine not only appreciates that relationship, but also feels it helped him grow up.
Kansas head coach Charlie Weis has noticed Mundine's progress, and predicted the tight end will reveal himself as an "integral" component of the Jayhawks' offense this season.
"And I think with the change of offensive philosophies that we're going through this year, going more to a spread mentality," Weis said, referring to the arrival of offensive coordinator John Reagan, "I think the tight end position gets accented even more than in the offense I've been used to running."
The 6-foot-2, 240-pound senior sometimes can't believe he is still playing the game he loves. A lot of friends he grew up competing with and against are through with football. Mundine, who already has his bachelor's degree in communication studies, has one season left as a Jayhawk. He would like to leave having helped make Kansas football relevant again, and said he can do that by not dropping passes and being the all-around player he has labored so long to become.
"Now I have way more confidence," Mundine said. "I'll line up against anyone, and I believe that I can win now."