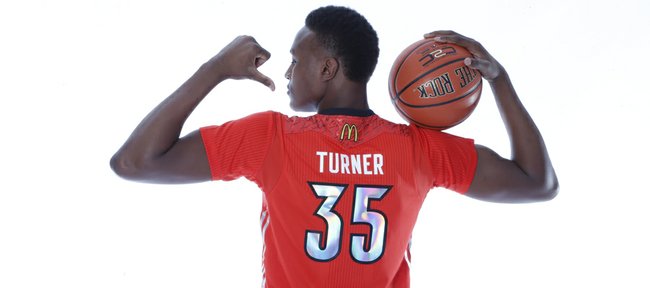 Reader poll
KU will be a top-5 team.

24%

216 votes

KU will rank among the top 10 in the nation.

53%

463 votes

KU will be ranked somewhere between 11th and 25th

19%

169 votes

KU won't be a top-25 team.

1%

17 votes
865 total votes.
Myles Turner, a 6-foot-11, 225-pound senior center from Trinity High in Euless, Texas, today announced plans to play college basketball at the University of Texas.
Turner, who is Rivals.com's No. 9-rated player in the recruiting Class of 2014 and the country's second-ranked center, chose Texas over Kansas University, SMU, Oklahoma State, Ohio State, Duke and Texas A&M.; He made his announcement on ESPNU.
"I will be pursuing my education and be a part of the men's basketball program at… the University of Texas, baby," Turner said. "Hook 'em!"
Staying in state, he explained, was a big part of his choice.
"I'm happy to be a Texan," Turner said on the live broadcast. "Always been a Texan my whole life."
Turner, who has range past the three-point line, averaged 18.1 points, 12.2 rebounds, 6.8 blocks and 3.5 assists per game his senior season.
Podcast episode
Tom Keegan and Matt Tait react to standout prep center Myles Turner picking Texas over Kansas in the latest men's basketball recruiting battle.
He scored seven points and grabbed seven rebounds in the East's 105-102 loss to the West in the McDonald's All-America game. He knocked down his only three-point attempt in the game after finishing fourth in the three-point contest the night before.
Turner scored two points and had three rebounds while playing eight minutes in Team USA's 84-73 win over the World Select team in the recent Nike Hoops Summit. He missed the Jordan Brand Classic because of a foot injury.
Of Turner, the Dallas Morning News' Corbett Smith wrote: "He might be the most skilled high school big man in the country while facing the basket. A good ball-handler for his size, with solid footwork, a fluid outside shooting stroke, and ability to use either hand while in the post, Turner's skills are tailored for the college and professional level."
Smith added in a recent article on Turner ... "Defensively, there's no question that Turner can dominate at the high school level. With long arms and good athleticism, he's a natural shot blocker — deterring all but the strong-willed from a trip to the rim."
Turner stood 6-foot-2 his freshman year, but then had a quick 4-inch growth spurt prior to his soph season. Pretty much an unknown, he emerged in the summer of 2013 playing for Texas Select AAU. Unranked starting the summer, he moved to No. 6 by Rivals.com by the end of the summer season. He dipped to nine in Rivals' final rankings.
Turner drew high marks at various camps, including LeBron James, Nike Big Man Skills Academy, and Adidas Nations.
"He's taken an unusual route to get to where he's at — completely unknown to where he is now," Turner's dad, David, told the Morning News. "He's blue-collared his way there."
Coach coach Mark Villines told the Morning News: "As a coach, I don't want him coming down and standing on the block all the time. Obviously, that's where we can take advantage of him, but he does so many other things well. He pick-and-pops, he can shoot the 3. Percentage-wise, he's our best 3-point shooter."