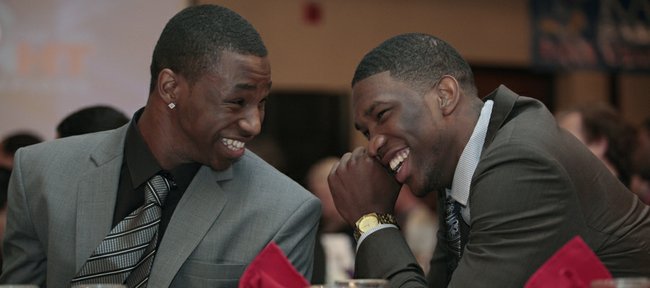 Kansas University freshman guard Andrew Wiggins was named winner of the 2014 Danny Manning "Mr. Jayhawk" Award, for contributions on and off the court, at the conclusion of Tuesday night's postseason awards banquet held before 660 fans at the Lawrence Holiday Inn.
"I think you could make a case for Wayne (Selden), Perry (Ellis), Tarik (Black), but when you really break it down, he's the best player on a Big 12 championship team that has probably brought as much exposure to this school in a positive way as anybody ever has," KU coach Bill Self said.
"He'll win a lot of awards moving forward (in NBA). Hopefully this is one he'll always remember."
Wiggins, who confirmed he has signed with agent Bill Duffy, felt "blessed to receive this honor."
"It's an amazing award. I'm honored to get it amongst the names (who won in past) and the legacy of Danny Manning," Wiggins said.
Embiid has nice suit: KU freshman Joel Embiid confirmed he has signed with agent Arn Tellem of Wasserman Group. Self kidded Embiid about the expensive suit Embiid purchased on a recent trip to Los Angeles.
"I was trying to say the suit I got from KU (student assistance fund) wasn't long enough," Embiid said with a smile.
Embiid said he enjoyed reliving memories of his one-and-done season.
"I was just watching the (season highlight) video earlier. I wish I could come back, but it's too late right now," Embiid said.
Selden has procedure: KU freshman guard Wayne Selden had a "very minor" surgical procedure on his left knee at the conclusion of the season, Self reported Tuesday.
"He was playing on a bad wheel all year," Self said. "He'll be fine going into the summer, 100 percent. I think we'll see him become even more explosive."
Self said Selden hurt the knee at the "beginning of the year, one of those nagging things you have to deal with. He never complained once. You could tell he didn't have the same pop as he did in August and September."
Self said Selden would probably be held out of contact drills and pick-up games for "a week or two."
Ellis returning: Self asked sophomore Perry Ellis during the banquet if he was returning or entering the NBA Draft.
"Perry are you coming back?" Self said.
"Yes," Ellis responded.
Self indicated Ellis has been getting a lot of social-media questions about his future and wanted to clear it up at the banquet.
Tharpe in Massachusetts for funeral: KU junior Naadir Tharpe did not attend. His grandfather died Thursday in Massachusetts, and memorial services are today, Self said. Tharpe will be back in Lawrence tonight.
"He's had an interesting offseason," Self acknowledged of Tharpe getting in trouble for having a risqué picture posted on social media. "But he is not here because of that (death in family). He said one of his biggest regrets is not being able to be with you (fans) tonight."
No Portsmouth: Senior Tarik Black is skipping the Portsmouth Invitational for NBA prospects after spraining an ankle. "I'm not 100 percent. I'll start preparing (soon) for individual team workouts," Black said. He indicated he's being represented by Mike Lelchitski of Sports International Group, Inc., in Washington, D.C.
Mickelson a force: Self spoke on the progress of transfer Hunter Mickelson, a 6-foot-10, 245-pound junior-to-be from the University of Arkansas who will be eligible to play in games next season. "He can shoot the ball," Self said. "He can score. He's good. Any time you have a tall guy who can shoot, it's hard for guys (defenders) to deal with. We're excited to have him."
Coursework finished: Self said Wiggins and Embiid have completed their coursework for the semester. "They have fulfilled their academic responsibilities by today," he said. "If they decide to stay the rest of the semester, that's great. If their agent says they want 'em to go to California to work out, that's great. We know we've got that covered so that won't impact our APR."
Eat up, athletes: The NCAA passed a rule Tuesday allowing schools to pay for all athletes' meals.
"Kids can eat $20 worth of food everywhere they go. For us to remove that from the situation (scholarship checks) will be a good thing," Self said.
Pro football?: Senior Justin Wesley is considering playing pro football in Australia. "He got an e-mail saying, 'I hear you can jump and all that. Would you consider doing this football deal?'" Self said. "He (Wesley) said it's about winning possessions (to start the match). They throw the ball up, and you jump for the possession. I told Justin, 'If they pay what you say they are going to pay, move to Australia.'"
Not finished yet: Self said KU could still sign one or two players in recruiting. The Jayhawks are in the running for Myles Turner, 6-foot-11 from Euless, Texas, and Devonte Graham, 6-2 out of Raleigh, N.C. Graham announced he's down to KU, Providence, North Carolina State, Virginia and Virginia Tech.
Of next year's team, which already includes newcomers Cliff Alexander and Kelly Oubre, Self said: "We have enough players to make a run next year."
He said the team could be better than this year's "if things fall right."