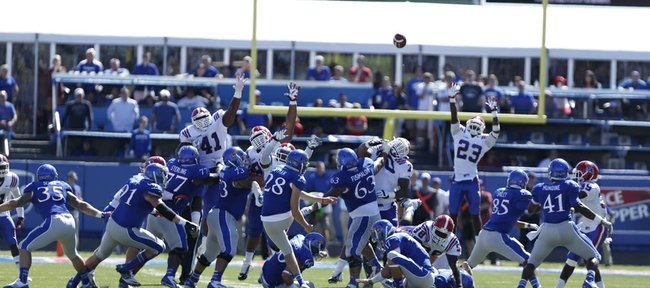 KU punter Trevor Pardula and place kicker Matthew Wyman were honored on Monday for their roles in KU's 13-10 victory against Louisiana Tech last Saturday.
Wyman, a walk-on who hit a 52-yard field goal as time expired to give Kansas the victory, was named one of three Lou Groza Collegiate Place-Kicker Award "Stars of the Week" on Monday.
KU coach Charlie Weis said Monday morning on the Big 12 coaches conference call that he gave some thought to turning to Pardula's big leg to try the game-winner, but went with Wyman because of his performance in practice.
"In that range in practice, Matt's been very consistent from about that range," Weis said. "He's made 80 percent of his kicks from that range. Pardula can kick one from 60 yards if he really had to, it's just that his accuracy vs. Matt's accuracy is not close."
While Wyman won the game with his clutch kick, Pardula, a transfer from St. Anza College in California, was named the Big 12 special teams player of the week for his efforts during last Saturday's 13-10 victory against Louisiana Tech.
Pardula set a school record with a 57.6-yard average on five punts and pinned three inside the 20, with two landing inside the 10.