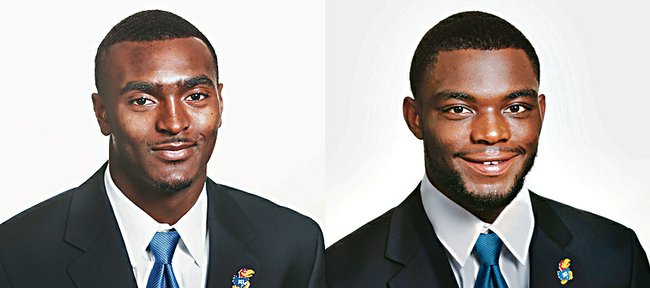 During the 2011 season, one of the best battles on the Kansas University football practice field featured a couple of freshmen in the passing game.
Maybe it was just chance or perhaps that was how each rookie came up in the rotation, but then-wide receiver JaCorey Shepherd and cornerback Dexter McDonald found themselves locked in one-on-one battles throughout their first season in Lawrence.
A lot has changed since then. Shepherd has been moved to cornerback, where he currently starts opposite McDonald, who returned to KU after spending the 2012 season tightening up his academics and his skills in junior college.
As freshmen, neither player could have imagined things would play out the way they have, but now that the two have become partners in the same backfield instead of contenders for catches, everything seems to have fallen into place perfectly, and KU's starting corners feed off of each other's success.
"I remember those battles," McDonald said of checking Shepherd in 2011. "I just remember how quick he was and how athletic he was, so I'm not surprised that he's doing well at cornerback."
The 6-foot-1, 200-pound McDonald, who teammates say succeeds because of his physicality, got his second stint at KU off on a good note with two pass break-ups in the season-opener. He added three more PBUs and an interception in the loss to Rice and leads the Big 12 in pass break-ups despite playing one fewer game than most of the guys on the leader board.
"I knew from the beginning that he was a great player," Shepherd said of McDonald. "He was one of the toughest DBs to go against then, and, now, playing on the opposite side of him actually helps me a lot. It makes me want to boost my level because I don't want to be in his shadow. I want to be just as good."
McDonald said the same is true for him with Shepherd, who responded to his teammate's great start with a three break-ups of his own against Rice.
"We definitely have a competitive group in the secondary," McDonald said. "Neither one of us wants to steal each other's shine, but when you can see that the other corner on the other side is keeping up with his man, it makes you want to do the same. You have that attitude of, I want to make plays all the time, as well."
KU coach Charlie Weis praised the start of both KU cornerbacks and said communication throughout the secondary had helped both players tremendously.
"Let's start with JaCorey," Weis said. "He's been listening to Campo now for another year. (He was) an offensive player playing corner, now he's a corner playing corner. And I think Dexter has big-time ability. He's been good, he's been really good. I think he's a big-time player. I really do."
Motivational moves
KU quarterback Jake Heaps said many of the players who were demoted on this week's depth chart have used the change as motivation and that guys like tight end Jimmay Mundine and wide receiver Justin McCay have remained positive and worked hard throughout the week leading up to Saturday's 11 a.m. kickoff against Louisiana Tech.
"I think it's lit a fire under all of them," Heaps said. "And that's exactly what you're looking for. You're looking for a team that is motivated and (ticked) off, and I think we're all (ticked) off about how (last) Saturday went, and we're looking to show everybody that that's not the kind of team we plan on being."
D-end picks Kansas
Austin Stevens, a 6-4, 245-pound defensive end from Montclair (N.J.) High, orally committed to KU on Thursday, according to JayhawkSlant.com.
Stevens, a two-star prospect, chose KU over offers from Boston College, Buffalo, UMass, Rutgers and Temple. He becomes the eighth player in the Class of 2014 to commit to Kansas, joining offensive linemen Jacob Bragg and Apa Visinia, Free State High safety Joe Dineen, defensive back Andre Maloney, wide receiver Tyler Patrick, linebacker Kyron Watson and running back Traevohn Wrench.