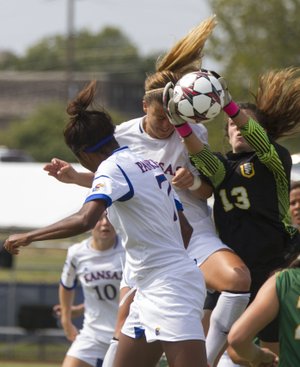 San Francisco's Kelsey Moe corralled a corner kick that ricocheted off the cross bar and put it in the net Sunday to send Kansas University to its third straight soccer setback.
The goal lifted the Dons to a 1-0 victory at the Jayhawk Soccer Complex.
KU fell to 3-4-1, while the Dons moved to 5-2-0.
Kansas outshot USF 11-2 in the second half, with four attempts on goal, but USF collected the game's only goal in the 38th minute. Katherin Woodrum's corner kick bounced off the KU goal's crossbar and appeared to have gone out of play. But the ball rolled back into the field, and Moe punched it in for her first goal of the year.
Kansas had 19 shots, eight on goal. USF took 12 shots, with four on goal.
Following the Kansas Invitational's final match, the four participating teams' coaches voted for the All-Tournament team. Jayhawk defenders Tayler Estrada and Madi Hillis earned spots and were joined by Halle Bissin (San Francisco), Mariah Butera (San Diego), Taylor Housley (San Diego), Jordan Jackson (Nebraska), Jaycie Johnson (Nebraska), Caitlyn Kretzschmar (San Diego), Jaciara Mello (San Francisco), Ari Romero (Nebraska) and Ali Schaffer (San Francisco).
KU will travel Friday to South Dakota State.