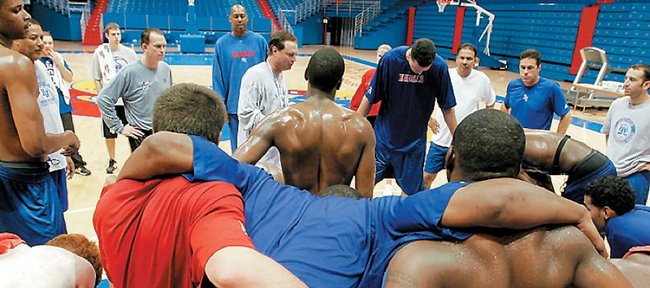 When Kansas University's basketball veterans or past players want to see a Jayhawk newcomer squirm, they tell the rookies tall tales about Bill Self's Basketball Boot Camp.
"I've heard a lot of things from alumni to the current guys. They said it's not going to be easy, but it's something that makes you tougher. I really want to partake in it," KU freshman guard Wayne Selden Jr. said.
He gets his wish today through Friday as 18 Jayhawk players join their coaches and team managers for conditioning 6-7 a.m. in Allen Fieldhouse and the team's practice gym.
"I have heard about it throughout the years," said KU freshman guard Conner Frankamp, a graduate of Wichita North. "I'm ready for it, I think. It'll be good."
The 6-foot, 165-pound Frankamp is known for his own grueling individual workouts with his dad, Marty, throughout the years.
"They say it's tough," Frankamp said of players' words of warning concerning Boot Camp, which 11th-year KU coach Self has held here as well as his other stops — Oral Roberts, Tulsa and Illinois.
"They say to push through it. Once you get through the first couple of days, you are good to go from there," Frankamp added.
KU's veterans, who may rattle the nerves of the wide-eyed newcomers before Boot Camp, encourage them during the grueling workouts, which include sprints, defensive slides and backboard touches — non-stop movement without a basketball for about an hour.
"I wouldn't say I've warned them. Boot Camp is only a week this year. That's all I say to them," KU junior guard Naadir Tharpe said.
Self has cut Boot Camp from the usual two weeks to one this year because he doesn't want to wear out his players during an excessively long season. The NCAA is allowing the start of practice on Sept. 27 rather than the usual Friday closest to Oct. 15.
"It's only a week. That's what makes it scary," Tharpe added, knowing Self will make sure to test the mental and physical limits of his troops with only five days on the docket instead of the usual nine or 10.
"I mean, I don't know if I want to say, 'Hey, it's a good thing we're not doing two weeks.' I really don't know what to expect with one week," senior forward Justin Wesley said. "It can be either good, or it can be bad. We'll see."
"That's good," Selden said, asked about the one-week Boot Camp.
"All the alumni are kind of mad at that," he added with a smile.
Wesley, who ran track in middle school, has some words of wisdom for the six freshmen and two transfers going through Boot Camp for the first time.
"Just come in ready to work, just keep pushing. No matter how hard it gets, know we are all in it as a team, and we're going to finish as a team and have fun with it," Wesley said. "I think they'll do fine. We've got a good group of new guys coming in. I think they'll be ready for it and take it well."
Self said he never considered canceling Boot Camp this year.
"It provides leadership, unity and toughness," he said, whether it's one week or two. "All it is is convince your body you can do things you didn't think you could do."
Tharpe compares it to the camaraderie he experienced at his prep school, Brewster Academy.
"Coach Jason Smith had us waking up at 6 in the morning to go and do workouts. He basically nurtured me when it came time for Kansas," Tharpe said. "I'm looking forward to it. We'll all come in with the attitude to work hard. It will be tough at times, Boot Camp, but that's why we have this team. We are all going to work together."
Lyle likes KU: It looks as if KU will be a serious player for JaQuan Lyle, a 6-5 senior guard from Huntington (W.Va.) Prep (originally from Evansville, Ind.), who on Saturday said he was decommitting from Louisville. Lyle, ranked No. 22 nationally by Rivals.com, tells ESPN.com he has spoken with Indiana and UConn. He said KU, Memphis, Arizona, Baylor have also expressed interest.
He told ESPN he'd have a difficult time turning one school down.
"It would probably be Kansas," Lyle said. "I like them a lot, and me and coach Howard (Jerrance, KU) had a relationship at Illinois and also when he was at SMU."
Lyle is good friends with No. 4-rated Cliff Alexander, 6-8 from Chicago Curie who will visit KU for the Oct. 4 Late Night in the Phog. On Sunday, Alexander said on Twitter that he and Lyle would be "playing college basketball together." Alexander is considering KU, Illinois, Arizona, DePaul, Memphis, Michigan State, Louisville and Kentucky. He's also close to KU assistant Howard.
Pope update: No. 17-rated Malik Pope, 6-8 senior from Laguna Creek High in Elk Grove, Calif., tells Rivals.com he will visit KU for Late Night, San Diego State on Sept. 21 and Gonzaga on Sept. 28. He's also considering Arizona, Baylor, Colorado, Georgetown, Louisville, UCLA, USC and others. Pope broke a bone in his leg near the end of his junior season and broke the same bone a couple weeks ago.