Photo Gallery
Kansas football v. Rice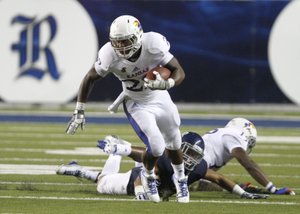 Images from Saturday's football game against Rice in Houston, Texas.
Podcast episode
Kansas coach Charlie Weis talks to reporters following the Jayhawks' 23-14 loss to Rice on Sept. 14, 2013.
Houston — Kansas University junior Ben Heeney was in no mood to talk following KU's 23-14 football loss to Rice on Saturday night at Rice Stadium.
And it's too bad, too, because Heeney had a game for the ages that included all kinds of big-time plays that the intense linebacker could have explained with much more passion had he not been so miffed about the outcome of the game.
Heeney's stat line, which included a career-high 15 tackles — 10 of which came in the first half — was good enough to fill up two games' worth of statistics for most players, but the Hutchinson native said his personal performance, which included a sack, 2.5 tackles for loss and a near interception, was no reason to celebrate an otherwise disappointing night.
"No," Heeney said. "We lost."
Asked why he thought the defense was able to put together such a solid performance against the experienced and talented Owls, Heeney was just as quiet.
"We played good," he said.
Asked where, he elaborated a little and again hinted at the disappointment stewing inside of him.
"We played pretty good everywhere, I thought," he said. "We just gotta finish the game as a team."
Heaps at a loss
KU quarterback Jake Heaps, who finished 13-of-28 for 157 yards and a touchdown in his second game as a Jayhawk, had no answer for why KU's passing offense struggled for the second consecutive week.
"I'm very surprised," he said. "If we can clean (the little) stuff up, we can really be a great team. We're very close. Offensively, it was a struggle tonight, and it wasn't very clean, and it's unfortunate."
Heaps was not the only one perplexed by the Jayhawks' inability to get much going in the passing game. Outside of Tony Pierson's four catches for 95 yards and a touchdown, the KU pass catchers managed just 10 catches for 75 yards, many of them not meaning much in the grand scheme of things.
"For the second week in a row, our passing game has been inadequate," KU coach Charlie Weis said. "Obviously, (Heaps) could get some more help. I don't know how many dropped balls again, but we dropped some big ones in this game. Those third-down conversions are drive killers just like those interceptions are."
There was one highlight — Pierson's 77-yard touchdown catch in the second quarter was KU's longest pass play since Todd Reesing connected with Marcus Henry for an 82-yard touchdown in November of 2007 during a victory over Oklahoma State.
Combs does not travel
KU junior Marquel Combs, who sat out last week's victory over South Dakota but was bumped up to second-string nose guard all by himself during practice this week, did not make the trip to Houston for Saturday's 23-14 loss to Rice.
This and that...
The Jayhawks lost the opening coin toss for the second week in a row, and Rice chose to receive the first-half kickoff. ... The Jayhawks are now 27-63-4 all-time against teams from Texas. ... KU picked up three more sacks — two from Michael Reynolds and one from Heeney — giving them five on the year, five fewer than the KU defense had all of last season. ... Temperature at kickoff was 88 degrees, under sunny skies with winds of 11 mph out of the southeast.