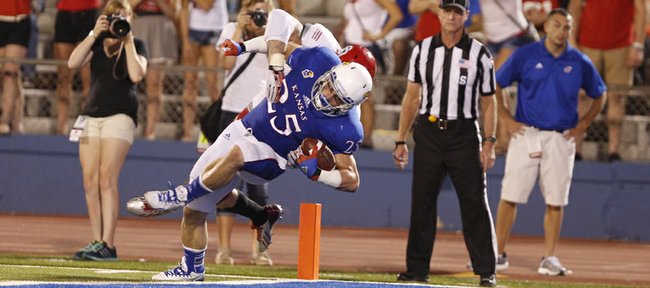 Photo Gallery
KU v. South Dakota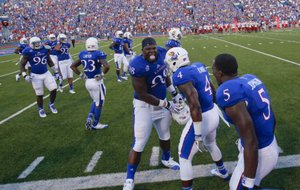 Images from Saturday's season opener against South Dakota at Memorial Stadium.
Podcast episode
Kansas coach Charlie Weis talks to reporter following the Jayhawks' 31-14 victory over South Dakota on Sept. 7, 2013.
After a half of trying to get the passing game going, a few drops and even that elusive touchdown reception by a Kansas University wide receiver, the Jayhawks turned to what they do best in the second half and ran right at visiting South Dakota to put the finishing touches on a 31-14 season-opening victory.
Leading just 14-7 at halftime, KU's new-look defense forced a three-and-out on the second half's opening series and the running backs took it from there, ripping off a 12-play, 71-yard drive that featured 12 straight runs from three different backs and was capped by senior James Sims' second touchdown of the night.
"We went in at halftime and said, 'Hey, fellas, we're just gonna run the ball down their throats and that's what we should be able to do,'" Weis said after KU's opener that drew a crowd of 41,920 to Memorial Stadium on a hot September night. "It was too close for a team that I thought should be controlling the line of scrimmage. So, offensively, I said, 'We're gonna go ram it down their throat.'"
That 12-play drive was representative of KU's entire night offensively, as Sims teamed with Darrian Miller, Tony Pierson and Taylor Cox to finish with 257 yards on 41 carries, a total that was only bolstered by junior Brandon Bourbon's two carries for 32 yards, which included an eight-yard touchdown run late.
Last year, week in and week out, it was Sims who did the heavy lifting for the Jayhawks, sometimes finishing with as many as 29 carries and an inevitable date with the cold tub after each game. Saturday, Sims tallied 94 yards and two touchdowns on a modest 16 carries. Instead of being down about his lighter workload, the senior was all smiles after the game.
"I feel less beat up," Sims said. "It's helpful. It changes the mentality and the way the offense is going. You can have a power back, a speed back. We bring different attributes to the field."
Miller, who carried five straight times for 50 yards on that 12-play touchdown drive, finished with 72 yards on 14 carries, Pierson added 47 yards on five carries and Cox contributed 44 yards on six carries.
The Jayhawks' opening-night effort had plenty of ups and downs. Kansas committed nine penalties for 71 yards, the Jayhawks dropped five passes in junior quarterback Jake Heaps' first 12 throws and Heaps himself finished just 10-of-20 for 110 yards. But one of those passes went to wide receiver Justin McCay for a touchdown, and those moments — the big, sigh-of-relief-type moments — were all that anyone wanted to remember after this one.
Defensive tackle Keon Stowers offered one when he intercepted USD quarterback Josh Vander Maten early in the second quarter and returned it 42 yards for what appeared to be a touchdown. The return came back because of a block in the back, but the image stuck with Stowers and his teammates.
"Actually, I taught him those moves," Weis joked.
Added Stowers of the heartbreak of having the TD called back: "I was disappointed. ... I still can't believe it. When I got on the sideline, it really hit me that I just intercepted a pass and ran it into the end zone. I was joking with the DBs the rest of the game, saying, 'Yeah, I'm leading the team in picks right now.'"
When you consider that KU (1-0) had won just six times in the past three seasons and snapped a painful 11-game losing streak with Saturday's victory, all of the good vibes make a little more sense. The offense was not crisp from start to finish. The defense, which featured nearly a dozen new faces, still gave up too much in the running game — USD (1-1) ran for 219 yards on 43 carries, including 19 for 78 by Vander Maten — and the 17-point margin of victory was not as big as most had expected. Didn't matter. They won. And now the fun begins.
"I'd say it was a typical first game and I think everyone will be able to learn a lot from this game," Weis said. "It's been a long time since they've won a game here. It's been a year. ... They still won't be allowed to go to the bars tonight. I told them that they should go enjoy this with their family and friends, but it's just the first step."
The best part, as far as Weis was concerned? There's plenty of good still ahead.
"We do have a lot more ceiling," he said. "There's zero doubt in my mind. We're not close to where we can be."