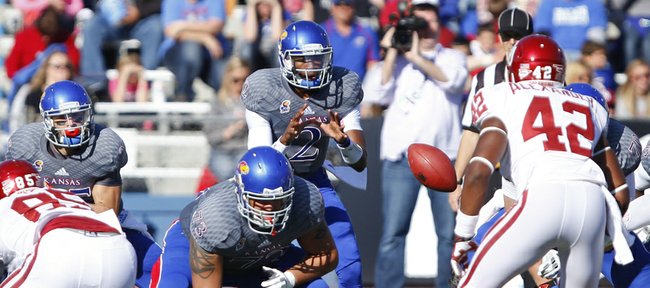 Last week, Montell Cozart's name appeared on the depth chart for the first time, penciled in next to sophomore quarterback Michael Cummings as the co-backups to junior starter Jake Heaps.
This week, as the Jayhawks prepare to host No. 6 Baylor at 6 p.m. Saturday, the true freshman from Bishop Miege High is listed as Heaps' sole backup.
To say the 6-foot-2, 189-pound athlete who quarterbacked the Jayhawks for two drives during last week's loss to Oklahoma is making progress would be an understatement. And it's entirely possible that, instead of being limited to just a handful of plays as he was a week ago, Cozart will have every look in KU's offense at his fingertips this week against the Bears.
"The first thing you have to do is get him involved with the whole game plan — that includes all the passes, all the runs, all everything," KU coach Charlie Weis said Tuesday during his weekly news conference. "If every time we put in Montell it's just to run the ball, it's not going to take very long for the defensive coordinators to figure that out."
That's what Cozart did a week ago against the Sooners, rushing three times for eight yards and handing off on the other six plays, and the OU defense was quick to figure it out. But Weis said there was a reason that the freshman playing his first college snaps was limited.
"Last week, he wasn't quite ready for everything," Weis said. "But he'll know everything this week. I met with him (Monday) night a little bit and said, 'Now, you can't just know these 10 plays, you need to know everything.' We'll see how he handles it, but he'll be involved in everything this week."
Although last week's plan to use Cozart only against the wind and solely on the ground was designed to ease the quarterback into the college game, Weis said he would not be married to any kind of schedule this week against Baylor.
"If we get the ball and Jake's in there and we go on three touchdown drives in a row, you want to take him out?" Weis asked, rhetorically. "Neither would I. Let's say we go three-and-out, three-and-out, you might say, 'OK, let's go (with Cozart).' In other words, there's not a definite game plan on when you're gonna do it at this point. But when you expose quarterbacks to the whole game plan and you know you intend to play 'em both, then you just see how it goes. ... He could be in a lot earlier this week."
New system working
Last week, Weis announced that quarterbacks coach Ron Powlus and tight ends coach Jeff Blasko would take the lead on planning the Jayhawks' passing and running attacks for the rest of the season. While that meant those two began preparing KU's game plan on Monday and took input from others, including Weis, throughout the week to fine-tune it, it also meant that Weis no longer was calling plays on Saturday.
"I'm advising," Weis said when asked if he had given up the role. "That's what I did (against Oklahoma). My work is done all through the week. By Saturday, we know what the plays are gonna be, and then it's just, 'OK, they're doing this, let's do that.'"
As for how well Blasko and Powlus wear their new coordinator hats, Weis was pleased.
"I think they did a nice job, as well as the whole staff, and it definitely was the most freedom I've had as a head coach ever."
With that freedom, Weis said he had more time to yell at the refs and talk to players between offensive series.
Defensive changes
In addition to linebackers coach Clint Bowen shifting more into the role of defensive coordinator throughout the offseason, the Jayhawks now have changed their base look from 4-3 personnel to an odd front, which puts more speed on the field and is better suited to match up with the crazy Big 12 offenses.
"The personnel of our team dictated it more than anything," Bowen said. "The odd front has some benefits against tempo teams. It's a little bit quicker to get things aligned and it settles down the defensive front. Those guys get to lock in, and, really, it turns you into more of a right-and-left defense and your alignment is not dictated by the offensive formation as much."
That could come in incredibly handy this week, when KU takes on a Baylor team that is known for spreading defenses from sideline to sideline and then using its speed to create match-up problems all over the field.
Injury update
Five Jayhawks who missed last week's game against OU — running back/wide receiver Tony Pierson, linebacker Ben Heeney, wide receiver Andrew Turzilli, defensive tackle Tedarian Johnson and tight end Trent Smiley — were listed on this week's depth chart as "day-to-day."
Weis did not give much more of an update than that on any of the five, but, from the sound of it, the Jayhawks could get a couple of them back for this week's battle with Baylor.
"Tony's much better," Weis said. "(Heeney's) much better, as well, by the way. (Turzilli's) not as much better."
Asked if the injured Jayhawks would be game-time decisions, Weis hinted that he knew their status already but was not about to give it up.
A better Baylor
As Weis pointed out Tuesday, even with the current success, it's not like Baylor has been a juggernaut since the day Art Briles arrived. In fact, Briles owns a 39-30 record at BU since taking over six years ago. During that time, however, win or lose, the Bears have been known as an offensive dynamo, largely because of the presence of former BU quarterback Robert Griffin III. RGIII is gone now, of course, and so is the Bears' label as a one-dimensional program.
"They're a more well-rounded team now," Weis said. "Before they were just an offensive team, but now their defense is ranked seventh in the country. And part of the reason they're seventh in the country is because they're up 100-0 after about the first quarter and that changes the way teams play."