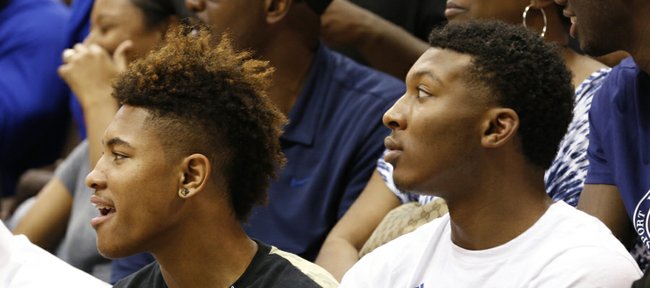 When the going gets tough, new Kansas University basketball commit Kelly Oubre Jr. takes a long look at a prized possession that hangs on his bedroom wall.
"He got a black belt (in karate) when he was 7. It's his first sense of accomplishment," Kelly's dad, Kelly Oubre Sr., said Tuesday after his son, a 6-foot-7, 200-pound senior shooting guard from Findlay Prep High in Henderson, Nev., orally committed to play basketball at KU.
"I always refer to that when times get rough for him, so he can actually see what he accomplished early on. It's why he doesn't quit on things that he starts," Oubre Sr. added.
Oubre, who chose KU over runner-up Kentucky and Florida, said, "of course I kind of lost all my karate skills (in concentrating on hoops the past many years), but I'm proud of my black belt. I'm very proud of it."
After earning the black belt in his hometown of New Orleans — Kelly moved to Richmond, Texas, with dad after Hurricane Katrina hit when he was in fourth grade — Oubre Jr. "decided he wanted to do something different. He wanted to play basketball and has been playing ever since," Oubre's dad said.
Oubre has had a steady rise in basketball, climbing to No. 12 in Rivals.com's rankings following his junior year at Richmond's Bush High, where he averaged 22.7 points a game. He's moved to the Nevada prep school for his senior year.
"Kelly is the top player in 2014. I'm a biased dad but also a basketball aficionado," Oubre Sr., said. "He can feed the post from anywhere. He can run the point, play the 2, the 3. He can play the 4. He can post up and take you off the dribble, do pretty much whatever coach needs him to do."
Noted Findlay Prep coach and former Georgetown standout Jerome Williams: "He has length, athleticism, shooting range that does not limit him on the court, is an extremely hard worker and great student. He's carrying a 3.8 (GPA) here."
Oubre — he plans on studying sports management in college — learned enough about KU on his Thursday-Saturday official visit that he decided on Saturday night that KU was the place to be. He canceled his Oct. 18 visit to Kentucky on Tuesday morning, then tweeted, "Blessed to say that I have Committed to Kansas University !! #RockChalk"
"I was up there a couple days. I could see the brotherhood they have. I see how in coach (Bill) Self's program, they are all for it. They treat everybody like there's nothing bigger than the team, even the guys who are one-and-done. Nobody is bigger than the program," Oubre Jr. said.
He's a big fan of the leader of the Jayhawks.
"Coach Self is pretty much like 'Godfather' of the whole program because everybody buys into his system," Oubre Jr. said. "They follow his lead because when he is happy, the whole team is happy. When he is in the gym, everybody is up tempo. It all revolves around him. He gets down to business when it needs to be done because he wants to win national championships."
Self stressed to Oubre and his dad that Kelly would be an instant impact player.
"We spoke to him that he needed a replacement for Andrew (Wiggins, 6-8 freshman) because Andrew will probably be one-and-done," Oubre Sr. said. "Even if Andrew stayed, my mindset was Kelly can learn from Andrew a lot about the position and go against a top-notch guy consistently. Even if Wayne (Selden, 6-5 freshman guard) stays, it's still a win-win. There wasn't a bad scenario we could put together."
There's a chance Oubre will stay at KU more than one season.
"If it calls for that, yes, I could," Oubre Jr. said. "I have no problem with that. If the time's right and I'm ready to come out, I'd do that."
The elder Oubre, who is a special-education teacher, said: "That's one of the reasons behind choosing Kansas. Coach Self doesn't kick you out if you are not ready. I don't care too much for it (one-and-done) because if you look at it over the last couple drafts, the success of the guys one-and-done is few and far between. Every once in a while you find guys who can make it through. I'm more concerned about his education after maybe a two-year stint or three-year stint. How close is he to that degree and having a greater business mind going into the next level, whatever that is?" added Oubre Sr. "I think the first year in college as well as the pros, maybe two, is a learning curve. That learning curve can be cut considerably if he stayed and developed in college."
Self speaks: KU coach Self could not comment on the specific signing in accordance with NCAA rules. He did cite Late Night in the Phog as a great recruiting tool at Tuesday's Coaches vs. Cancer event in Kansas City, Mo.
"It's hard not to like what you see at Late Night. But we did get a commitment. I can't talk about it. But we obviously got some good news today, and we need to get a little bit more good news," said Self, who has a minimum of two scholarships available (Tarik Black and Wiggins with possibility of others leaving).
"I'm really happy with the players we have, but the chances that all of them are going to remain at KU next year is probably not the greatest of odds with some guys with the potential to enter the draft early. We've got to be prepared, and today was a good start for us."
Oubre, who said he "felt the love" of the fans at Late Night, said he would try to help in recruiting.
"I'm trying to recruit my boy Tyus and Jahlil," he said of package deal Tyus Jones (6-1, Apple Valley, Minn., High, ranked No. 5) and Jahlil Okafor (6-10, Chicago Whitney Young, ranked No. 1). And big Cliff (Alexander, 6-8 Chicago Curie, No. 4). We can be the best recruiting class probably ever. We have a chance to get it done."
Cliff sets date: Alexander, who also attended Late Night, tweeted on Tuesday that he will announce his college choice Nov. 16, his birthday. He has a list of KU, Michigan State, Illinois, Memphis and DePaul.