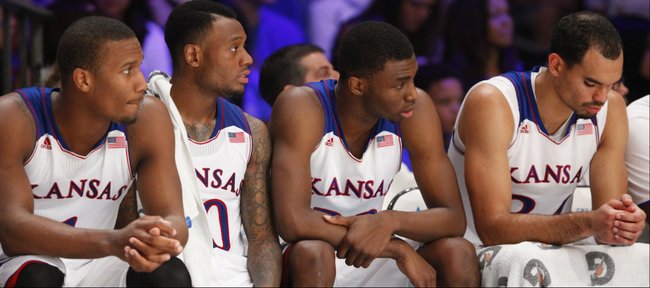 Photo Gallery
KU basketball v. Wake Forest (Battle 4 Atlantis)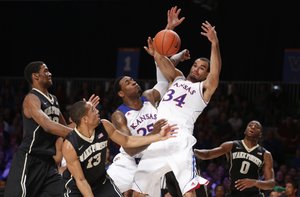 Images from Thursday's game between the Jayhawks and Demon Deacons in the Battle 4 Atlantis opening round.
Podcast episode
Kansas basketball coach Bill Self, and bench players Jamari Traylor and Frank Mason, discuss how the Jayhawks' bench helped them beat Wake Forest, 87-78, in an ugly Battle 4 Atlantis win.
Kansas 87, Wake Forest 78
Paradise Island, Bahamas — Kansas University, which handed Wake Forest its first loss of the season on Thursday, today meets another undefeated team in the semifinals of the Battle 4 Atlantis.
Big East school Villanova, which knocked off USC, 94-79, on Thursday, has also defeated Lafayette, Mount St. Mary's, Towson and Delaware this season.
"I'll watch a lot more tape. I've watched some so far," KU coach Bill Self said after his team's 87-78 victory over Wake Forest set up an 8:30 p.m., contest with 'Nova.
"Jay's teams always play hard," Self added of coach 13th-year Wildcat coach Jay Wright. "They had a play today (where) they were back-tapping the ball. A guy laid out and dove for a ball and deflected it out of bounds. They are tough kids. We've had good games with them in the past."
KU is 3-1 all-time versus Villanova, 2-1 under Self.
"They are not real big, so they are interchangeable," Self said. "They at times could play 6-6 at the 4 and 5. Our bigs will have to guard away from the basket. It'll be a good game. Hopefully we'll be better because of this today," he added of an unsatisfactory effort versus 5-1 Wake. "Certainly we have a long night ahead to prepare."
James Bell, a 6-6 senior, scored 17 points versus USC. Darrun Hilliard, a 6-6 junior, scored 16 for the Wildcats, who hit 11 of 28 threes.
"We go back and look at all of the threes we took and we're happy with the shots we're taking," Wright said. "I don't think we took any bad threes tonight, either."
Surface talk: It appeared some players were slipping on the Imperial Arena court surface on Thursday.
"I made a couple slips in the game, but other than that it was all right," said KU's Jamari Traylor.
"That's called coordination probably more than anything else," Self joked after listening to Traylor's comment.
Of the arena, which doubles as a ballroom and convention center, Villanova's Wright said: "Once you get on the court, it's kind of like Madison Square Garden where it's dark around the outside of the court and it's light on the court. It's really nice. It's pretty cool. It just makes a really good atmosphere. I think the players like it. You shoot well, it's the same as the Garden. It's so bright. It's cool."
KU fans flock to game: A sellout-crowd of 3,900 attended the KU-Wake game with almost all the fans wearing crimson and/or blue.
"I think it was maybe 95 percent (of building)," Self said. "There had to be 3,000 Kansas fans there. I thought the number would be closer to 2,000. That was really nice to have that many people supporting us."
Wiggins ailing: KU freshman Andrew Wiggins, who scored 17 points, nine late, has a case of the flu.
"He's been sick since we left (Tuesday). He's the only one who's got it," Self said. "He's actually feeling better. He was really struggling the last two days. He's got to play through it. He actually did some good things when he got back in (after extended stay on bench with starters second half)."
Traditional eats: The players, plus some family members and KU staff members, enjoyed a Thankgsiving Night feast at the Atlantis resort after the KU-Wake game.
Angry Deacons: Wake Forest actually had three technical fouls in the second half. Tyler Cavanaugh was whistled for arguing with a ref with 8:12 left, Conner Frankamp hitting one of two free throws. Then, Devin Thomas was hit with a double technical for complaining about a call with 7:28 to play. Frankamp hit three of four free throws, upping KU's lead to 64-52.
"Just so you know, I hated what happened with Thomas because we'd love to play against him," Self said. "I know it hurt their team when he went out."
Thursday's game against KU was seen as a huge one for fourth-year coach Jeff
Bzdelik's program. He went 8-24, 13-18 and 13-18 before a 5-0 start to this season.
"I think all of us want to prove ourselves,'' sophomore Devin Thomas told the Winston-Salem Journal. "We've gotten so much doubt brought to this program, a lot of negativity brought to this program. So now it's our time to show what we're made of and silence those people that were bringing doubt. And then they'll come jump on the bandwagon when we're winning.''