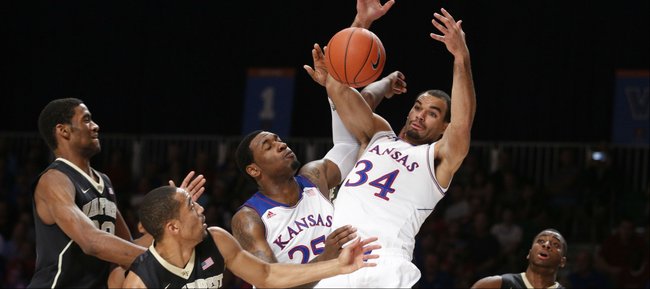 Photo Gallery
KU basketball v. Wake Forest (Battle 4 Atlantis)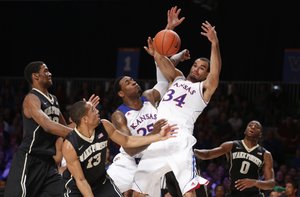 Images from Thursday's game between the Jayhawks and Demon Deacons in the Battle 4 Atlantis opening round.
Podcast episode
Kansas basketball coach Bill Self, and bench players Jamari Traylor and Frank Mason, discuss how the Jayhawks' bench helped them beat Wake Forest, 87-78, in an ugly Battle 4 Atlantis win.
Kansas 87, Wake Forest 78
Paradise Island, Bahamas — By its very design, the Atlantis mega-resort screams, "Look at me; I'm beautiful."
White beaches. Blue ocean water. Tanned tourists.
On Thanksgiving afternoon, inside the destination getaway's Imperial Arena, an eyesore protruded out of the otherwise serene vacation wonderland.
The No. 2-ranked Kansas University basketball team lost its previously pristine shimmer. The eye-popping, head-turning, jaw-dropping plays that beat Duke in Chicago were replaced by shrugs, mehs and I-guess-that'll-dos versus Wake Forest in the Bahamas.
But basketball isn't a beauty contest. Jayhawks coach Bill Self knows that. Now, he certainly wouldn't take KU's 87-78 win at the Battle 4 Atlantis home to meet the family over holiday dinner, but he isn't ducking the fact that it happened, either.
"I've always taken great pride in winning ugly," Self said. "I think it's good to win ugly. I'd rather win pretty, but there's nothing wrong with winning ugly."
The 11th-year Kansas coach figures a season has 39 games or so when a team has "pretty good players," like the one he coaches now. Self has done this long enough to recognize a pattern.
"You're gonna play 13 games where you played pretty good, and you'll have a chance to be successful… And you'll play13 games where you'll play OK. And you'll play 13 games where you don't play very good. And the key to having great seasons is winning the games when you don't play very good," Self said, wearing the grin of a coach who has accumulated a yacht full of those in his days on the sideline. It's just that this particular victory didn't fit the criteria of the ones that make him beam. Self, who takes pride in a grimy victory, searched for some good, old-fashioned ugly points after beating the Demon Deacons, and he didn't come up with much.
Even he had to qualify the game as unsightly.
"The thing about it that's frustrating to me, and I think these guys would probably agree," Self said, nodding toward bench players Jamari Traylor (eight points, five rebounds) and Frank Mason (13 points, three assists), who helped KU (5-0) survive Wake Forest's second-half surge, "we've always been a team that won ugly by not allowing the other team to score. It wasn't a pretty game today, but it wasn't because we won … ugly. It was (a different kind of ugly) because we didn't do anything to keep the other team from scoring. We just kind of outscored them down the stretch or made our free throws (15-for-24 after halftime)."
Good-ugly would have been shutting down the Demon Deacons' offense in the second half and still grinding out a win. Didn't happen. Wake Forest (5-1) made 15 of its 27 second-half shots, outscored KU, 52-47, and outrebounded the Jayhawks, 19-14.
Sophomore Deacons guard Codi Miller-McIntyre scored 20 of his 26 after halftime.
More repulsive-ugly.
Wake Forest outplayed KU in the second half, but Self at least saw some of the ugly he finds appealing, and it came from the toughness of his bench unit — Mason, Traylor, center Joel Embiid, wing Andrew White III and guard Conner Frankamp — which outscored Wake's back-ups, 41-17.
That good-ugly they inherited? Traylor said they got it from Self.
"The mind-set coach gives us, he just tells us to go hard and compete. So I think if we go out there and do that, everything is gonna fall into place," Traylor, a sophomore power forward, said. "That's mainly what we all do — me, Frank, Drew, Jo, Conner, everybody who came off the bench, we just go hard. That's what we do in practice all the time. It's gonna just carry over to the game."
Even future NBA lottery pick Andrew Wiggins (17 points while feeling ill) can't keep KU looking glamorous for five straight months. Self knows that, too. He just would have preferred a different kind of ugly Thursday on Paradise Island.
"You're still happy you won," Self said, "but you wish your identity was a little bit different."