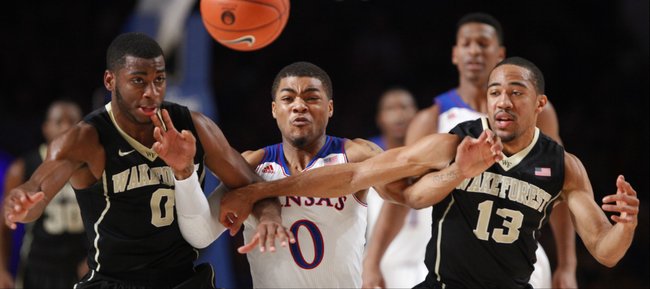 Photo Gallery
KU basketball v. Wake Forest (Battle 4 Atlantis)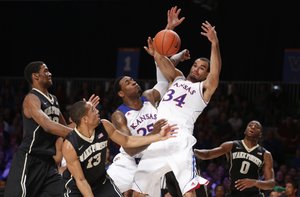 Images from Thursday's game between the Jayhawks and Demon Deacons in the Battle 4 Atlantis opening round.
Podcast episode
Kansas basketball coach Bill Self, and bench players Jamari Traylor and Frank Mason, discuss how the Jayhawks' bench helped them beat Wake Forest, 87-78, in an ugly Battle 4 Atlantis win.
Kansas 87, Wake Forest 78
Paradise Island, Bahamas — Kansas University basketball coach Bill Self was brutally honest with his star-studded starting five during his postgame speech following an 87-78 first-round Battle 4 Atlantis victory over Wake Forest on Thursday in Imperial Arena.
"I said, 'Maybe we're playing the wrong guys.' That's what I told them," said Self, who banished Andrew Wiggins, Wayne Selden, Perry Ellis, Naadir Tharpe and Tarik Black to the pine after Wake sliced a 14-point halftime deficit to 46-42 with 14:11 to play.
The group of Frank Mason (13 points), Andrew White III, Conner Frankamp, Joel Embiid (10 points, six boards, three blocks) and Jamari Traylor (eight points, five boards) brought it back to double digits before resting at 6:28, KU up 10.
"Andrew's sick. He has the flu. It's hard to be critical (of him)," Self said of freshman guard Wiggins, who finished with a team-leading 17 points off 6-of-13 shooting, including nine points in the final five minutes.
"Naadir (five points off 1-5 shooting, two assists) and Wayne (Selden, eight points) didn't have their normal games. Perry's been great and he labored today (nine points, seven boards). So I hope it sends a message.
"On the flip side, I also asked the guys after the game, 'What can we hang our hat on today?' The common answer was, 'Well coach, we've got depth.' I hope we don't have to play like this all the time. It's fine if we have to."
He wound up playing 10 players nine or more minutes (nobody played more than Tharpe's 27) and it had nothing to do with conserving energy for the three-day tourney.
"I thought our bench was better than our starters," Self said. "I wasn't trying to prove a point. I was trying to win the game. We never got stops. We didn't stop them ever (with starters in game).
"I thought 'Mari and Andrew White and Joel all played very well. Conner usually doesn't ever miss a free throw but he missed a couple (also hit three of four after a double technical on Devin Thomas cost the player a game ejection). I thought he (Frankamp) did fine and of course Frank was terrific.
"I thought that (playing the bench) was our best chance to play well or stunt their momentum because we did a poor job letting them get some momentum the second half. Even though we didn't play unbelievably well, we didn't allow them (5-1 Deacons) to continue to run."
Mason hit a three and one of two free throws to up a 46-42 lead to 50-42 at 12:53.
After two Wake Free throws, Traylor drove for a bucket, giving KU a 52-44 advantage.
Embiid dunked and White hit a shot and KU led, 56-45, at 10:59, energizing a pro-KU crowd. KU appeared to have all but a handful of the fans in the 3,900-seat, sold-out arena.
"I think the bench gave great energy and competed," said Mason, who played 12 minutes the final half; Traylor played a team-high 13 the second stanza.
"We knew the starters weren't doing so well. We tried to come off the bench and make plays," Mason added.
"I think we came in and gave the team some energy. I think we competed hard," Traylor said. "We stepped up a little bit and helped the team get the win."
KU's starters, who were not available for comment, did help preserve the victory late and propel (5-0) KU into tonight's 8:30 p.m., semifinals against (5-0) Villanova.
Wiggins hit a three, giving KU a 68-57 lead at 5:51. Selden scored off a strong drive to up a 77-72 lead to seven-points at 1:25. Wiggins hit a free throw and Tharpe two charities to stretch a 79-74 lead to 82-74 at :30. Then reserve Mason converted two free throws to make it 84-76 at :21.8. Wiggins finished the scoring with a hoop and free throw at 3.0 seconds.
"We're happy we won," Self said. "I thought Wake Forest really outplayed us the second half. Fortunately we got a little bit of a cushion. Our bench was good and did a good job of holding it together for us, especially the second half."