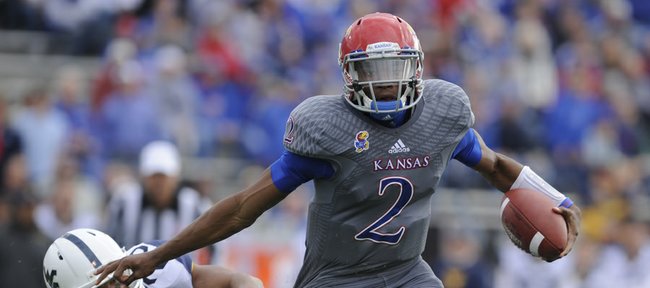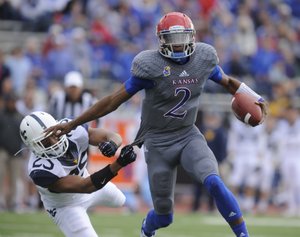 It's a rarity in college football for true freshmen to start at any position and even more uncommon for it to happen at quarterback.
But Saturday, during a 31-19 skid-snapping, celebration-inducing victory over West Virginia, Kansas University coach Charlie Weis handed the ball to freshman Montell Cozart and let him do what he does best — win.
During his two seasons as a quarterback at Bishop Miege High, Cozart led the Stags to 16 victories, including a berth in the state championship game his senior year. Not bad for a guy who just started playing the position.
As a high school sophomore, the long, lean and athletic Cozart played cornerback, and, as former Miege head coach and current KU offensive line coach Tim Grunhard pointed out, it looked like he was destined to stay there.
"We had a senior captain who was supposed to be the quarterback (Cozart's junior year 2011)," Grunhard said. "But we said, 'Hey, let's take a look at this kid Montell Cozart.' He had an unbelievable summer, and the very first game he played in was against Blue Valley Northwest, and we had a two-minute situation — 1:35 (left), no timeouts, and he drove us down and scored a touchdown, and I said, 'There's our quarterback. That's a Div. I quarterback.'"
After gaining valuable but limited experience during Kansas' previous four games, Cozart started in place of junior Jake Heaps against West Virginia and led the Jayhawks to their first Big 12 victory since Nov. 6, 2010.
Throughout the game, Cozart showed he could be calm, confident, fiery and efficient, and although his final numbers — 60 yards rushing on 13 carries, 5-of-12 passing for 61 more — did not hammer home his importance, his teammates did.
"(Having Montell at quarterback) helps out a lot because, obviously, you can't just key on the running back, you have to worry about him as well," said senior running back James Sims, who rushed for a career-high 211 yards Saturday. "When he first (got to KU), he was quiet, but you could tell he wanted to play. He got his opportunity, and he made the most of it. He didn't let the pressure get to him. He just went out and executed like he does in practice, and he got the job done."
In high school, Cozart torched overmatched opponents with his physical skills, most notably his speed. But the thing Grunhard likes most about the young quarterback's first season at KU has been his mental development.
"Now the guy who's across from you, who's 255 pounds, runs a 4.5 (-second 40-yard dash), and so do you," Grunhard said. "It's not like that in high school. He's had to really learn the game and understand the game more because there's so much that goes into being a quarterback at this level."
Weis has said throughout the season that bringing Cozart along slowly would not have gone as well if not for Heaps' character and team-first mentality. That was on full display Saturday, and Cozart said it helped.
"Every time I come off, he's right in my ear, him and coach (Ron) Powlus," Cozart said of Heaps. "Me and Jake have a great relationship. Just steady learning. Every time I go out there and ask him a question, he's always willing to tell me the answer and help me out."
There's a lot of learning and growing ahead of Cozart at Kansas, but the 6-foot-2, 189-pound rookie with the infectious smile and versatile skill set already has shown he may be capable of handling it all.
"The one thing about Montell is, he's a competitor," Grunhard said. "As this progresses over the next four years, you're gonna see a guy who knows how to make plays. He's gonna make a lot of people happy here in Jayhawk land before it's all said and done."