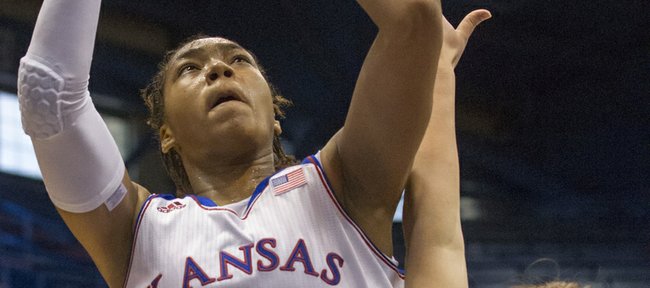 After her Kansas University women's basketball team won its second straight home game, coach Bonnie Henrickson admitted thinking about the Jayhawks' next opponent, Creighton, gave her a little anxiety.
Perhaps the play of junior KU guard Asia Boyd will cure some of that angst when the Bluejays face Kansas Sunday at Allen Fieldhouse — tipoff at 4 p.m.
A 6-foot-1 junior from Detroit, Boyd earned the first two starts of her career in KU's past two outings and responded by scoring a career high in each (17 points against Oral Roberts and 18 versus SIU-Edwardville).
A backup on Sweet 16 teams her first two seasons in Lawrence, Boyd has fit in perfectly this year as a starter, with guards Lamaria Cole and Natalie Knight, and forwards Bunny Williams and Chelsea Gardner. Henrickson can tell Boyd (17.5 points per game, 7.0 rebounds, 52.6-percent shooting) is trying to do everything right and become a trusted commodity in the program.
"I think as much as anything it's her work ethic and her coachability," Henrickson said, "and her discipline, which all of that is a little bit tied together."
In a Wednesday win against SIUE, Boyd also set career-best marks with four three-pointers and six field goals. She said that comes with confidence and repetition.
"I've been shooting a lot outside of practice, so that always helps," Boyd said.
She made just 20 of 75 three-pointers as a sophomore. The season before, she only connected on five of 21 from downtown.
Henrickson said Boyd's offensive game is a step closer to complete when she is knocking down threes.
"Most people are gonna make her drive, and then she's gotta make good decisions off the dribble," the coach said. "She's worked hard to develop a pull-up jump shot."
Once Boyd becomes a good-enough passer to get rid of the ball after drawing defenders, Henrickson wants to see her set up someone else for an uncontested basket. If that happens, the Jayhawks (2-0) will really have other teams worried about how to defend her.
Gardner, a 6-foot-3 junior averaging 21.5 points and 8.5 rebounds through two games, said the players around Boyd can tell she is taking the next step.
"As a team, we have confidence in her," Gardner said, "and she's gained lots of confidence and just stepped up and making big plays and big shots."
So far, other than the offensive production, Henrickson has been pleased with Boyd's defensive rebounding in traffic.
"When she makes good decisions and does the little things, the sky is the limit for her," the coach added.
Boyd realizes that, too, and her hope is to become for this team more like what last season's three senior leaders, Carolyn Davis, Angel Goodrich and Monica Engelman, were for that group.
"I think I've always been aggressive," Boyd said. "I just think Coach Bonnie and my team are more confident, so I'm just trying to feed off of that right now."
Kansas leads the all-time series with Creighton, 24-12, and has won 14 of the 19 meetings at Allen Fieldhouse. Creighton last defeated KU on Dec. 21, 2005 (68-63) in Omaha, Neb.
---
Probable starters
Kansas (2-0)
G — Lamaria Cole, 5-6, so.
G — Natalie Knight, 5-7, jr.
G — Asia Boyd, 6-1, jr.
F — Bunny Williams, 6-1, jr.
F — Chelsea Gardner, 6-3, jr.
Creighton (2-1)
G — McKenzie Fujan, 5-11, sr.
G — Marissa Janning, 5-8, so.
G — Jordan Garrison, 5-6, sr.
F — Sarah Nelson, 6-0, sr.
C — Alyssa Kamphaus, 6-3, sr.