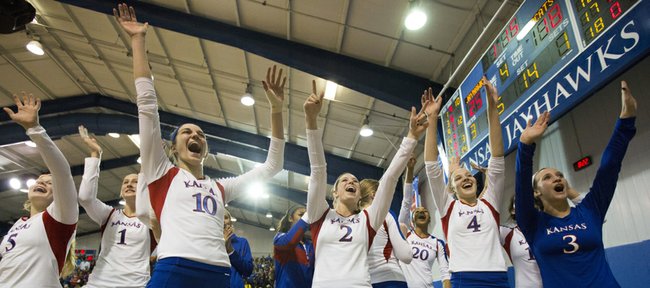 Losing was not an option for Kansas University's volleyball team Saturday night in Horejsi Center.
Not with the 2003 Jayhawks — the first team in school history to qualify for the NCAAs — in the stands and not with the opponent rival Kansas State, a team the senior-laden Jayhawks had defeated three straight times.
"I think it's nice to have them all witness and see how far the team has progressed since they've been here," middle blocker Caroline Jarmoc said after blasting 12 kills against two errors in KU's 3-1 come-from-behind victory over the Wildcats.
"I'm excited they could come and see where KU volleyball has come since they've been here," chimed in senior Catherine Carmichael, a Manhattan High graduate who had 14 kills against two errors in KU's 19-25, 26-24, 25-14, 25-18 decision.
The 2003 squad, which was honored at intermission, watched the Jayhawks (20-6, 10-3) record their 20th victory for the second straight season.
The last time KU (26-7 a year ago) had back-to-back 20-victory campaigns was 1982 and '83.
"I'm proud of that, especially with the schedule we took on this year," 16th-year coach Ray Bechard said. "We've got to keep stacking some on that, but that's a good place to start for sure."
Also noteworthy was the fact KU beat K-State for the fourth straight time for the first time since 1989-93.
"It was awesome. That's what we intended to do," Carmichael said.
"I'm happy we (seniors) ended on a good note with a win, especially in the last set it was a very prominent statement with our aggression, so that was really good," Jarmoc, a native of Calgary, Alberta, added.
Slow-starting KU dropped the first set, 25-19, and struggled to shake the Wildcats (16-9, 4-8) in the second before a stunned sellout of 1,300 fans.
In fact, it took kills from seniors Carmichael and Jarmoc to break a 24-24 tie.
Was Carmichael worried?
"Not really," she said. "I know my team. I know even if we get down, no matter how far, we can always bring it back up. We knew we had to bring the energy, obviously. We did that and had a great game."
KU had 17 kills against one error in the tie-breaking third set and 12 kills versus three errors in the fourth.
Junior Sara McClinton finished with 14 kills, while junior Chelsea Albers and freshman Tayler Soucie recorded nine apiece. Soucie contributed nine blocks and Albers 11 digs.
Senior Erin McNorton had 47 assists to go with 13 digs. KU also out-blocked Kansas State 13-6.5, as four Jayhawks recorded four or more blocks.
"That could've been (most balanced match of the season)," Bechard said. "After Soucie's slow start, she picked it up. But Cathy (Carmichael) was great, Sara was great, Albers was solid, Jarmoc was great. Even Erin threw it over there a couple of times when she needed to. That balance was a direct reflection of Erin McNorton. It was a team effort tonight, and that's what's this is — it's a good team."
The Jayhawks, currently in third place in the Big 12, travel to Iowa State (17-6, 10-2) on Wednesday for a 6:30 p.m. match against the Big 12's second-place team. KU will play a Senior Day match versus Texas Tech at 1 p.m. Saturday in Horejsi.