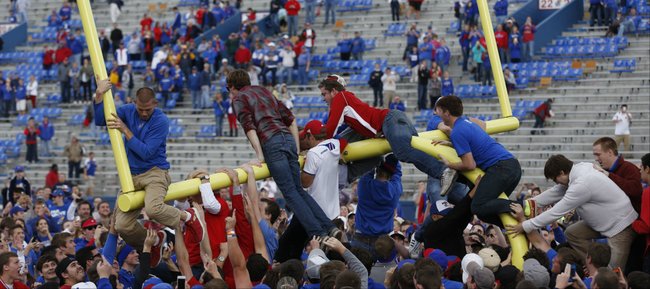 Photo Gallery
KU football v. West Virginia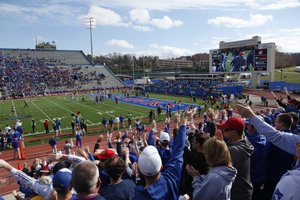 Images from Saturday's game between the Jayhawks and Mountaineers at Memorial Stadium.
Podcast episode
Charlie Weis post-game vs. West Virginia
KU 31, W. Va. 19
When athletes on a team with a losing record don't start blasting each other until they score a big victory, that's proof that all that losing didn't turn them into losers, didn't fracture team unity.
Finally, after a 27-game Big 12 losing streak, the Kansas University football squad won a conference game Saturday, 31-19, against West Virginia in Memorial Stadium.
Let the ribbing begin.
Defensive end Ben Goodman made the single biggest play of the game, so he was on the receiving end of the most barbs. Somehow, Goodman, a 6-foot-3, 245 pound Buck from Beaumont, Texas, intercepted Paul Millard's pass two yards behind the line of scrimmage and returned it 54 yards to the Mountaineers' 14, chased out of bounds by Millard.
The game's offensive stars, veteran running back James Sims and poised rookie quarterback Montell Cozart, made sure it didn't go to waste, and KU took a 24-7 lead with 13:07 left in the third quarter. That was the dagger, and that's one reason why so many verbal darts were thrown Goodman's way.
He shared that Keon Stowers — whose interception touchdown return earlier this season was called back because of penalties on the play by Keba Agostinho and Goodman — "looked at me and said, 'If that was me, I would have scored. I should have taken my helmet off when you got your pick like you did on mine.'"
Goodman said he caught grief from "everybody: 'You need to step it up on the treadmill. You should have scored on that.' Taylor Cox was probably the worst. He kept telling me, 'We worked on speed training all summer, all summer, all summer.'"
Goodman said he scored a touchdown in his last high school game, a loss in the playoffs, as a tight end.
"Dream come true," he said of Saturday's interception before describing his high school touchdown. "It was a five-yard out, and I just turned it up for a touchdown. Nothing major like an amazing catch. It wasn't amazing."
Saturday's was major, helping to bring KU out of last place in the Big 12 standings. And it was amazing that with hands reaching to the sky, he held onto a bullet of a pass.
In playing a position that is a hybrid defensive end/outside linebacker, Goodman is not known for his hands. Even he ripped them before the game.
"I was out there with (receiver Andrew) Turzilli, and I was like, 'Man, I lost my hands.' Me and Turzilli and Billy Owens were out there throwing it around, and I dropped a couple," Goodman said. "I guess I got the drops out of the way."
Gavin Howard, the center on an offensive line that had its best day of the season (315 rushing yards), couldn't believe his eyes: "I said, 'Who's running the ball?' They said, 'Ben.' I said, 'How did Ben catch the ball because I know Ben can't catch?' He should have scored on that. He got caught by the quarterback."
In the aftermath of the celebration, the big play was at once a great memory and a hazy one for Goodman.
"I really don't even remember the play," he said. "All I remember is the quarterback looking at me, and the ball is in my hand the next second. The play was really a blur to me. I don't even remember what call we were in. I try to put my hands up when they try to throw a low ball, just try to interfere with the pass."
His recollection of the interception serves as a reminder to all athletes trying to hit a target, whether quarterbacks, golfers, or basketball players taking a shot. The brain tends to identify as the target the last thing the eyes see. The last thing Millard saw was Goodman with his hands straight up.
"I was shocked," Goodman said. "I was like, 'Wow!' I looked down, 'I've really got the ball.' I took off running. I tried to get as far as I could before I gassed out."
Goodman said he had never run that far with a football in his hands in his life.
"I applaud all receivers and tight ends and running backs," he said. "I was looking at James earlier when he had that long run. I was like, 'Man, why did he slow down? He's got to keep going and go score.' But I feel his pain now. You run out of gas."
And then you let the play end before you do something to negate it, such as fumble.
"I was just winded," he said. "And I looked at the quarterback and tried to stiff-arm him, and I looked at the sideline, and I just stepped out of bounds."
On that same field later, Goodman experienced something else he never had seen.
"Taking the goal posts down," Goodman said. "I never even imagined that the goal posts could come down, let alone by the fans. I thought somebody who was a professional at that had to take it down. That was crazy."
Not as crazy as a D-lineman who couldn't hold onto the ball in a pregame catch intercepting a rocket and returning it 54 yards.
And not as crazy as a team entering the day with a 27-game losing streak and ending it with fans clamoring for memorabilia from them.
"I had people asking me for my stuff," Howard said. "I had one kid take my towel, one kid take my gloves. "
At that point, Howard let them know he was tapped out and told them, "I don't have any more equipment, unless you want me to take my pants off."