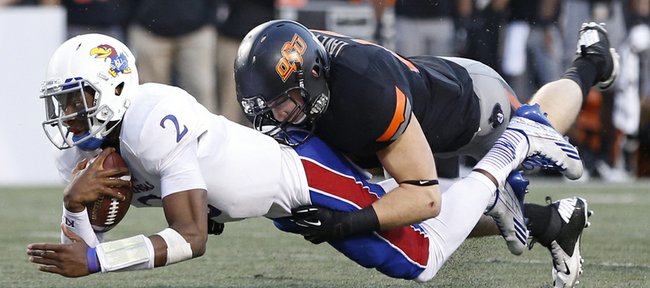 To Jayhawk fans, it might seem as if the Kansas University football team's search to find a quarterback to take the reins and run has been a bigger struggle in Lawrence than anywhere else.
But a quick look around the Big 12 Conference shows the opposite is true.
Other than fourth-ranked Baylor, every team in the conference has experienced uncertainty at quarterback at some point this season, with a few Big 12 coaches playing two guys on a regular basis and others having turned to three quarterbacks, whether because of injuries or ineffective play.
Heck, even the Bears, who lead the country in scoring and total offense, have played two QBs quite often this season. Of course, that has been because unbeaten Baylor often has been leading by so many points in the fourth quarter that starter Bryce Petty has been able to enjoy the finish from the sideline.
On Monday, West Virginia coach Dana Holgorsen, who will bring his team and his quarterbacks to Lawrence for an 11 a.m. kickoff on Saturday, offered an explanation for the wide-spread use of multiple quarterbacks throughout the conference this season.
"It's the complete opposite of what it was last year in the league," Holgorsen said. "There were so many good, seasoned, senior quarterbacks that had played a lot of football, that were established, that were really good players and really led their teams. (That) makes it a whole lot easier, certainly."
So many Big 12 quarterbacks, including KU's Jake Heaps and Montell Cozart, are starting or playing for their teams for the first time. Although Heaps has started all nine Kansas games this season, KU coach Charlie Weis has used both players during the past four weeks and appears to be on the brink of leaning more toward one or the other to finish the season out. During last week's loss at Oklahoma State, Heaps started, but Cozart played the entire second half.
Kansas State coach Bill Snyder has chosen to juggle QBs Daniel Sams and Jake Waters throughout the season. With the Wildcats having won three straight, including a 23-point pounding of 25th-ranked Texas Tech last weekend, Snyder said it was his athletes who deserved credit for making the system work.
"I've never been a big fan of attempting to use two quarterbacks on a somewhat-equal basis," he said. "But I think Jake and Daniel really have embraced each other. They're there for each other. They help each other, and they encourage each other. I think (another) segment of it is the acceptance of their teammates. Their teammates pull for each one of them when they're in there from a team-value standpoint."
The quarterback position will be a focal point of this week's match-up between Kansas (2-7 overall, 0-6 Big 12) and West Virginia (4-6, 2-5), as Weis decides which direction to go and Holgorsen awaits word on starter Clint Trickett, who was knocked out of last week's loss to Texas early in the game.
With Trickett sidelined, back-up Paul Millard, a junior, came in and completed 16 of 32 passes for 259 yards and a touchdown in a near upset of the Longhorns.
"It's just part of the game," Holgorsen said of adjusting to speed bumps, even at quarterback. "You can't use it as an excuse not to be successful."