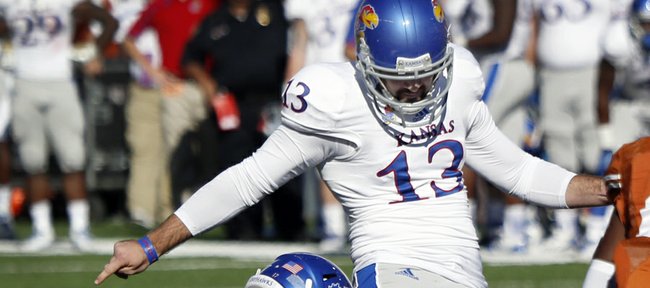 Stillwater, Okla. — A season ago, Kansas University's home football loss to Oklahoma State in mid-October marked the first time since September 2012 that place kicker Ron Doherty, then a junior, had been relegated to second string.
More than a year later, Doherty returns to the top of the depth chart just in time for the match-up with Oklahoma State, 3 p.m. today at Boone Pickens Stadium.
"I think that's kind of cool," Doherty said when reminded of his reversal of fortune. "I think it'll be a good week. Oklahoma is just above Texas, and I always grew up watching them, so I think it'll be cool to play against them."
That Doherty is still playing at all is one of those classic tales of perseverance and faith. But to hear Doherty tell it, his return to relevance came down to little more than his continuing to do the one thing that landed him the starting job in the first place — hard work.
"This is my second coaching staff," said Doherty, who also played two seasons for Turner Gill. "There's been a lot of ups and downs, and you just have to keep going and move forward. It's a huge grind, and you just gotta keep getting through it."
Getting through it is a great way to describe the past 12 months for Doherty. As a junior, the Klein, Texas, native was entrusted with the rare trifecta of handling KU's place-kicking, punting and kickoff roles. He did it, though not always well, and eventually was replaced and exiled to the bench while the coaching staff openly and often talked about the team's desperate need to improve in the kicking game. Rather than sulk and write off his final season of college football, Doherty stayed the course.
"It's life," Doherty said. "But it was definitely motivating. Obviously, I didn't do my job (in 2012), and the team wanted to upgrade that position. I knew I needed to pick up my stuff to be able to compete at that spot."
Compete he did. But Doherty did not win any jobs, remaining instead as a second-string option at punter and even farther down the depth chart at place kicker and kickoff specialist.
With scholarship newcomer Trevor Pardula having an All-American-type season as KU's punter, and Pardula and walk-on Matthew Wyman the preferred options on field goals, the easy thing for Doherty to do would have been to shrug his shoulders with that oh-well-it's-been-fun attitude and coast through his final season as a Jayhawk. But Doherty took the hard road, refusing to believe he had booted his last kick as a Jayhawk.
"No. I didn't think so," he said. "I was just gonna keep working hard and working hard and (believed) it was gonna pan out in the end."
That opportunity came last week, during a 35-13 loss at Texas, when Doherty replaced Wyman after an early miss and hit his first field goal in more than 13 months.
"That was awesome for Ron," KU co-captain Ben Heeney said. "He's one of my best friends on the team, and he's been the guy around here. Senior year, he loses his spot, and for him to sit there and make those two kicks when it counts for our team really says a lot about him."
Tough-minded. Full of faith. Determined. Dogged. Pick an adjective. But the most critical characteristic in Doherty's comeback might have been his attentive nature.
"He had been prepared," KU coach Charlie Weis said. "This wasn't like he had no clue this could possibly happen. When I practice it, there's a chance that it could happen. So he wasn't shocked when I came over to him after the (Wyman miss) and told him, 'You're up.'"
Doherty was ecstatic.
"I'm very grateful," Doherty said. "I got my opportunity, and now I'm trying to go with it."
Doherty's spot at the top of the depth chart is not guaranteed for the rest of the season. Weis said Doherty and Wyman would continue to battle it out in practice, with the better performer each week getting the first crack to keep the spot. For Doherty, who said he appreciated the opportunity to compete even though he did not initially win any of the jobs, that means one kick at a time and, ideally, one make at a time.
Against the Longhorns, Doherty's second made field goal skidded off the right upright before going through, still good for three points and a couple of laughs.
"I'm happy for him," Weis said. "He's obviously well-liked by his teammates, so that's good to see. I would prefer not hitting the upright on the second one, I said, 'Don't bring this problem to me.'"
Added Doherty: "One of the coaches said, 'You're living right.' I was like, 'I am.' Any way the ball goes in, it goes in."
As long as that continues, so will Doherty.