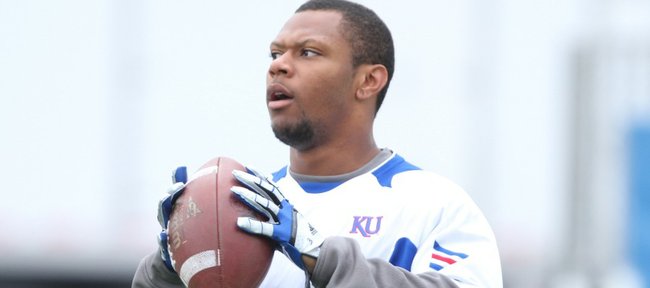 Although Darrian Miller's past statistics don't reveal much, Butler County football coach Troy Morrell believes the running back who recently rejoined Kansas University's football team will contribute to the Jayhawks by doing more than taking handoffs and rumbling for yards.
"He's definitely a talented player, and he brings so much to the table as a dual-threat type of running back," said Morrell, who coached Miller this spring at the junior college in El Dorado. "He can obviously get the ball handed to him and do great things, but he can also catch the ball out of the backfield and even line up out as a receiver."
The potential for Miller to become the latest threat in KU's improving passing game appears to come at just the right time for the Jayhawks. With senior tailback James Sims entrenched as the go-to ball carrier and not really known for his pass-catching ability anyway, and speed back Tony Pierson slowly transitioning out of the backfield and into a bigger role as a receiver — Pierson told the Journal-World this spring that his split would be 80-20 in favor of catching passes — there seems to exist an opportunity for a true running back to become a factor by catching passes.
During his lone season with the Jayhawks in 2011, Miller played in 11 games but caught just seven passes for 41 yards. However, as a team that season, the Jayhawks tallied just 341 yards on 43 receptions from running backs, with nearly half of those totals going to Sims and Pierson.
In 2012, Pierson and Sims again dominated this category, combining for 459 yards and three touchdowns on 35 catches. Because of that, it's a safe bet both upperclassmen will continue to play some kind of a receiving role, but it's possible that Miller, 5-foot-11, 190 pounds with good speed, solid hands and outstanding balance, could be the guy KU coach Charlie Weis calls upon to handle more of that role in 2013.
Morrell agrees. And the only thing he's disappointed about is that he never had a chance to call plays for Miller himself.
"Obviously, you would've liked to coach him a year," Morrell said. "But he has great ability to catch the ball, and obviously when the ball's in his hands he can do great things."
Dineen taps Kansas
Free State High standout Joe Dineen, a junior who has played multiple positions during his prep career, orally committed to join the Jayhawks late Wednesday night. The 6-foot-2, 197-pounder projects as a safety and chose KU over interest from Oklahoma State, Rice, Nebraska and others.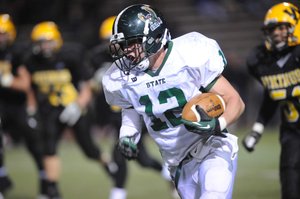 Dineen's grandfather, Ron Oelschlager, played running back and defensive back at Kansas, and his mother, Jodi, played volleyball at KU. Dineen becomes the third member of the Class of 2014 to commit to Kansas, joining Gardner-Edgerton running back Traevohn Wrench and East St. Louis, Ill., linebacker Kyron Watson. According to Rivals.com, Dineen's Free State teammate, defensive tackle Fred Wyatt, son of KU defensive line coach Buddy Wyatt, committed to Northwestern on Tuesday. KU had been targeting Wyatt, as well.
Time well spent
Weis moved up the date of the Jayhawks' annual spring football game two weeks last April so he and his coaching staff could take in more junior-college practices during the final two weeks of the month. How did the extra time on the recruiting trail work out?
"That was definitely a very good move," Weis said recently. "A lot of the junior colleges' spring games are the last week of April, and it gave us an opportunity in that last week in April to get in there."
From that point on, Weis and company took a fast-and-furious approach to recruiting their third class at Kansas, which continues today and is approaching a critical stage.
"We took the first week of May and hit the high schools really hard, and, actually, the next week we came back and we watched all those tapes," Weis explained. "After we watched those tapes, we went back on the road for (two more weeks). We're actually staying out there right till May 31."