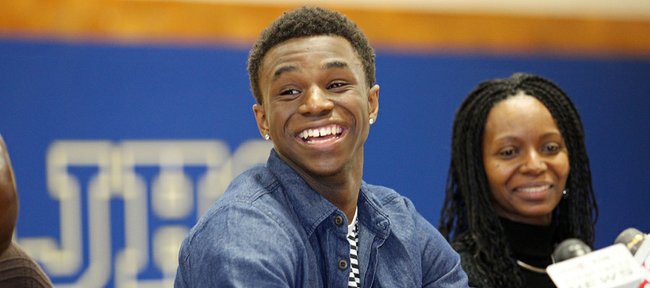 Wednesday seemed a lot like the day after Christmas to Kansas University basketball coach Bill Self.
"My birthday falls two days after Christmas. I always got underwear or T-shirts for my birthday," Self said during an appearance on Colin Cowherd's ESPN radio show. "This was better than a Christmas and a birthday present combined."
The present he received on Tuesday's unofficial holiday was a signed letter of intent from the country's top-ranked high school basketball player — Andrew Wiggins, a 6-foot-8, 215-pound guard/forward from Huntington (W.Va.) Prep.
The signing of Wiggins, who chose KU over Kentucky, Florida State and North Carolina, classified as huge national news, hence Self's appearance on various national talk shows.
Tim Brando of CBS radio asked Self about losing one top-three NBA Draft pick in Ben McLemore with another filling the void in Wiggins.
"The situation with Ben, he handled himself beautifully while he was here. He's an unbelievable kid. We lose him. We should have lost him (after one season). He should go because he has a chance to provide for his family," Self said on Brando's show. "You wake up and have somebody like Andrew Wiggins step in to go with five other guys (in KU's recruiting Class of 2013), and you are, 'Wow. Did we deserve this? This is unbelievable.' We're all ecstatic around here."
Wiggins has been praised for announcing in a private ceremony at his high school attended by just one media member.
"It drives me nuts. You spend a lot of time recruiting a kid, and a kid picks a hat (off a table), which is fine. It's how TV wants to play it up to be a big deal," Self said of signing ceremonies in which a top high school player places hats of his finalists in front of him and puts the hat of one school on his head, signifying the winner.
"You have schools that invest so much time, energy and money sitting there watching it go down and not have a clue because they (network executives) tell them (prospects), 'If you tell anybody, we won't have you on TV.' This was the high school beat writer, family, friends, teammates ... perfect. I thought it was very refreshing."
Analysts have compared Wiggins to various NBA standouts, like LeBron James.
"Comparing him to LeBron is not fair," Self said. "From a physical standpoint, they are both about the same height. LeBron is obviously much thicker and bigger physically. Andrew is extremely long at 6-8. His wingspan may be 7-1, 7-2, and they can both fly. There are some similarities in that. Both are freakish athletes."
As far as how Wiggins will be used ...
"We'll plug him in and do a lot of things we did with Ben plus add a whole bunch of more things," Self said. "I think he's a slasher who can shoot. You can post him. You can play really small with him at the 4, which we probably never will do, and of course he can be your 2-guard, which is his natural position."
McLemore case: Brando referenced the situation in which McLemore's amateur status from last season may be in jeopardy. It was recently alleged that a middleman paid for his birthday party, hotel rooms for relatives who attended the party and also paid travel expenses for McLemore's AAU coach and McLemore's cousin on a pair of trips to Los Angeles.
"I can't comment on this other thing that's happened. It is unfortunate," Self told Brando. "It is something it'd be great to get your arms around. It's easy from the cheap seats to say you should be doing this or should be doing that. That's not the life these guys live. I don't think Ben did anything remotely wrong at all, but the whole thing is ... you are talking about a big, big, big, big business. People know it's a big business. There's a lot of people benefiting from these exceptional athletes, more than just one sport — football, baseball, whatever, but certainly basketball is the one highlighted the most because of the situation where kids can leave so early and there are so many third party influences in some way, shape or form."
Kentucky response: Kentucky coach John Calipari at a news conference Wednesday discussed losing Wiggins to KU.
"I'm as confident before and after his decision," Calipari told the Sporting News' Mike DeCourcy. "I wish him well. He's a great kid and is going to be a terrific basketball player. I was confident in this team and what we have before and after."
Calipari said his young Wildcat team will try to go undefeated.
"We're chasing perfection. We're chasing greatness. We're chasing things that have never been done before in the history of this game," Calipari said. "It's never been done … in the modern era."
No team has gone undefeated since the NCAA Tournament expanded to 64 teams in 1985.
"It wakes you up a little earlier in the morning," Calipari said in the Sporting News. "I don't mind a little pressure. You know what? I'm at my best when the gun is to my head. Players are the same. I'm not saying if we lose a game, it is not a successful season. No. But you're chasing greatness. What's wrong with that?"
Next year's top player responds: Jahlil Okafor, a 6-10, 280-pound center from Chicago Whitney Young and the No. 1 player in the Class of 2014, wrote about Wiggins in his blog in USA Today.
"Of course I heard the news about Andrew Wiggins signing with Kansas and I really liked that move for him. He wouldn't be there if I was to go there but that still makes them really attractive," Okafor wrote.
"A lot of people say that Kansas doesn't want a freshman to just come in for a year and have a huge impact then leave. I've never believed that, but I know Andrew will prove that it's not true so that's why it's big. I'll definitely be watching close to see how they handle a player of his talent level. I know coach Self will do a good job with it. I thought Andrew handled his whole recruitment really well. He took his time and made the right decision for him. I do think I'll end up committing much sooner than he did though."
Black's visit: Tarik Black, a 6-9 junior from the University of Memphis who recently announced plans to transfer, was on KU's campus on a recruiting visit Wednesday after visiting Duke earlier in the week. He's also considering Oregon, Georgetown and Ohio State.
Number tidbits: KU junior Naadir Tharpe has given his jersey No. 1 to incoming freshman Wayne Selden, Selden reported on Twitter. Tharpe will be No. 10. Brannen Greene will wear No. 14, Frank Mason No. 0, Joel Embiid No. 21 and Conner Frankamp No. 23.
KU-UF announced: Kansas University's men's basketball game at Florida on Dec. 10 will be part of the Big 12/SEC Challenge, the two conferences announced. The Big 12/SEC Challenge will begin during the 2013-14 season.
"This will be very good for our league," Self said.
McLemore picks agent: Former KU guard Ben McLemore has chosen Rival Sports Group as his pro representation, ESPN's Chad Ford reports from the NBA combine in Chicago. Ford said he has been working out in Los Angeles with Pooh Richardson. McLemore will not scrimmage at the NBA combine, just take part in measurements and interviews.