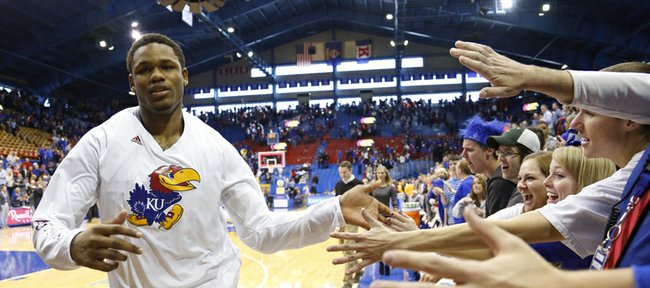 Kansas University's athletic department is looking into a USA Today report that freshman basketball player Ben McLemore's former AAU coach received $10,000 and three expense-paid trips to Los Angeles from a middle man who represented agents and financial advisers this past season.
St. Louis-based AAU coach Darius Cobb told the paper that he accepted two cash payments of $5,000 during the 2012-13 season from Rodney Blackstock, the founder of Hooplife Academy, a sports mentoring organization based in Greensboro, N.C.
Cobb said he also went on three trips to Los Angeles and that Richard Boyd, a cousin of McLemore's, traveled with him on two of them. The trips, USA Today wrote, were for January/February meetings with sports agents and advisers hoping to represent McLemore if he left for the NBA after the season. McLemore has indeed declared for the 2013 NBA Draft.
"Late this afternoon we received an inquiry regarding the relationship between the family of Ben McLemore and a third party, Rodney Blackstock. This was the first time this inquiry had been presented to us," KU athletic director Sheahon Zenger said in a statement. "In accordance with the conditions and obligations of its membership in the NCAA and the Big 12 Conference, the University of Kansas will review the information and process it with both of those entities if necessary. We are not in a position to comment further at this time."
Zenger told the Journal-World he would have no further comment. Coach Bill Self offered no comment on the matter.
Boyd in an interview with USA Today denied making the trips to Los Angeles. Cobb told USA Today that McLemore knew "little to none" about Blackstock's financial involvement in the player's life and did not know Cobb received $10,000 from Blackstock.
However, USA Today reported that Blackstock attended three games at Allen Fieldhouse this past season courtesy of complimentary tickets provided to McLemore by KU. Blackstock, the paper said, also paid the bill ($400 or $500) for McLemore's birthday party at a Lawrence bowling alley. Cobb also said a payment from Blackstock went toward hotel rooms in Lawrence for some attendees of the birthday party.
USA Today said McLemore's mom, Sonya Reid, sat with Blackstock at KU's game versus Texas in Austin.
According to USA Today, McLemore's amateur status could have been put at risk because of payments Cobb said he accepted from Blackstock. USA Today writes that an athlete's family members, friends and coaches cannot accept money or gifts from agents or anyone working for them.
Cobb said Blackstock gave him money because he wanted Cobb to direct McLemore to Blackstock. Cobb told USA Today that Blackstock introduced McLemore's family to multiple Los Angeles-based sports agents during the season. Cobb also told USA Today that he had, on occasion, helped the family financially by paying bills and buying McLemore clothes and food. The paper indicated Cobb was on McLemore's guest list for five home games this season, and Cobb said he also attended some road games.
Cobb told USA Today he has come forward because he wants to educate families of players and expose those who pursue amateur college athletes and their families.
"Let me be the crooked AAU coach. I was willing to take the brunt of it for the sake of this kid. I wanted to keep him pure," Cobb told the paper.
USA Today reports that, in the past, the NCAA has handled similar situations on a case-by-case basis. If McLemore's amateur status was compromised last season, it is believed KU could risk forfeiting games in which he played.
Editor's Note: Because of a glitch in our software, the comments counter on this story combines the total of comments on both the LJWorld.com and KUsports.com versions of this story, even though each story (while identical) has its own set of comments. Please go to the other version of the story to see the additional comments. Thank you.