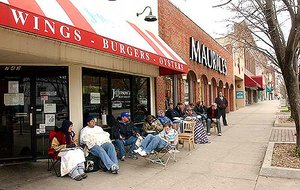 Related story
When March Madness hits Lawrence, they've been known to commandeer tables for half a day, ordering water and free chip refills to secure a good seat for the big game.
These so-called campers are the target of a new policy some Lawrence sports bars are enforcing for big tournament games: paying for tables.
It's basically asking customers to order a minimum in food and drink to secure their tables — not unlike the requirements for getting bottle service at a nightclub or reserving a room at many event venues — and different restaurants are taking different approaches.
At Henry T's, 3520 W. Sixth St., the process is fairly formal, and it's going over well, bar manager Jeff Hornberger said. As of Thursday morning, the prime tables had already been taken for Friday night's Kansas University men's basketball game against the Michigan Wolverines.
A four-person table costs $100 to reserve for the game, Hornberger said. The money goes toward anything you order, so it's pretty easy to reach $25 a person with an entree, an appetizer and a few beers, he said.
In the past, Hornberger said, he's had people show up at 11 a.m. to get a table for a night game. Under the new policy, customers with reservations can walk right in and sit down at 6 p.m. for a 6:30 p.m. game, Hornberger said. And the restaurant and its servers don't lose out on sales and tips because a table was out of commission for an entire day.
Henry T's started the practice during last year's tournament and brought it back, Hornberger said. "If it didn't work last year, we wouldn't do it again this year."
Jefferson's restaurant, 743 Massachusetts St., doesn't reserve tables, general manager Brooke Pearce said. But for big basketball games, they wait to seat groups until everyone's there, then require a minimum of $15 per person, per hour in sales.
Jefferson's also started the practice last year, and Pearce said it worked well. They used it for this year's Big 12 championship game and tournament games, starting with Sunday's matchup against North Carolina.
Pearce said Jefferson's sometimes wiggles on the $15 rule.
"As long as they're spending money, we'll work with them," she said.
Wayne and Larry's Sports Bar and Grill, 933 Iowa St., has a minimum-purchase type policy similar to Jefferson's.
Doug Holiday is one restaurant owner who's doesn't have any special game-day policies at his establishments, Bigg's Barbeque, 2429 Iowa St., and Burgers by Bigg's, 4801 Bauer Farm Drive.
At least at his restaurants, Holiday said, loitering hasn't been a problem. However, he does stick with a common restaurant rule to help keep things moving.
"For those nights when we know it's going to be busy ... we don't seat incomplete parties," he said.
And while die-hard basketball fans may find it unfathomable, there are people who simply want to go out for a meal on game days.
"We actually have people come in, eat and leave," Holiday said, "then end up with tables open right before the game."