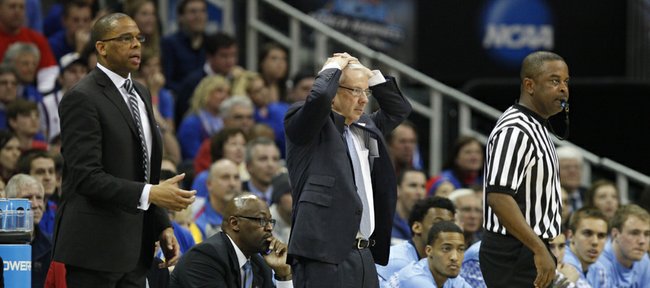 Photo Gallery
Kansas basketball v. North Carolina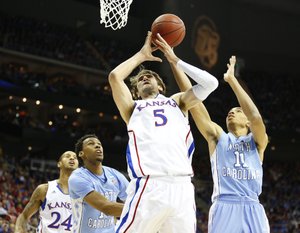 Images from Sunday's game against North Carolina at the Sprint Center.
Podcast episode
Kansas coach Bill Self and seniors Travis Releford and Jeff Withey talk to reporters following the Jayhawks' 70-58 victory over North Carolina on March 24, 2013.
Podcast episode
North Carolina coach Roy Williams, guard Marcus Paige and forward James Michael McAdoo talk to reporters following the Jayhawks' 70-58 victory over UNC on March 24, 2013.
Kansas City, Mo. — For the first time in his three match-ups with his former school, North Carolina coach Roy Williams watched his team be the more physical team during Sunday's third-round showdown at Sprint Center.
By game's end, however, the scene was the same as it had been after the first two meetings in 2008 and 2012 — an emotional Williams sitting at the podium congratulating Kansas and talking about the disappointment of another season finished.
"The fact that I coached there for 15 years is extremely important to me," Williams said following KU's 70-58 victory Sunday. "But it doesn't add anything today. I hurt for myself. I hurt for the kids in the locker room. The fact that it was Kansas, you know, (in) 1990 we lost to UCLA in the second round. I'm still pissed off about that because we were pretty doggone good. I remember UTEP in '92, Virginia in ('95). I can name every one of them. Every one of them hurt. That's it."
After the game, North Carolina's players, who have come to love Williams like a father, saw their coach's 0-3 record against KU two ways.
"It hurts a lot," senior Dexter Strickland said. "I know how much it means to him, but I don't think we were as focused on how much it means to him as we were just trying to get to the Sweet 16."
Added sophomore guard P.J. Hairston: "I don't think it's just about beating Kansas. It's about winning, period. We wanted to win him a championship. And, unfortunately, it didn't end the way we wanted it to."
For 20 minutes Sunday, it looked as if Williams might finally break his personal losing streak to the Jayhawks. North Carolina (25-11) raced out to a 12-2 lead, was by far the more aggressive team and led 30-19 late in the half before taking a 30-21 lead into the locker room at the break.
That all changed quickly, though, when the teams returned to the floor for the second half, as Kansas started the final 20 minutes with a 16-3 run and led by 12, 50-38, with less than 10 minutes into the final frame.
"I felt like we were fine at halftime," Hairston said. "We were definitely all over the place on defense, causing a lot of turnovers (12), and we thought we could come out in the second half and do the same thing. But when we came out, Kansas was the aggressor."
With every KU bucket, the pro-Kansas Sprint Center crowd grew louder, fueling the Jayhawks' 49-28 second-half onslaught.
"Yeah, it felt like we were playing at Kansas," UNC junior Reggie Bullock said.
Both teams shot terribly in the first half, with Kansas making just seven of 28 shots (25 percent) and UNC hitting just 11 of 42 (26.2 percent). But the Jayhawks (31-5) caught fire in the second half, shooting 63 percent (17-of-27) to finish at 44 percent for the game. UNC remained ice cold, finishing just 22-of-73 (30 percent) for the night. For the umpteenth time this season, KU center Jeff Withey played a huge role forcing KU's opponent to shoot such a poor percentage. In addition to his 16 points and 16 rebounds, Withey blocked five shots and altered countless others.
"When I got into the lane, I was worried about the shot-blocker too much," Bullock admitted after the game.
Added UNC big man James Michael McAdoo: "I think (Withey) does a great job of working with his guards, not really leaving the rim that much, which made it really hard to finish a lot of plays."
The victory moved the Jayhawks into the Sweet 16 for the third consecutive season and, for the second year in a row, sent Williams home with a heavy heart.
"Congratulations to Kansas," Williams said. "They were phenomenal in the second half today. ... They're a No. 1 seed for a reason."