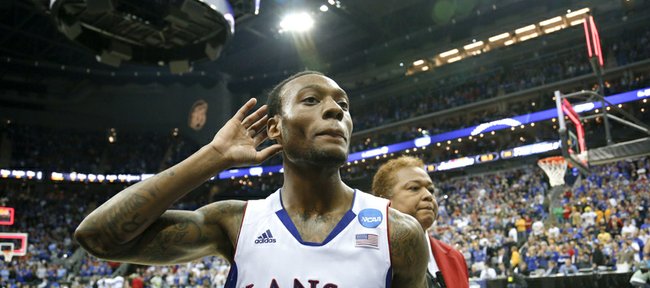 Photo Gallery
Kansas basketball v. North Carolina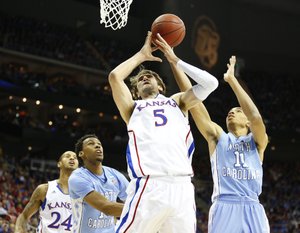 Images from Sunday's game against North Carolina at the Sprint Center.
Podcast episode
Kansas coach Bill Self and seniors Travis Releford and Jeff Withey talk to reporters following the Jayhawks' 70-58 victory over North Carolina on March 24, 2013.
Podcast episode
North Carolina coach Roy Williams, guard Marcus Paige and forward James Michael McAdoo talk to reporters following the Jayhawks' 70-58 victory over UNC on March 24, 2013.
Kansas City, Mo. — Kansas basketball coach Bill Self's emotions took a wild spin on a tilt-a-whirl ride Sunday and sophomore guard Naadir Tharpe was behind the wheel, making his coach's expressions scream "No!" "Yes!" "No!" "Oh no!" "Oh no, not again!" "Yes!" "Yes!" "Yes!"
While others sweated watching him, Tharpe played with the confidence of a man convinced that in the end everything would be just fine. He made sure of it. Mixing addled plays with brilliant ones, Tharpe had far more of the latter and helped Kansas storm from 11 points down to reach the Sweet 16 with a 70-58 victory against North Carolina.
On a day KU seniors Jeff Withey and Travis Releford relentlessly dominated at both ends in the second half, Kansas needed one of its underclassmen to join the party. On this day it wasn't going to be either Ben McLemore (0-for-9, two points) or Perry Ellis (1-for-3, three points).
Tharpe answered the call, overshadowing his spills with thrills that chilled the partisan Kansas crowd.
A 5-foot-11 sophomore guard from Worcester, Mass., Tharpe scored all of his 12 points in a second half in which he made all three of his three-point shots. He also made three of four free throws in the half.
And then there were the plays that made his coach hold his head to keep it from exploding.
Instead of laying the ball in, Tharpe fired an off-target behind-the-back pass that Releford turned into a bucket, but that didn't keep Self from pointing at Tharpe in frustration. Late in the game, Tharpe picked up one of his four turnovers on a five-second violation.
Tharpe's most embarrassing moment "will never happen again" he vowed afterward. With Perry Ellis at the free throw line ready to take a second shot, Tharpe was talking to Elijah Johnson about "how to defend the next play" when he absentmindedly walked onto the three-point line, a lane violation. As soon as the whistle blew, a low, harsh voice shot through the still-silent arena. It belonged to Self.
Not long after that, Tharpe did what he had already done twice in the half. He stuck a dagger in North Carolina's hopes. His first three-pointer gave Kansas a seven-point lead, the second a 12-point lead, the third, of the step-back variety, a 13-point advantage with 5:24 remaining.
Tharpe spent much of the second half playing in place of McLemore and when Tharpe checked out of the game in the final minute, Self gave him a hug and a pat on the backside and, according to Tharpe, Self told him, "You made some bone-headed plays, but wow, you played great for us today."
After the buzzer sounded and KU's record improved to 8-0 in Sprint Center games this season, Self walked with Tharpe to the spot of his violation and repeated his message.
"He said the same thing about the bone-headed play and once again he said, 'You played great. You really showed toughness.'"
Tharpe, who looked very much like an overwhelmed freshman a year ago, has played with so much confidence this season.
We all see Self shaking his head at Tharpe's miscues during games, but we're not privy to other moments when the coach tells him what he thinks of his game.
"He comes up to me a lot and talks to me about how he wants me to be aggressive and always tells me how I'm a good player and how I'm a great shooter," Tharpe said. "When your coach tells you that, it's hard for you not to play with confidence. He's been here a long time and he's been around some great players. For him to say that to me, I feel like that's how I have to play, and I need to do as much as I can to help him out."
Not done with his 10th season at Kansas, Self has won 300 games for the school. You don't do that without knowing how to balance climbing all over every player's imperfection daily while still managing to inflate your players' confidence levels.
Tharpe and the rest of the team combined to make 25 percent of their shots in the first half, 63 percent in the second.
Tharpe shared Self's first words at halftime, when Kansas trailed 30-21:
"Is this how you want it to end, going out like that?"
And what was his tone?
Tharpe smiled at the question.
"Come on," he said. "You guys know coach Self."
Not nearly as well as Tharpe does. He knows him. He likes him. He doesn't want to disappoint him. He did anything but that Sunday.