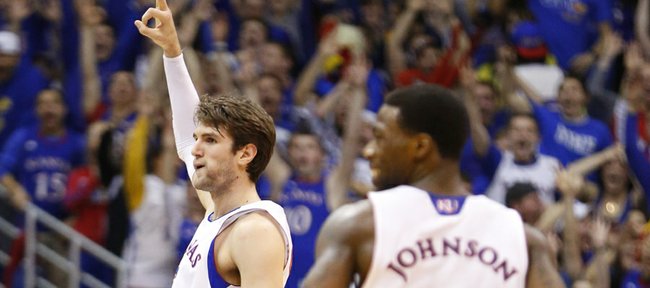 Feeling a bit sentimental — and comfortable with his Kansas University basketball players holding a 34-point lead — Bill Self let his players look at the videoboard in lieu of listening to him during a TV time out with 7:14 left in Monday's 79-42 rout of Texas Tech in Allen Fieldhouse.
"Our scoreboard is great. It's kind of a pain for me. Our players want to watch it. It's hard to get their attention," Self, KU's 10th-year coach, said on his Tuesday Hawk Talk radio show. "Yesterday, the seniors' 'Pop-Up Video' came on. Why not let 'em watch it? It was kind of a unique game."
So with the Jayhawks leading, 69-35, on Senior Night, Self told seniors Elijah Johnson, Travis Releford, Jeff Withey and Kevin Young to enjoy the video instead of listening to him bark orders with the game well in hand.
"Trust me, it wouldn't have been like that last year on Senior Night against Missouri. We didn't care about the 'Pop-Up Video' last year," Self said of KU claiming a come-from-behind overtime win over the Tigers. "Last night was a little bit different."
Self said he enjoyed the concise three-minute speeches of each of KU's four seniors.
"What happens is the first guy kind of screws it up and goes long," Self said of past speeches that would last 10-15 minutes per player. "Then the next guy feels he's got to go long. Kevin started it off ... he said what he wanted to say and everybody followed suit.
"For a 6 o'clock game, the speeches were over and fans were out of there by 8:25. I remember some nights with Wayne (Simien), Aaron (Miles), Keith (Langford), Mike (Lee) ... they'd already spoken an hour and Wayne says, 'Get comfortable, we're going to be here a while.' Jordan (Juenemann) took 25 minutes to thank the janitor at the church he went to for one year growing up," Self added with a laugh.
"I think it's neat our fans are so respectful of the kids who represent them on a nightly basis and stick around for the speeches."
Self asked the fans to give freshman Ben McLemore a rousing ovation.
"I didn't do it for any reason. We don't talk if he's going (to NBA) or staying," Self said. "The decision will be made after the season is over. I thought it would not be right if he makes the decision to leave — and I'm not saying he will — if the fans didn't get the chance to recognize him one last time. I thought it was cool what our fans did (standing ovation and chant of "One More Year)."
Three-ball: Self on whether Withey, who hit a three, would attempt any more treys.
"I think Jeff made the one he needed to make, now we need to focus on getting his butt where it belongs, close to the basket," Self said with a laugh. "If he's open and feeling it, it's OK to pull the trigger on that one. Before the game he said, 'Coach, I may shoot a three.' I said, 'Shoot it.' Sure enough, he shot it and it went in."
The race: KU and K-State will take 14-3 Big 12 records into Saturday's regular-season finales. The Wildcats travel to Oklahoma State for a 12:30 p.m. tip. KU will meet Baylor at 5 p.m., in Waco. Oklahoma State, 12-4, travels to Iowa State tonight before playing host to KSU. "I know our guys will be fired up going to Waco (and trying for ninth-straight league title)," Self said.