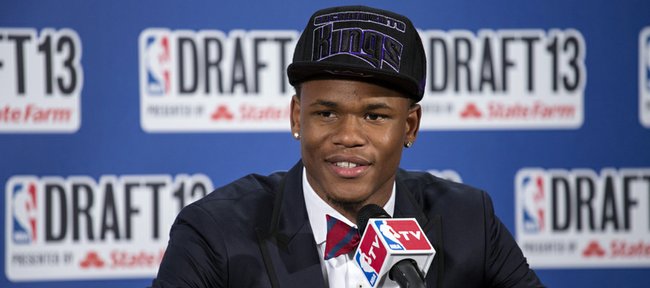 In letting Ben McLemore slip all the way to seventh in Thursday night's draft, NBA general managers were guilty of obsessing on Cindy Crawford's mole, the hitch in Jim Furyk's golf swing, the raspy flatness to Bob Dylan's voice.
In a classic case of paralysis by over-analysis, those who passed on McLemore overlooked the obvious. The Kansas shooting guard has a better shot and more athleticism than anybody drafted, qualities that make him a potential star at both ends and at his best in transition.
In obsessing on his passive personality, they also overlooked how well he responded to Bill Self's coaching and how much he cares about improving his game.
Can't quarrel much with the Cleveland Cavaliers for drafting mega-talent Anthony Bennett of UNLV with the top pick. And I loved that the Charlotte Bobcats had the guts to select Cody Zeller, a terrific outside shooter who didn't have a chance to showcase that at Indiana, fourth.
The other four teams that passed on McLemore showed no guts. Picking second, the Orlando Magic went the safe route and took Indiana's Victor Oladipo, who plays the same position as McLemore. With the third selection, the Washington Wizards did the same, avoiding risk with Georgetown's Otto Porter, a solid small forward.
The Phoenix Suns and New Orleans Pelicans, drafting for the Philadelphia 76ers, played a different sort of safe game, opting for centers. Size is hard to find in the draft, the analysts love to say, and general managers can get away with swinging and missing on big guys more than on wings. Injury risks Alex Len and Nerlens Noel were selected before McLemore went to the Kings.
It's probably for the better that McLemore didn't go to the Suns, where he could have been, ahem, mentored by Marcus and Markieff Morris and Michael Beasley.
McLemore's headed to a lousy team blessed with a good coach, the right kind of teacher for a young-for-his-age (20) rookie. Mike Malone is not an insecure screamer. His father, Brendan Malone, now an assistant for Mike in Sacramento, has coached in the NBA for 25 years, almost all as an assistant. Nice people, the coaching Malones.
Now it's up to McLemore to use the disappointment at lasting until the seventh pick to fuel him to Rookie of the Year honors on the way to multiple All-Star game appearances.
McLemore must do what those who passed on him didn't. He must dare to be great, not stay comfortable by fading into the background and letting veterans hog the ball. He floats like Scottie Pippen and shoots like Ray Allen. If he can try his hardest to compete even a bit like Michael Jordan, he'll make a lot of men feel really stupid for a long, long time. Even gentle Ben, a nice, kind sort, would derive great pleasure out of that.