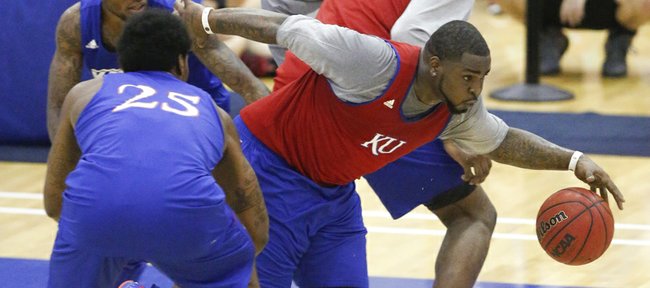 Sherron Collins dribbled maniacally in the lane, bouncing the basketball behind his back, through his legs — orchestrating moves that would make the Harlem Globetrotters proud — before converting a layup in last week's Bill Self campers game in Horejsi Center.
The ballhandling exhibition had his camp-game teammates' full attention — their thoughts returning to the days when Collins used to dominate practice during his Kansas University career that spanned from 2007 to 2010.
"I don't like doing it. Brady (Morningstar) and Tyrel (Reed) used to love it in practice all the time. You see those guys loved it when I did it today," reflected Collins, now a 26-year-old unemployed point guard on the comeback trail.
"It was more for the kids, getting them to ooh and aah," Collins added of the 800 attendees.
Yes, the 5-foot-11 Collins — who appears to be at least 30 pounds over his college playing weight of 205 — proved in bursts he can still play basketball, despite the inactivity of the past two seasons.
"Of course. It doesn't go anywhere," Collins said, asked if he "still has it."
"I'm just a little step slower right now."
That's the part he's working at correcting.
Chicago native Collins — the fifth-leading scorer in KU history — has been in Lawrence for the past several weeks, determined to get in shape after speaking with his former KU trainer, Andrea Hudy, and former coach, Bill Self, a few weeks ago.
"The first day I got here, coach Self said, 'Are you all right?' I said, 'Yeah,' with a tough shrug," Collins said. "He said, 'You are always all right.' When you've got something like that around you, motivation, that's the key."
Nobody is babysitting Collins.
Of weight guru, Hudy's role, he said: "I'm old enough now. I know what I need to do. It's all on me. Hudy's helping me. It's really all on me."
Collins played 20 games for the NBA's Charlotte Bobcats in 2010-11, then played for a team in Turkey in 2011-12. He was coming off a knee injury last summer when he lasted less than a week in San Antonio Spurs training camp.
His weight a major problem, he had no real options to catch on in Europe.
"It's a big summer getting back in shape and where I need to be," Collins said. "I've been injured. That's not an excuse. I think I'm in better condition now than I was last year. I just have to keep working. I'll be all right."
Collins said he works out "every day," in fact taking no days off during his latest comeback in Lawrence.
He grew serious when asked his "motivation."
"My kids, my family," said Collins, who has two children in Chicago. "I've got a sick brother (Steve, who lives in Lincoln, Neb.). He's got sarcoidosis, which is what killed Bernie Mac. It's getting the best of him now. He's battling, taking steroids. He's got to take a lot of meds. He's my brother ... they've got to find a cure."
Collins' former teammates believe Sherron will again catch on in the NBA, which is his goal, or Europe, as soon as next season. His agent will be pursuing opportunities as the pounds are shed.
"It's stuff you can't teach. He's just got it," said former KU guard Tyshawn Taylor of the Brooklyn Nets. "Some people just have a natural ability to do certain things and he had a natural ability to just handle that rock, put it on the ground — shoot, 300 pounds, 180, he can do it, whatever (size).
"I told Mario (Little), 'He's putting that thing down just as fast as I've ever seen him do it, he's just not really going anywhere with it like he used to. And that's the things that's correctable and he can fix. Stuff that can't be taught and can't be fixed, he's got it."
KU coach Self, who can't watch his camp games in accordance with NCAA rules, broke into a big smile when informed Collins scored 16 points in the camp contest.
"Hey ... he's good," Self stated before patting his former player on the back.
Collins appreciates the words of encouragement. It's one of the reasons he's returned to town where he often stays with the Morningstar family. "I mean, I love Kansas," he said. "I'm going to be here every summer. The help given me is unbelievable. From coach Self all the way to the new coaches to Hudy, the managers. Everybody is great here. I understand why. Kansas is Kansas and we're family.
"I feel it's my time. I've been through a lot. I've weathered the storm. I talked to coach Self and he said the same thing: Stay here and get myself in shape and they'll help me do whatever I need to do to get on the floor. I'll make it. Of course," he concluded.