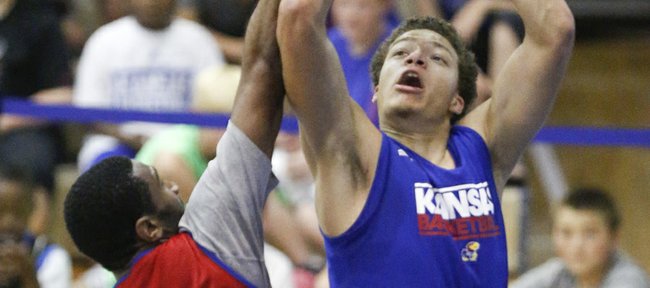 Photo Gallery
Kansas basketball scrimmage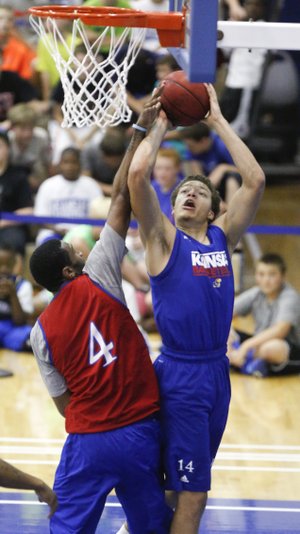 Images from Wednesday's scrimmage between current players and alumni at the Horejsi Center.
Box score
RED (76)
Tyshawn Taylor 19 points, Sherron Collins 16, Landen Lucas 13, Mario Little 9, Joel Embiid 7, Tyrel Reed 6, Justin Wesley 4, Brady Morningstar 2, Jeff Hawkins 0.
x-BLUE (91)
Brannen Greene 21, Perry Ellis 14, Conner Frankamp 12, Wayne Selden 12, Jamari Traylor 11, Tarik Black 10, Naadir Tharpe 6, Frank Mason 3, Tyler Self 3.
x-Blue actually had 92 points; one free throw was not counted on scoreboard
Threes: Greene 5, Collins 4, Frankamp 4, Taylor 3, Little 3, Reed 2, Tharpe 2, Ellis 2, Selden 2, Embiid 1, Self 1, Traylor 1.
There was a time — not so long ago — when Kansas University freshman Brannen Greene had little in common with the 800 crimson-and-blue-loving youths who watched him erupt for a game-high 21 points in Wednesday's Bill Self campers game in Horejsi Center.
"It's funny the way it started off. I used to hate KU, and I know that's a strong word. I used to hate KU," Greene said after hitting five threes in the Blue Team's 91-76 victory over the Red Squad.
"Once the recruiting process started, I looked into the school. When I took my visit, I just fell in love with it," added the 6-foot-7 small forward from Tift County High in Tifton, Ga., who orally committed to KU in December of 2011.
During grade school and into high school — when he was about the same age as the current Self campers — Greene was a rabid supporter of another Big 12 squad.
"I used to like Texas. Texas used to be my favorite team," Greene said with a smile. "My dad (Jeff, former Pittsburg State standout) has always been a big fan of KU, the way they play for 40 minutes straight at you.
"It was me being young, just wanting to go against my dad, so I would say I hated them," he added of the Jayhawks. "It actually grew upon me to hate them. Now I love 'em."
Greene, who averaged 27 points, nine rebounds and six assists a game his senior season, scored 16 points in Wednesday's 15-minute second half.
He made five threes on a day Blue teammates Conner Frankamp (12 points), Perry Ellis (14 points), Wayne Selden (12 points) and Naadir Tharpe (six) hit four, two, two and two threes respectively.
"It crosses your mind," Greene said of firing up as many shots as possible when on a hot streak. "Every time you come across halfcourt, you're thinking, 'Hey, I might let this go.' Sometimes you have to know when to pick your spots."
Greene said he was motivated playing a Red team that included former KU greats Tyshawn Taylor (19 points) and Sherron Collins (16).
"There were definitely bragging rights on the line. Sherron was talking a lot of junk. Brady (Morningstar, two points) was talking a lot of junk. We've been hanging out a lot outside the arena, around the dorms. We've been talking, so I know the guys pretty well," Greene said.
Collins — who did not play professionally last season; he's in the process of getting in shape in hopes of making a push for the NBA or Europe — hit four threes in a losing cause.
Which player impressed Collins the most?
"Conner," Collins said of Wichita North combo guard Frankamp. "I heard he was really good. I watched a couple videos. To see him up close ... people don't expect too much. You've got some doubters. I think he's going to be real good."
Of his own sizzling shooting performance, Frankamp said: "I shot pretty well in warm-ups, so I felt good. I got into a rhythm. I shot open shots. That helps when you can get open shots.
"To be here is awesome. I committed a long time ago (July of 2011). Finally being here is a dream come true. Playing with these great guys is amazing."
Frankamp said he was impressed with Greene, who can play forward and shooting guard.
"Brannen was on fire. If he keeps shooting like that, we're going to be tough to beat," Frankamp said.
Greene couldn't wait to inform his dad of his performance at Self's camp.
"I'm pretty sure I'm about to give him a call right now, as soon as I leave," Greene said. "I'm pretty sure he'll be excited."
Taylor impressed: Tyshawn Taylor of the Brooklyn Nets was impressed with KU's current players: "They are going to be one of the best teams I've watched since I've been watching college basketball, for sure since I've been here. It might be early to say because they are young, but they've got a lot of young talent and really good players."
Highlights: Seven-foot freshman Joel Embiid hit a three, as did 6-8 Jamari Traylor ... Tharpe lobbed to Ellis for an alley-oop slam. ... Red-shirt freshman Landen Lucas dominated the paint en route to 13 points. ... Collins dribbled frantically in the lane, then capped the Harlem Globetrotter-like display by converting off an amazing spin move for a layup. ... Former Memphis center Tarik Black had a vicious dunk ... Frank Mason gave the Blue its first lead off a driving layup, 64-62.
White out: KU sophomore Andrew White did not play because of a sprained left knee. Self said the injury was not serious. .... Andrew Wiggins is not yet in town. Self said Wiggins is completing paperwork before his arrival, which could be Friday.
Roundball Classic tonight: The Rock Chalk Roundball Classic charity basketball game will be at 7 tonight at Free State High. The game will include former KU players, including Collins and Taylor, Ryan Robertson and Scooter Barry, among others.