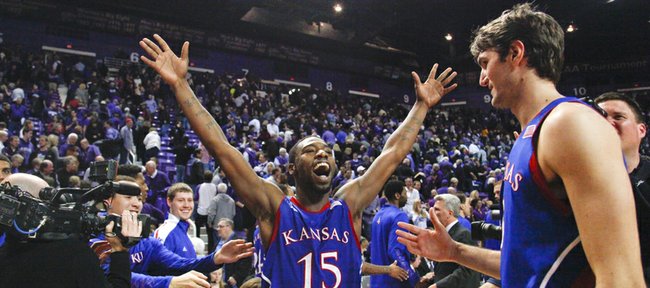 Former Kansas University combo guard Elijah Johnson worked out for the Portland Trail Blazers on Monday with fellow NBA Draft hopefuls Kentavious Caldwell-Pope (Georgia), Sherwood Brown (Florida Gulf Coast), Jared Berggren (Wisconsin), Brandon Davies (BYU) and Abdul Gaddy (Washington).
After a session that included live scrimmaging and 1-on-1 drills, Johnson was asked by the Oregonian what he brings to the NBA table.
"I feel I can fit a lot of different teams. I feel I'm versatile," the 6-foot-4 Las Vegas native said. "Some players do one thing. It's either they fit or don't fit.
"I feel I can adjust a little more than the average person.
"I'm trying to show I can guard all the way to 6-6. I'm not going to go away easy," he added, smiling.
Johnson said he will work out for Washington today then take a break before "going to Houston, Utah, Dallas, a couple more places."
"I feel I can attack and score the ball, too," Johnson noted. "I feel I can score the ball at will when I have the opportunity or if that's my job. I've always been able to guard. That's what we do at Kansas. I feel like I got that from coach (Bill Self)."
Releford in Sacramento: Former KU guard Travis Releford worked out for the Sacramento Kings on Monday with Will Cherry (Montana), Chris Evans (Kent State), Rudy Gobert (France), Aziz N'Diaye (Washington), and Brandon Triche (Syracuse).
"I feel I can come in and be a spark on the defensive end," Releford told Sacramento News 10 KXTV. "I talked to the coach about that. He said the focus in this year's draft ... they want a guy to be able to come in and be a lockdown defender. Hopefully they take a good look into me because I feel I can do that."
The 6-foot-6 Kansas City native added: "At Kansas the past two years I've been one of those guys that always guarded the best player on the other team. I take pride in that and doing whatever it takes to win."
Withey in Denver: Former KU center Jeff Withey worked out for the Denver Nuggets on Monday. He was joined by Tony Mitchell (North Texas), Phil Pressey (Missouri), Colton Iverson (Colorado State), Mike Muscala (Bucknell), Nate Wolters (South Dakota State), Reggie Buckner (Mississippi), Reggie Bullock (North Carolina), Matt Dellavedova (St. Mary's), C.J. Harris (Wake Forest), Elias Harris (Gonzaga), Ricky Ledo (Providence).