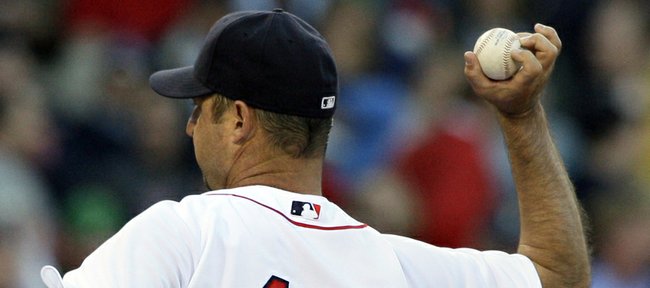 Hitting guru Charlie Lau devoted his professional life to teaching a baseball swing that could work against just about any style, particularly if the one holding the bat happened to be prize pupil George Brett. But even Lau didn't claim to have the answer to how to master the strangest, most unpredictable offering of them all.
"There are two theories on hitting the knuckleball," Lau once famously said. "Unfortunately, neither one of them works."
The pitch also happens to be the most difficult to catch and throw for a strike, but hey, most good things in life come with side effects.
Strangely, the mysterious floater is not respected in baseball circles, from youth baseball on up. I remember watching young teenagers on a dusty diamond in a game in which the ace didn't have it. Instead of letting him burn his innings limit, the coach removed him and brought the third baseman in to eat the innings as a sacrificial lamb.
Six two-hit, shutout innings later, the third baseman, serving a steady diet of knuckleballs, was the winning pitcher. Everybody had a good laugh, the emergency reliever returned to third base and never again appeared on the mound for that team. I shared that story back then with Boston Red Sox knuckleball artist Tim Wakefield and he shook his head in disgust and gave a one-word response: "Typical."
By comparison, Rodney Dangerfield should have felt respected.
Anyway, Denton Keys, dominant lefty from Colorado who had signed a letter of intent to pitch for Kansas University, signed a big bonus with the Philadelphia Phillies just before the deadline, which leaves the Jayhawks in the market for another arm. This time of year pickings are slimmer than KU's chances of winning the next Big 12 football title. KU pitching coach Ryan Graves and others will try to find an overlooked late bloomer. I have another idea: Mr. Graves, your assignment, should you decide to accept it, is to get a knuckleball pitcher to sign on the dotted line and convince the head coach, Ritch Price, to make him the Friday night starter. In the big leagues, hitters have been known to go into funks after facing a knuckleball pitcher, and not just mediocre hitters.
"I work for three weeks to get my swing down pat and Phil (Niekro) messes it up in one night," Pete Rose once said.
Kansas State hitters flail at the pitch on Friday and they won't feel right on Saturday and Sunday.
Well, Mr. Graves?
"I like your theory," Graves said, kindly. "If I ever run across a knuckleballer in high school or junior college, we may just have to give it a shot, see what happens."
There's the problem: "If."
"At our level, and even at the high school level and going out and recruiting, they're like ghosts," Graves said. "I never run into knuckleball pitchers. My theory on it is it's basically the guys who have done well with the knuckleball, it's been kind of a last resort later in their careers, after college, one last chance to do something with their baseball careers."
Coaches don't know how to teach it and young ballplayers who teach themselves how to throw it by watching a major leaguer explain how to do it on TV are not taken seriously enough to be given the ball during games. Stephen Orso of Long Island, N.Y., who sought and received advice on the pitch from recent Cy Young Award winner R.A. Dickey, was a rare exception. After having success with the knuckleball as a high school pitcher, Orso received an invitation to try out for the University of Maryland baseball team as a walk-on in advance of the 2012-2013 school year. Orso left the team in the middle of fall camp, according to a Maryland athletic department spokesman who said he does not know where Orso went from there. The spokesman said Orso would have made the team, but probably wouldn't have appeared in any games.
Graves found it coincidental that he was being called about the floating pitch because he had just received an email from someone forming an organization that calls itself, "International Knuckleball Academy," which has a professional-looking website at knuckleball.com. The email urged college coaches to inform their former players of the academy's existence, so that they could extend their careers on an unconventional path.
Ezra Wise, director of baseball operations and development of IKA, was an infielder at Macalester College in St. Paul, Minn. He has run baseball instruction summer camps in New Hampshire the past couple of summers.
"I'm a big baseball geek/aficionado," Wise said. "I became obsessed with the knuckleball and I talked to everyone I possibly could and learned everything I possibly could about it. Of all the people who don't throw the knuckleball, I'm one of the most oddly obsessed with it. I won't be doing any instruction (at the academy). I'll be running the show, doing behind-the-scenes stuff."
Chris Nowlin, who in his youth was a basketball player, not a baseball player, will head the instruction. Nowlin, 31, picked up the pitch in his 20s and is pitching for an Independent League team in Peoria, Ariz. Former major-league knuckler Charlie Hough has been his primary instructor.
It will be interesting to see how many, if any, sign up for the International Knuckleball Academy's two-week, in-residence development session scheduled to start Sept. 9 at the Dodgers' former spring training facility in Vero Beach, Fla., for the cost of $3,995.
"We've considered all this very deeply and we believe the knuckleball is very clearly trending upward," Wise said. "R.A. Dickey's success helped big-time. The Red Sox, Orioles, Braves, Rangers and a bunch of other teams are interested in recruiting and developing knuckleball pitchers."
Wise knew of a few small-college pitchers throwing the unpredictable pitch. During the 2013 college season, Dustin Bare went 0-2 with an 8.18 ERA for Lenoir-Rhyne Univeristy, a Div III school in North Carolina. C.J. Collins went 0-2 with an 11.57 ERA for Manhattanville College, another Division III school. But, Wise noted, Collins had a terrific summer throwing the quirky pitch.
As slim as the pickings are for Big 12-ready pitchers of any style, it seems they are a great deal slimmer for knuckleball pitchers.
OK, I'll concede that Graves is wise for not limiting his search to pitchers who file their fingernails. It's an idea ahead of its time. But if and when the pitch is encouraged at the youth-baseball level and the pool expands, the first Big 12 team that has a pitcher floating them up there on Fridays will see that opposing hitters will be spooked all the way into Sunday.