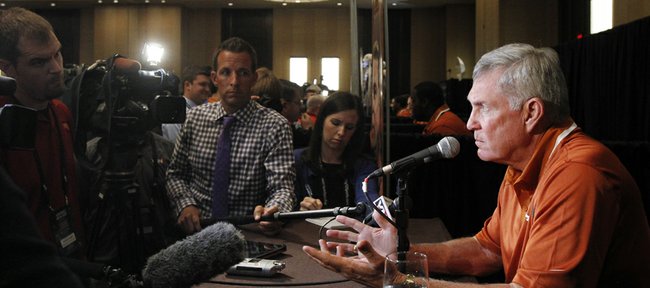 Dallas — Texas football coach Mack Brown, whose team was picked to finish fourth in the Big 12 in a preseason media poll and as high as fourth in the country by at least one national analyst, said Tuesday he did not put too much stock in either ranking because he believed the Big 12 was the most balanced conference in the country.
He defended his claim by pointing to the Kansas University football program led by second-year head coach Charlie Weis.
"You look at Kansas struggled some (in 2012), but they nearly beat us," began Brown, whose team needed a touchdown in the final seconds last October to escape Lawrence with a victory. "They nearly beat everybody they played in Lawrence. They had some great games. Charlie is doing a tremendous job, and Kansas will be back soon, in my opinion. Everybody else can beat anybody else in the league on a given day, and that's not happening across the country."
Brown pointed specifically to the SEC, the conference many believe to best in college football, as being more top-heavy than the Big 12.
"The top seven beat the bottom seven 30-0, and that's not happening in our league," Brown said of the SEC in 2012. "Our league is very challenging. At one point, there were two or three teams that were better than everybody else, and that's not the case anymore. Everybody is pretty good."
As for his team, which returns 19 starters including quarterback David Ash, being picked fourth, Brown said he did not feel slighted by the preseason ranking.
"When you look at us being voted fourth, I thought what we saw is the numbers are all really, really close, and people are confused on who they think may win this conference championship," he said. "And that's a compliment to our league."
Baylor coach Art Briles later chimed in on the topic and said he believed the Big 12 was the country's best football conference.
"I mean, I'm sure there's always doubt because we could both probably throw facts out there that accentuate both of our outlooks," Briles said. "I'm a Big 12 guy. I think it's the best league in America without question."
Dreamius Smith update
West Virginia coach Dana Holgorsen had some nice things to say about former KU signee Dreamius Smith, a Wichita native and member of the KU recruiting class of 2011. Smith left KU before his freshman year and played last season at Butler County Community College before signing with West Virginia during the offseason.
Holgorsen did not go into great detail but made it sound like Smith would have a chance to be a factor in the WVU backfield this fall.
Year of the running back?
With the Big 12's lack of star power at the quarterback position this season, Iowa State running back Jeff Woody suggested this could be the year of the running back in a conference that has been dominated by quarterback play throughout its history.
"If there's any year for the running back in the Big 12, it's probably this year," Woody said. "Because there's so much turnover at the quarterback position. For the first time in three or four years, Iowa State's the one with the stable quarterback situation (with sophomore Sam Richardson)."
Slater staying put
News about a wandering eye from El Camino Community College offensive tackle Pearce Slater, who joined the Jayhawks earlier this summer as a late member of the 2013 recruiting class, surfaced earlier this week. But it appears that Slater's commitment to the Jayhawks is solid.
One day after confirming that he did in fact make a recent visit to Oklahoma, Slater sent a calming message to Jon Kirby of JayhawkSlant.com.
"Tell the fans, Rock Chalk!" Slater wrote Kirby in a text message.
Slater is wrapping up summer classes in early August and is expected to report to KU's campus during the first week of fall camp. He is projected as a right tackle and should be in the mix for playing time immediately.