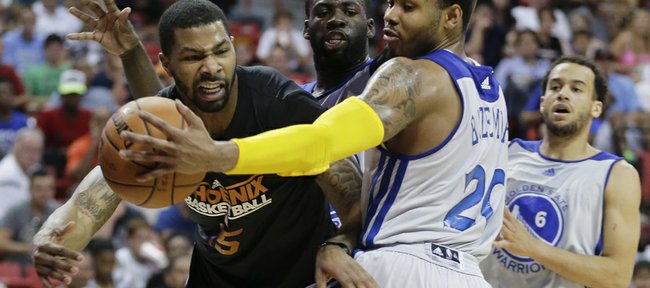 Former Kansas University basketball players Marcus and Markieff Morris combined for 27 points and 13 rebounds in the Phoenix Suns' 91-77 loss to Golden State in Monday's finals of the Las Vegas Summer League.
Small forward Marcus Morris had 17 points and six boards; power forward Markieff Morris 10 points and seven boards. The Suns finished with a 6-1 record to Golden State's 7-0 mark.
Wiggins lauded: ESPN's Myron Medcalf on Monday listed KU freshman Andrew Wiggins as the country's most "indispensable" college player, that is, the most important to the success of his team.
Wiggins was ranked No. 1, followed by Doug McDermott, Creighton; Jahii Carson, Arizona State; Marcus Smart, Oklahoma State; LaQuinton Ross, Ohio State; Cleanthony Early, Wichita State; Alex Kirk, New Mexico; Russ Smith, Louisville; Davante Gardner, Marquette and Mitch McGary, Michigan.
"No high school recruit has ever arrived with this much hype. He might not live up to it. If he does, however, it'll be easy to see why he's so indispensable," Medcalf wrote.
Athleticism galore: KU coach Bill Self continues to be impressed with his collection of players this summer. Teams are allowed to practice two hours a week while summer school is in session.
"This is without question the most athletic team we've had," Self told the Sporting News. "I think we've got to defensively do things to pressure more because for the first time in years we can actually pressure the ball. We've got wings that can run through passes. I think we'll have to do more stuff fullcourt. And then also, we haven't played any zone, but I think we can have an unbelievable zone team. I'm not saying we'll do that a lot. I definitely want to investigate it."
Of the point guard race between Naadir Tharpe, Frank Mason and Conner Frankamp, Self said: "They're all guys definitely better than what I've thought, but still a long way to go to run a team, to being the primary guy. There's definitely competition there. Mason's going to put pressure on everybody to be better. He wants it so bad."
Self recently told the Journal-World: "I think all of our freshmen (Wiggins plus Joel Embiid, Brannen Greene, Frankamp, Mason and Wayne Selden) have had days they have been as impressive as anybody in the gym."
Mudiay blogs: Emmanuel Mudiay, a 6-5 senior from Prime Prep Academy in Dallas who is ranked No. 3 in the country by Rivals.com, says he will visit KU and Kentucky in his latest blog for USA Today.
"When I cut my list down I do know that Kansas will make the cut. They've got great coaching over there and that's what I'm basing my decision on. Some people pick schools for the name, but not me. I want to learn as much as possible," said Mudiay, who also lists SMU, Arizona, Baylor, Louisville, N.C. State and others.