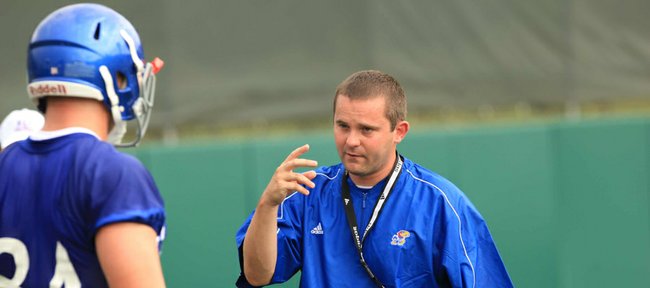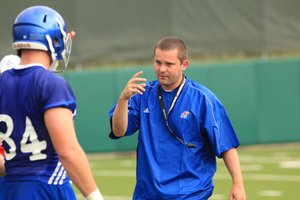 Kansas University football coach Charlie Weis doesn't plan to rely as heavily on junior-college players as he did in his first full recruiting season, but it always will remain an important part of his strategy to upgrade talent in the program. Given that, it must be comforting to know that he has an assistant coach who already has established strong ties to the region of the country where most junior colleges are located.
Jeff Blasko not only is KU's tight-ends coach, he was a key reason the Jayhawks landed so many big fish from the juco ranks.
A 2005 graduate of Robert Morris University in his hometown Pittsburgh, Blasko is responsible for recruiting Arizona and California for Weis.
"Seventy-two in the state of California and eight in the state of Arizona, and I had all 80 of those schools," Blasko said. "So when you've got 80 of the 130 junior colleges (with football programs) in the country, you better produce. Fortunately, we were able to brings some guys on board. And it wasn't all me by any stretch of the imagination."
Blasko was lead recruiter for defensive lineman Marquel Combs, offensive linemen Ngalu Fusimalohi and Pearce Slater, cornerback Cassius Sendish and linebackers Samson Faifili and Marcus Jenkins-Moore. If healthy, all six players have legitimate shots at starting this coming season.
Blasko, who came with Weis from Florida, where he worked as offensive-quality-control aide, said KU O-line coach Tim Grunhard was instrumental in helping him to recruit players from his unit and said the same of D-line coach Buddy Wyatt. And with every juco recruit, Blasko said he played up the NFL connections of Weis and defensive coordinator Dave Campo.
Those contacts played a role in so many scouts attending Kansas practices last season. The exposure to pro scouts extended to postseason all-star games. Josh Williams didn't have a sack in his lone season with Kansas, but Weis was able to convince scouts he was a sharp player who always was assignment-sound and was quick enough to bolt into the backfield on occasion. Dayne Crist, who didn't throw a touchdown pass to a wide receiver, received two invitations to post-season all-star games and came away from one of them with an MVP award.
"The junior-college players are walking into a situation knowing they can compete to start for the last 24 games of their college football careers, and if they play at a high level they know that coach Weis is going to pick up the phone and make some calls," Blasko said. "He's been around, along with coach Campo. Those guys picking up the phone, there aren't too many guys they're calling who aren't calling them back. It's huge."
The carrot of a possible NFL career is so close, juco recruits can smell it.
"With the JC guys, it's a business trip," Blasko said. "It's not, 'I'm coming out of high school, and I've got five years to play four.' It's two years to play two or maybe three years to play two. The antenna goes up when you talk to these kids about Weis and Campo. It's definitely helped with the recruiting effort."
So has Blasko's boundless energy.