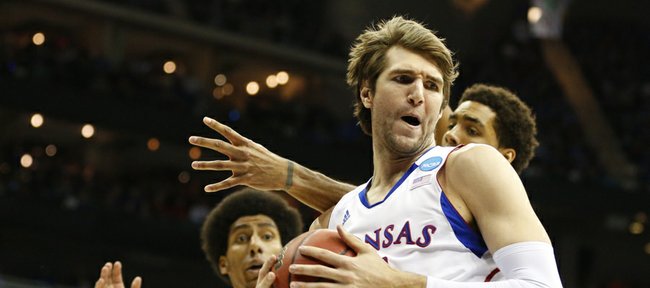 Former Kansas University center Jeff Withey of the New Orleans Pelicans scored four points and grabbed five rebounds in his NBA debut — a 69-61 loss to the Milwaukee Bucks on Sunday in the Las Vegas Summer League.
Withey, a 7-footer from San Diego who didn't play in the summer-league opener on Friday because of administrative delay involving physical exams of the players involved in a recent three-team trade, hit two of six shots in 17 minutes. He had one blocked shot.
In other summer-league games involving former Jayhawks:
• Combo guard Elijah Johnson had zero points and zero assists against two turnovers while playing 12 minutes in the Los Angeles Clippers' 81-77 loss to the NBA D-League Select Team. He missed his only shot attempt. Former KU forward Darnell Jackson scored 11 points off 5-of-7 shooting and grabbed two rebounds in 19 minutes for the D-League.
• Forward Thomas Robinson scored seven points off 3-of-12 shooting and grabbed 10 rebounds while playing 28 minutes in Portland's 81-63 loss to the Los Angeles Lakers. Former KU combo guard Josh Selby had four points off 1-of-7 shooting with one assist against three turnovers in 17 minutes for the Lakers.
Recently, ESPN's Chad Ford and Bill Simmons discussed Robinson in a podcast transcribed at blogs.trailblazers.com.
"I still think he can play. The talk around the league is, well Thomas Robinson, what they found out about Thomas Robinson, was that he couldn't remember a play," Ford said of Robinson, who was taken fifth overall by Sacramento in the 2012 NBA Draft, then was traded to Houston in February. He was recently shipped to Portland for his third team in just over a year.
"And No. 2, that he wanted to do more on the offensive end than he's really capable of doing. We saw a little bit of this at Kansas and Bill Self did a really nice job of reining him in, where he wants to handle the ball and shoot it a little bit, thought he had more abilities than perhaps maybe that he really had. But you're talking about a young player. You're talking about a player that the stat guys love coming in. And a guy who can for sure rebound in the NBA. For sure he has that ability to rebound at the NBA level."
"I think, again, there's a herd mentality in the league," Ford added. "They love you one minute then they're off you the next and the same scouts that loved Thomas Robinson a year ago are now rolling their eyes like he can't play. I think this goes again, we try to understand the draft and which players are a great fit."
Chalmers events coming soon: Online registration for Mario Chalmers' fifth-annual National Championship Golf Classic (July 29, Alvamar) and VIP mixer (July 28, Cider Gallery) is available at http://bit.ly/1aGcQLD. Also, Chalmers, who has a basketball camp July 22-25 at Olathe East (register at http://bit.ly/15er93o), is hosting a celebrity all-star game at 7 p.m., July 25, at O-East. General admission is $20, with free admission for campers.