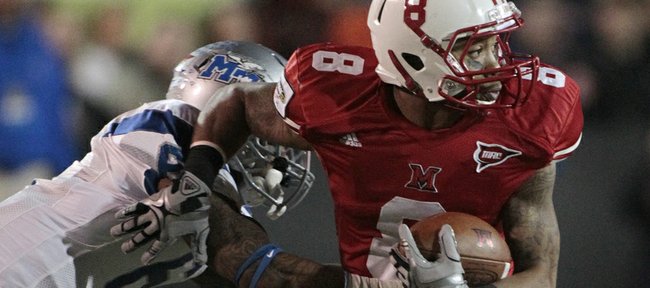 Monday marked the first day of the final session of summer classes at Miami (Ohio) University.
Kansas University transfer Nick Harwell was not enrolled at his former school, but that does not mean his bid for eligibility this fall is finished.
Don Jackson, an Alabama-based attorney who has been representing the wide receiver's interests, told the Journal-World Monday night that Harwell's case was ongoing and that he remained "cautiously optimistic" that a positive resolution could be reached soon.
Jackson said passage of the July 15 summer-school date, though key, did not signal the arrival of doomsday for his client, who is six hours shy of graduating from Miami. If Harwell is able to complete those six hours, he would be eligible to play at Kansas immediately because of the senior-transfer rule that brought Dayne Crist to KU from Notre Dame.
"It's a hard deadline with the possibility of extension," Jackson said. "He could enroll today, tomorrow, whatever, but he would have to do it with the permission of the instructor and the help from some of the athletic department's academic staff."
The extra measures are fairly standard for late enrollment at most universities.
"I get the impression that this is out of the hands of the athletic department," Jackson said. "It may now be at the executive level of the president of the university."
Heeney on Lombardi list
KU linebacker Ben Heeney came out of nowhere and finished third in the Big 12 in total tackles as a sophomore last season. He's not going to sneak up on anybody this year.
Heeney on Monday was named to the Rotary Lombardi Award's preseason watch list, making him the first Jayhawk to land on the preseason lists.
Heeney, a 6-foot, 227-pound junior from Hutchinson, finished 2012 with 112 tackles and led KU in tackles for loss with 12. He started every game at middle linebacker and earned second-team All-Big honors from the conference's coaches, the Associated Press and Phil Steele Magazine.
Heading into 2013, Heeney is listed as a preseason first-team All-Big 12 linebacker by Athlon, Lindy's and The Sporting News. Heeney also was named to the College Football Performance Awards watch list for the top linebacker in the NCAA.