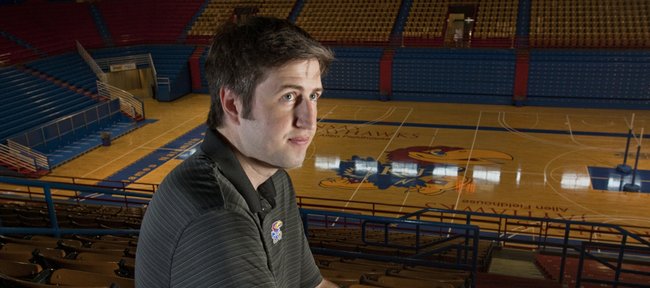 This is the first of a two-part series on how Kansas University's men's basketball team uses new video technology. Read the second part here.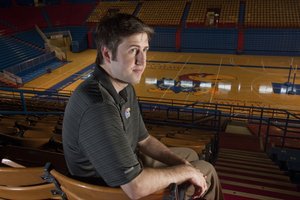 When he was an intern in 2009, Kansas University's men's basketball video coordinator Jeff Forbes volunteered to assist with a project for men's basketball coach Bill Self.
The mission? Pull out every video clip of the season when KU ran its ball-screen offense so the staff could measure its effectiveness.
The task was daunting. Forbes pulled out 30 DVDs of game film shot on camcorders from the rafters and, playing the videos at double-speed, spent 30 hours picking out each ball-screen possession. He then spent another 30 hours going back through the tape to make sure he hadn't made any mistakes.
Thanks to new video technology, Forbes says the same project would take him about two hours today.
"That's the power of Synergy," Forbes said.
"Synergy" in this case refers to "Synergy Sports Technology," a video and analytics tool that started its rise in college basketball about five years ago.
The service, for which KU and most other Div. I schools pay thousands of dollars each year, has reshaped how KU's coaches recruit, study and analyze the game — all since KU won its last national championship in 2008.
How it works
So what exactly can Synergy do?
Forbes — he's 32 and heading into his fourth season as KU's video coordinator — gives a demonstration while pulling up the service on one of the three computer screens in the KU basketball offices.
Forbes finds former KU guard Ben McLemore in the database, and when he clicks through, McLemore's entire statistical profile pops up in a mountain of data.
The screen shows that McLemore scored 21 percent of his points in transition last year. After that, he was also effective on spot-ups, jump shots, scoring on the perimeter and coming off screens.
In a matter of seconds, one can already start to put together a mental scouting report of the dangerous offensive player.
"He's running on you, he's going to get jump shots on you, and then as soon as we set up the jump shot, you're going to get nailed with a screen all the time," Forbes said, "so you've got to be able to get over screens, chase him around screens and get a hand in his face."
What's also telling is where McLemore doesn't rank as high. Though he scores pretty well on pick-and-rolls when he's the ball-handler, he doesn't have that play run for him often. He also doesn't have many shot attempts off isolation.
Using those clues, one could make the assumption that McLemore might not be a gifted ball-handler.
The real magic of Synergy comes through a few seconds later, though. Forbes clicks on "transition" for McLemore, and in a few seconds he's able to pull up a four-minute video showing the last 50 times McLemore scored in transition.
Though it might not be evident at first, patterns start to emerge, like McLemore floating to the corner often in transition to spread the defense and also set up for one of his favorite shots: the baseline three.
That quick video, though, is just a glimpse of what is possible with the new technology.
How it's used
The biggest benefit of Synergy is that it saves time — time that coaches can use for other breakdowns if needed.
Forbes gives this example: Let's say a KU assistant coach watched Kansas State's last 10 games, but he believes the Wildcats might try to surprise KU with something from earlier in the season.
With a click, Forbes can download video of every baseline out-of-bounds play that K-State has run all season. Now the Jayhawks shouldn't be surprised by anything.
"Having more information allows you to do things that maybe you didn't think of otherwise," Forbes said, "and continue to grow and learn."
This technology also helps each KU assistant put together the scouting-report video for the Jayhawks' upcoming opponent.
Before each game, the assistant coach in charge of the scouting report produces a 10- to 15-minute video with help from new director of basketball operations Brennan Bechard.
Let's say KU is playing at Iowa State. In the Jayhawks' final practice at home, the team will watch the video together, with the assistant coach pointing out certain teaching points. The team then watches the same video again at dinner the night before the game, then once again on the day of the game.
Typically, the first eight minutes show the opponent's most-run plays, the next two minutes focus on the team's defense, and the five minutes after that are devoted to the team's best players and their moves.
"You can cram a ton of information in 15 minutes," Forbes said. "So much so that if you watch it three times, every time you watch it, you can get something new."
Forbes actually is starting a summer project with new assistant coach Jerrance Howard to analyze the effectiveness of KU's scouting reports from a year ago. This also will help Forbes become familiar with Howard's scouting-report style so that when the season starts, Forbes and Bechard will know what types of video Howard likes to include.
Getting specific
With Synergy, KU's assistants can get specific with what the players see.
For example, if KU is playing Baylor, it can easily show plays that have been effective against the Bears' 2-3 zone.
The video also makes it easier to come up with new ideas.
Forbes said former KU assistant Joe Dooley was especially talented at studying other teams' plays, then taking the best part out and implementing it in KU's offense.
If Synergy's stats show Michigan State coach Tom Izzo runs the best sideline out-of-bounds plays, teams can download that video in seconds to see why the Spartans are so effective.
With Synergy's NBA database, KU also can gain knowledge from the pros. Self might request a breakdown of the San Antonio Spurs out-of-timeout offense, and, quickly, Forbes can pull up those plays to try to diagnose why they're so successful.
Each KU coach uses the video in different ways. Forbes said assistant coach Kurtis Townsend gets most of his scouting information from watching the opposing team's last five to 10 games.
Self uses a mixture of video. Not only will he watch full games, he also will watch offensive and defensive cut-ups from each game, which often is put together by Bechard.
Self-scouting is important, too. An additional program called SportsCode allows KU to label individual video clips after each game.
From there, KU can look at the success of certain plays and gauge whether certain sets are more effective than others. If the "head tap" play scores on 25 out of 30 possessions, while "nose touch" scores on 10 out of 30, then KU's coaches might consider running the former more times than the latter.
Forbes said recommendations can be made based on the data, but usually Self has a good feel for which plays are effective and which plays aren't.
"Not only does he see our offense two to three passes ahead, no matter what we're running, he immediately can recall and diagnose what's wrong with the play, whether it's a mistake on any facet of the play," Forbes said. "He can immediately diagnose it and then communicate it.
"I've never met anyone like that, not with his ability to do it."
How it helps recruiting
Synergy also helps recruits see how they might fit in at KU.
Let's say KU is hosting a recruit who is versatile big man who can shoot from the outside. The coaches can put together a cut-up of a previous player like him — Markieff Morris is an example in this case — and show the different ways the recruit could be utilized in the offense if he were to choose KU.
Forbes, meanwhile, also is in charge of much of the Jayhawks' digital recruiting.
Forbes, who graduated from Lawrence High and grew up going to games at Allen Fieldhouse with his family, produces the popular "Pay Heed" videos, which show behind-the-scenes footage of KU basketball that are posted to YouTube and also shared with potential recruits via Twitter and email.
Forbes says his goal with each video is to produce something that a recruit's friends, parents and girlfriend will all like.
It's a long process. Forbes captures game video from under the basket at each game and also has help from interns, who assist with the shooting.
Forbes then gets together with former KU player Wayne Simien, who narrates the series, and puts the most interesting clips together before presenting a video to assistant coach Norm Roberts.
The coaching staff gets final say on what is in the videos, so Roberts and Forbes talk about what clips should be added and also which ones should be left out.
A long discussion took place about a now-famous dance from McLemore in the Ohio State locker room last season.
"I didn't want to anger Ohio State and give them bulletin-board material," Forbes said. "But it turned out it was one of those moments where it wasn't showy; it was just jubilation. Ben celebrating with his teammates in a non-scripted rare moment of joy."
"Pay Heed" also included postgame locker-room talks from Self this past season, which Forbes believes helps fans "peek behind that curtain a little bit."
Forbes also is in charge of distribution. He runs the "KUHoops" Twitter account and emails potential recruits with entertaining material about KU, which has previously included highlight videos and also last year's team "Harlem Shake" dance number.
Though he's not a recognizable member of KU's coaching staff, Forbes said he's happy to be a part of a bigger team. He works from 9 a.m. to 9 p.m. most days and sometimes pulls all-nighters to finish up "Pay Heed" episodes.
He says there's no job in the world he'd rather have.
"What I really want out of this is for us to win," Forbes said. "As long as that's happening, I don't care who gets the credit. I really don't."