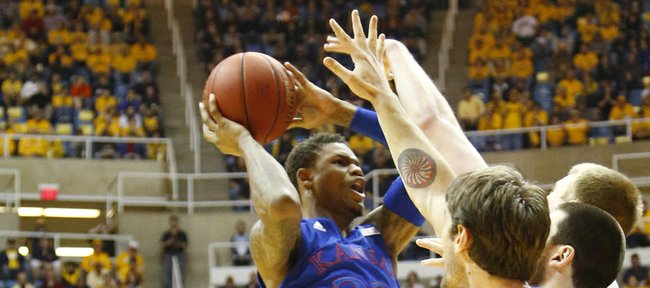 Kansas University's basketball team has labored a bit offensively the past six games, scoring in the 50s once and in the 60s five times en route to a 62-point scoring average.
But the No. 2-ranked Jayhawks (19-1 overall, 7-0 Big 12 Conference) — who won all six of the low-scoring games — aren't alone nationally failing to light up the scoreboard. Kenpom.com recently pointed out that college basketball is headed toward its lowest-scoring season since 1951-52.
Scores such as Wisconsin 45, Minnesota 44; Georgetown 37, Tennessee 36; and Arkansas 56, Vanderbilt 33 are just three examples of some games played at an excessively slow pace.
"I know we are not scoring quite as much as the past. A lot could be us not executing," KU coach Bill Self said. Overall, the Jayhawks average 73.9 points a game while allowing 58.7. In Big 12 play, KU averages 67.0 points and allows 57.6.
"I do think defenses are getting better all the time. I do think offenses are getting more sophisticated all the time. I don't know what the reasons are," he added of a national trend toward lower scores.
"It may come back to officiating," Self stated. "Not that the games are being called wrong, but games are maybe being called in a manner in which there is more physical play. My personal opinion ... I think there are less free throws being shot.
"I think there is a little bit of reason for concern. I don't think it's like baseball where you juice the ball to get fans interested. I don't think we're to that point yet. I'd have to say it's more how the physical play has kept teams getting free throws, but as long as it's called the same on both ends, it's still fair," Self added.
Self conceded that, "I do think as a coach, it's much easier to get a team great defensively than great offensively. Maybe there's a little more emphasis on that. I don't know. I don't think we'll have any problem maintaining the interest level even though fans definitely want to see high-flying scoring plays. I think this is more a phase that can be addressed without any major (rules) changes. Regardless of how you call it and regardless of the rules, it's still a fabulous game."
Facing a series of questions with negative overtones following another all-important road victory, Self defended his team after Monday's 61-56 victory over West Virginia — one in which KU saw a 15-lead dip to two in the second half.
"If you look across America, there's a lot of teams that would give anything to be 5-0 on the road. Hardly anybody in America has done that with the schedule we've played. We shouldn't make any excuses for winning games away from home," Self said. "Sure, I want to do better. They (Jayhawks) want to do better, and we will do better. It's frustrating because I know we have to play better to play for high stakes. Still yet, I look across America, there are a lot of teams learning lessons through tough losses. We've been fortunate we haven't done that. We've played well enough not to lose."
Self's Jayhawks have played well enough to ascend to the top spot in the USA Today coaches' poll and No. 2 in the Associated Press poll.
"We need to understand it doesn't mean much in January," Self said. "But I am proud of our guys how well they've done so far."
Block party update: KU senior center Jeff Withey needs seven blocks in Saturday's 3 p.m. home game against Oklahoma State to tie Greg Ostertag for No. 1 on KU's all-time blocked shot list. Withey has 251 blocks, Cole Aldrich 253 and Ostertag 258. Chris Mihm of Texas is the Big 12 record holder at 264.
"It doesn't matter to me at all," Withey said, asked if he would like to set the record at home. "As long as I get it, I'm happy."
Strong start for KU: The Jayhawks, who have won eight straight Big 12 titles, hold a two-game lead over three teams after seven games of the 2012-13 Big 12 Conference season. KU is 7-0, followed by Kansas State (5-2), Oklahoma (5-2) and Baylor (5-2). Oklahoma State and Iowa State are three back at 4-3.
Ticket talk: A limited number of tickets for the 2013 Phillips 66 Big 12 Men's Basketball Championship, scheduled for March 13-16 at Sprint Center, will be available to the public, the league office has announced. Fans may participate in an online drawing process for the opportunity to purchase up to four all-session tickets. To fill out a form, go to sprintcenter.com. The registration period begins at 5 p.m, Friday and ends at 4:59 p.m. on Feb. 6.