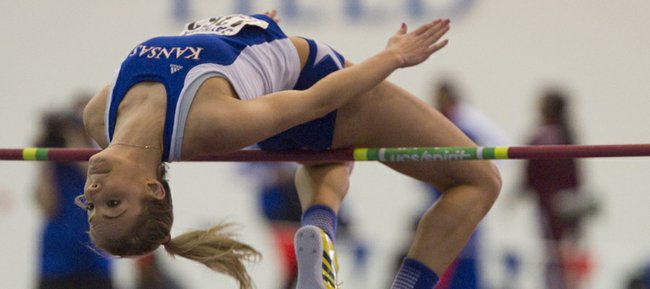 The email arrived just 15 minutes after Lindsay Vollmer had completed the pentathlon, coming to her phone during a car ride with her parents to 23rd Street Brewery.
"Woohoo!" "Yes!" "Good job!" were just a few of the congratulations in the short message.
All this from Candace Mason Dunback, who had just lost her top spot in the Kansas University record books.
The sophomore Vollmer posted a career-best 4,073 points in the pentathlon Friday at the Jayhawk Classic at Anschutz Pavilion, winning the event while topping the previous school-best indoor mark of 4,053 points set by Dunback in the 1998 Big 12 championships.
Dunback, who serves as the director of traditions for KU Athletics, ended up being one of the first people to congratulate Vollmer.
"It is actually really cool, because she had the record, and as much as you want to break the record, you know it kind of breaks your heart that you have to break their record," Vollmer said, "especially because she's such a doll and such a nice person."
The two first met at the postseason awards ceremony in May, when Dunback served as the alumni speaker.
She made sure to seek out Vollmer afterwards to introduce herself. At the time, Vollmer had the second-best pentathlon mark.
"This year you didn't quite do it," Dunback told her, "but next year, you're going to get it."
"It took me back a little bit," Vollmer said. "I expected her to be nice, but for her to just come up to me and just be that genuine and nice, it was really something special."
Vollmer made Dunback's words prophetic Friday, posting an early-season mark that ranks second nationally.
The Hamilton, Mo., native started well, notching a personal-record time of 8.53 seconds in the 60-meter hurdles; her previous best was 8.68 seconds.
Vollmer, who hadn't lifted weights before coming to KU, believes her increased strength through workouts is the biggest reason for her improved time.
"The hurdle time this year has dropped down so much," Vollmer said. "(Hurdles coach Elisha) Brewer is a great coach, and she's really helped me work on my quickness."
Vollmer also tied her PR in the high jump, clearing 5 feet, 7 3/4 inches. It was her best mark ever at an indoor meet.
Though she started out too fast in the final event and didn't have much left for the final stretch of the 800, Vollmer's time of 2:26.24 was good enough to top Dunback's record by 20 points.
The high score also nearly guarantees Vollmer a spot at the national indoor meet, which she didn't qualify for a year ago.
"I would honestly be honored to be a part of a team trophy this year, because I know we can do it," Vollmer said. "Just to contribute would be a huge honor."
In other women's events, KU junior Diamond Dixon ran the 400 meter — her specialty — for the first time in the indoor season.
Though she won the event, her time of 55.66 seconds was almost two seconds behind her time at the Jayhawk Classic last year (53.75 seconds).
"It was OK. It wasn't really that good," Dixon said. "I feel like I depended on the girl that was running professionally and unattached today. I feel like I was depending on her a little bit too much (for pace). It's all a learning process for me."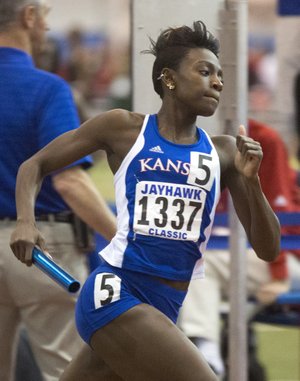 Dixon also is recovering from hernia surgery last month.
The Houston native was optimistic that she'd quickly be able to catch up to her times from last year.
"I've ran really slow times before, and then I run an extra-fast time," Dixon said. "I'm not really worried about it. I just have to keep pushing."
Dixon also was a part of KU's first-place 4X400 relay team with senior Paris Daniels, junior Timmie Morris and sophomore Alisha Keys (3:47.37).
Daniels continued her strong indoor season individually, winning the 60 with a time of 7.34 seconds — just two-hundredths of a second off her school-record time set last month.
Senior Andrea Geubelle also impressed in the triple jump, leaping 44 feet, 1 1/2 inches to win the event while moving just an inch off the NCAA lead.
Other individual victories for KU at Anschutz Pavilion included senior Francine Simpson in the long jump (20 feet, 1 inch), junior Demi Payne in the pole vault (13-11.25), Morris in the 600 (1:29.54) and redshirt freshman Evan Landes in the 3,000 meters (8:28.26).
The 42-team event was KU's final indoor home meet.