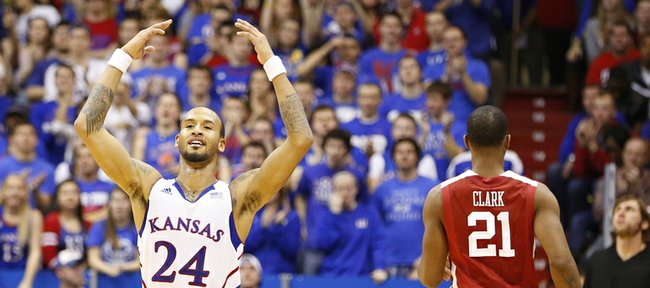 Photo Gallery
KU basketball v. Oklahoma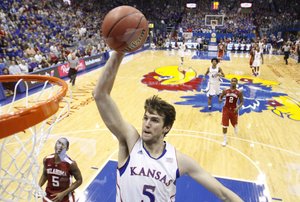 Images from Saturday's game against Oklahoma at Allen Fieldhouse.
Podcast episode
Kansas coach Bill Self talks after his team's 67-54 win over Oklahoma on Jan. 26, 2013.
Generally, the chant "We're No. 1! We're No. 1!" starts loud, grows louder and ultimately shakes the building.
Not now. Not in college basketball. Not anywhere in the country.
After his team again defended like a champion, Kansas coach Bill Self was asked if it is ready for a No. 1 ranking.
"No," Self said. "Nor are we deserving."
Then the mental Rolodex of other highly ranked schools swiftly spun and he took his answer in another direction.
"You know, somebody's got to be it though," he said.
Bingo. The weekly Associated Press college basketball poll measures today's teams against each other, not against top-ranked juggernauts from years past.
Michigan, should it win at Illinois — the Big 10 school where Self and the two coaches he defeated this past week used to coach — likely will remain one spot ahead of Kansas and top the AP poll and Kansas would probably rank No. 1 in the far less prestigious coaches' poll. (Can't tell I'm a voter in the AP version, can you?)
"If they're (No.) 1 in both of them, that wouldn't bother me much at all," Self said of the Wolverines. "But you know, somebody's got to do it, and if it's us, that would be great."
Kansas (18-1 overall, 6-0 in the Big 12) pushed its winning streak to 17 games with Saturday's 67-54 victory against Oklahoma.
"You know I never would have thought before the season that this team could be No. 1 at any point in time," Self said. "That's great for our kids and everything, but I think after today our guys know our success winning will be short-lived if in fact we don't come in with better focus than we did today."
Unlike a year ago, when Kentucky had a band of stars now making nice livings in the NBA even though some aren't old enough to drink, this could be one of those years in which age and experience could trump pure talent. Why? It's a shallow talent pool across the country, much less on any one particular team.
"We've had a lot of teams in here that didn't have their 'A' game focus-wise but they were so talented they could still get by. This team's not like that. This team has less margin for error. So that's why it disappoints me," Self said.
At a school that draws No. 1 seeds on a near-annual basis, it's tough not to compare today to yesterday. The best recent standard is the 2008 national-championship team.
"We had seven NBA players on one team," Self said. "If those guys didn't have their 'A' game, their 'B' game or 'C' game focus-wise we would still be OK because their talent was so high. We're not like that now."
Shaky point-guard play — Elijah Johnson watched half the first half with two fouls and had his pocket picked twice late — kept Kansas from running away with this one and was a particular point of dismay for the coach.
"We can't afford to make mental mistakes and not play with the same energy and things like that," Self said. "It doesn't mean we're awful by any stretch. It doesn't mean they're trying not to be focused or anything, but we didn't have that. We weren't razor-sharp today by any stretch. And then I think you get real average real fast."
Kansas plays extraordinary defense and finishes exceptionally well on the fast break, but it's far from a perfect team, especially when trying to score from its half-court offense. Perfection is not a prerequisite of a No. 1 ranking.
I'll put Kansas at the top of my ballot because it won on Ohio State's home court, the site of Michigan's lone loss. But if Michigan defeats Illinois, the argument that the Wolverines deserve the top spot because it's easier to win in the Big 12 than the Big Ten certainly has merit as well.
Put on the spot after Saturday's game, Kruger endorsed the Jayhawks after being asked: Does Kansas look like a typical No. 1 team?
"Yeah, I think they're great," he said. "They've got terrific athletes on the perimeter, big shot-blocker inside. They've got guys who are very unselfish. Bill does a terrific job. They play the game. They play the game the way it's supposed to be played. They move the ball and they're great defensively. Yeah, they're deserving. I hope they are No. 1."
Well, what else would you expect a gentleman's gentleman possibly on his way to coaching a fifth different school into the NCAA Tournament to say?
Besides, as Self said, somebody has to be No. 1. It's not Duke, which lost by 27 points to Miami earlier in the week.
Or Louisville, which has lost three games in a row. Or Syracuse, upset in overtime Saturday at Villanova.
And it's sure not Northern Illinois, which in Saturday's 42-25 loss to Eastern Michigan made 1 of 31 field-goal attempts on the way to four first-half points. Definitely not Northern Illinois.