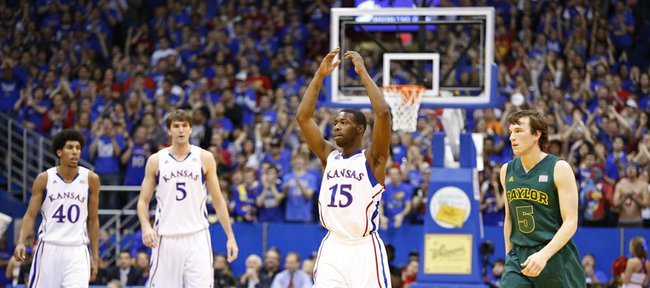 Photo Gallery
KU basketball v. Baylor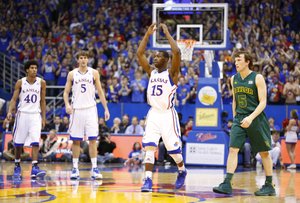 Images from Monday night's game against Baylor at Allen Fieldhouse.
Podcast episode
Kansas coach Bill Self talks after his team's 61-44 win over Baylor on Jan. 14, 2013.
Podcast episode
Baylor coach Scott Drew talks after his team's 61-44 loss to Kansas on Jan. 14, 2013.
Podcast episode
Kansas seniors Jeff Withey, Travis Releford and Elijah Johnson talk to reporters following the Jayhawks' 61-44 victory on Jan. 14, 2013.
Box score
Kansas coach Bill Self likes playing on ESPN Big Monday even with a quick turnaround. KU won at Texas Tech on Saturday and played Baylor two days later.
"I think it's the best way to showcase our league each and every week. I think the players enjoy it. I'm sure all players across the league do," Self said. "The two-day turnaround (playing Saturday at Texas Tech and Monday at home) ... we've done it a lot. This is the first time this team has done it. Whenever you play a team that does multiple things and only have about an hour of practice, it always makes it nervous for a coach. That's the case when you play Saturday and then a Monday. It only gives you about an hour in which your teams actually practice (Sunday). You really have to make the most of that hour."
Drew is back: Baylor coach Scott Drew missed the first two games of the conference season before returning to the bench for Saturday's game against TCU.
He served a two-game suspension to open league play as part of self-imposed sanctions for NCAA rules violations announced last April. Drew was cited for rules violations involving excessive phone calls to prospects. Assistant Jerome Tang directed the Bears to victories over Texas and Texas Tech.
"Our staff did a tremendous job," Drew said. "Any coach is only as good as his staff. I knew we had a great staff. After those two games everyone got to see how good our staff is. If anything, whenever you are away from something, you are just that much more happy to be back and excited to be back. I'm pleased with the conference start we've had because every conference win is a good one."
He said watching without coaching responsibilities proved valuable.
"It does (help) from the standpoint you are not so consumed with the substitutions and players' emotions and everything else and able to just analyze the game," he said. "At the same time, I made the mistake of going to the treadmill watching the second half of the Texas game (86-79 win). That game went into overtime. The next day I couldn't walk, I was so sore being on the treadmill that long. That was the lesson learned from that one. I thought it would help with things. The next day it didn't," he added, laughing.
KU nets one No. 1 vote: KU, which was ranked fourth in the country on Monday, received one first place vote — from best-selling author and GolfChannel and ESPN regular John Feinstein. Sports Illustrated's Seth Davis was the lone voter to rank KU second.
"Kansas has the most impressive win of the year: At Ohio State, as Michigan found out," Feinstein told the Journal-World's Tom Keegan in an e-mail exchange. "Bunch of one-loss teams. I give them the edge because of that."
Keegan ranked KU third. Louisville is first, Indiana second, Duke third and KU fourth.
Feinstein has written several best-selling sports book, the most famous "A Season on the Brink," an all-access look at a season of Indiana basketball under Hall of Fame coach Bob Knight.
Faces in crowd: Former players Tyrel Reed, Ryan Robertson, Wayne Simien, Chase Buford, Matt Kleinmann and Jordan Juenemann attended.
Other notes: KU's 13 blocks equaled Baylor's field goal total of 13 made baskets. ... KU has scored 121 points over the past two games, the fewest in a two-game stretch since Jan. 19 and 22 of 2009 when KU scored 59 points and 62 points against Nebraska and Villanova, respectively. ... KU's 10 blocks in the first half are the most by a Jayhawk squad in a half since Dec. 29, 1997 when they swatted 10 Vanderbilt attempts in the second half. ... Withey's three blocks marked the 26th consecutive game he has recorded at least one rejection and the 14th game this season he has recorded multiple blocks.