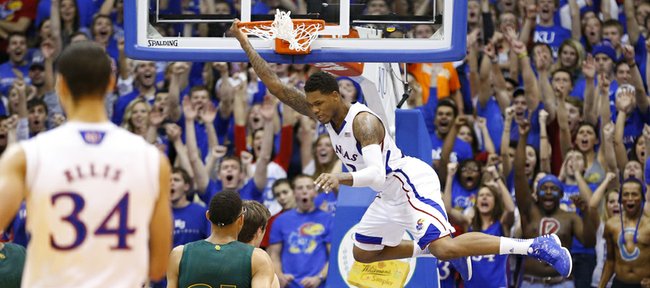 Kansas University's annual basketball beatdown of Baylor in Allen Fieldhouse was interrupted by a scary moment with 2:44 to play.
That's when freshman sensation Ben McLemore, who turned his ankle while making a cut on the offensive end, crumpled to the floor. He slammed the floor in frustration, pain and disgust before he limped off to the locker room with the help of team doctors.
McLemore, who scored a game-high 17 points off 7-of-13 shooting while playing 34 minutes in the Jayhawks' 61-44 victory over the Bears, suffered a Grade One sprain of the ankle and is listed day-to-day, coach Bill Self told the Journal-World while returning to the coach's locker room after the game.
"We'll ice it, elevate it, treat it and see how he is going forward," Self said after the Jayhawks improved to 10-0 all-time against BU in Allen Fieldhouse, the games decided by an average of 17 points, which was Monday's margin of victory.
"He sprained an ankle. I think it scared him as much as anything else. He said he heard a pop, but Bill (Cowgill, trainer) said he checked it out and he probably just has a sprained ankle and with a few days off he should be OK. We're certainly hopeful two to three days (maximum missed time)," Self added.
McLemore's injury certainly put a damper on a game in which KU dominated in improving to 3-0 in the Big 12 and 15-1 overall. Baylor fell to 2-1 in the league and 11-5 overall.
"We all were concerned, but I think he's going to be all right," said KU freshman forward Perry Ellis, who scored six points off 3-of-9 shooting. Ellis had seven rebounds in 21 minutes.
"I just talked to him in the locker room. He was doing all right (icing the ankle 45 minutes after the game). I think he's going to be all right," Ellis added.
Senior Elijah Johnson, who scored 12 points with one assist against two turnovers, outplayed fellow Las Vegas native Pierre Jackson, who scored 10 points off 2-of-12 shooting with four assists and four turnovers.
"My heart dropped," Johnson said of seeing McLemore get hurt. "You see somebody who works as hard as Ben, you don't want to see something bad happen to him. He's all right. He panicked more than anything which happens a lot of times."
The story of Monday's game was defense.
BU's 44 points were the fewest a KU team has allowed in a conference game since the Jayhawks held the Nebraska Cornhuskers to 39 points on Feb. 17, 2007 in Lawrence. KU held the Bears to 23.2-percent shooting. It marked the lowest opponent shooting percentage of the season and lowest since KU held Howard to 22.2 percent shooting on Dec. 29, 2011. According to KU officials, it also was "the lowest percentage by a Big 12 opponent and lowest by a conference foe since the 1988-89 season."
"We played terrific," Self said. "If we had just gotten back in transition ... it says (on stat sheet) they only got seven transition points but it seemed like we challenged them way too much in the backcourt and they got behind us. Jackson is so good and puts so much pressure on you, but he kind of deferred in the second half.
"I thought we did a good job of guarding them. We were so aggressive. We had 10 blocked shots at half (Jeff Withey had three of KU's 13 total blocks; Jamari Traylor also had three) and several strips. In the second half, we kind of played a little more contained. I know they missed some good looks, but they didn't get as many as maybe some other teams have gotten on us. That's probably as well as we've guarded in a while."
KU forced 16 turnovers while committing 14.
"We did a really good job stripping and raking and trying to do those kind of things," Self said.
Of point guard Johnson's play in a game against Preseason Player of the Year Jackson, Self said: "He played well. Naadir (Tharpe, two points, 1-6 shooting, three turnovers) has struggled the last couple games. But he was so good early. We'll get him back. Perry was as aggressive as he's been all year long, and still yet, he's a terrific shooter and didn't shoot it well tonight. There are so many things we can do to improve, but guys were locked in defensively, and if the other team can't score, you're probably going to be very successful."
McLemore scored eight points and eight KU players scored the first half as the Jayhawks led, 33-20, at the break.
The Jayhawks used an 8-0 run to stretch a 23-18 lead at 5:31 to 31-18 at 2:51. Seniors Kevin Young, Johnson and Travis Releford and freshman Ellis scored in the run.
Earlier, KU used a 10-0 run to stretch a 12-9 lead (at 12:51) to 22-9 (at 10:31). McLemore scored six points, while Tharpe had a nice tip of a McLemore miss and Ellis a driving layup in the surge.
KU opened the game by taking a 10-3 lead. Withey and Releford had four points apiece and Johnson a steal and dunk.
KU, which led, 33-20, at halftime, used an early 9-3 run to grab a 42-23 lead at 17:04. KU led, 47-28, at 13:20 and was never really challenged the final half.
The Jayhawks will next meet Texas at 1 p.m. Saturday, in Austin.