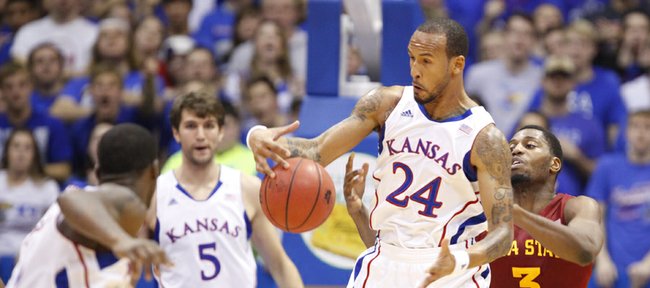 Photo Gallery
KU basketball v. Iowa State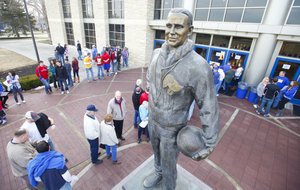 Images from Wednesday night's game against Iowa State at Allen Fieldhouse.
Podcast episode
Kansas coach Bill Self talks to reporters following the Jayhawks' 97-89 overtime victory over Iowa State on Jan. 9, 2013.
Podcast episode
Kansas players Ben McLemore, Travis Releford and Jeff Withey talk after the Jayhawks' 97-89 overtime victory over Iowa State on Jan. 9, 2013.
For a long time Wednesday, it looked as if Kansas University's basketball team would drop its first Big 12 opener in 22 years.
"We had the formula to lose that game," KU senior center Jeff Withey said after the Jayhawks rallied from six points down with seven minutes left and four down with :26 seconds to play in a 97-89 overtime win over Iowa State in Allen Fieldhouse.
ISU hit 14 threes in 38 tries on a night the Cyclones preferred firing away than testing 7-footer Withey, who had three blocked shots.
The Cyclones were four off the record number of threes hit against KU (18 by Nebraska in 2002). Kentucky put up a record 40 trey attempts vs. the Jayhawks in 1989.
"Hey, they're good," KU coach Bill Self said of ISU. "I can't believe they have lost three games, well four games now (against 10 wins). They are good. They play with so much freedom offensively and they always play great in this building. Every time Iowa State comes here, it seems like they give us all we want.
"It's a tough matchup for us because they can all shoot. We actually defended the three pretty well and they still got 38 up. It's hard for Jeff (Withey). The guy out there who can really shoot it (Iowa State's Georges Niang), Jeff guards him, and he just gets out behind the arc and we have a couple of screw-ups and he has eight points (to open the game). He's ahead of us, 8-3, before the game starts.
"How we finished the first half was deplorable," added Self, whose squad allowed a Chris Babb three at the buzzer to slice a late nine-point deficit to 42-38. "We were up nine playing two-for-one (in possessions) and you go in up four. That is as bad as you can possibly play and as dumb. They out played us in the second half until the last several minutes.
"That was a man's game. There were some men out there playing down the stretch," Self added, noting he was "proud" KU gutted out the win.
Take the two: Self on Elijah Johnson's decision to go for a quick two instead of a three when Kansas was down, 77-74, late in regulation. Johnson converted with :14.5 left to make it a one-point game.
"I think there was 24 or 23 (seconds) left and we could have run a three point play, but we said, 'Go get a quick two,' and he did. He just went down and got a quick two and made some plays," Self said.
Travis Releford on Ben McLemore banking in a three to tie the game and force overtime: "I set the screen and just turned my head. I don't even know what I was thinking at the time. It hit the glass and I saw there was one second left. I knew we had a chance, because we were going to take it into overtime."
Releford on his mindset going into the final play of regulation: "No panic. We are a team that is going to fight. All the teams I have been on in the past, we just remind each other, we have been down, we have been in this situation before. We just keep fighting. Coach gave us that message in the huddle, and we just came out and never felt like we couldn't win."
Stats, facts: KU has won 22 straight Big 12 openers, dating to the 1991-92 season. ... KU has won eight in a row over ISU in Allen. ... KU has won five overtime games in a row since an 89-81 loss to Syracuse on Nov. 25, 2008. ... KU scored 14 straight points from the final seconds of regulation to the 2:12 mark of overtime. ... KU scored 18 points during OT, the most in OT since KU scored 18 against Iowa State in Allen Fieldhouse on Feb. 21, 2004. ... ISU's 89 points were most by a KU opponent since Syracuse scored 89 on Nov. 25, 2008. It was the most points scored by a visiting team in Allen Fieldhouse since Baylor scored 90 in a 100-90 loss on Feb. 9, 2008. ... Ben McLemore scored a career-high 33 points, which were the most by a Jayhawk since Marcus Morris tallied 33 against Iowa State on Jan. 12, 2011. His 33 points were the most by a Kansas freshman since Danny Manning scored 35 points against Oklahoma State on March 2, 1985. It was also the second-most points scored by a player in the Big 12 this season. ... McLemore also hit 7-for-7 free throws, the most free throws without a miss since Tyshawn Taylor went 8-for-8 from the charity stripe against Texas on March 3 of last season. ... Elijah Johnson's 10 assists were a career high .... Johnson's six rebounds were the most since he tallied 10 boards against Ohio State in last year's NCAA semifinals. His three steals matched a season high.