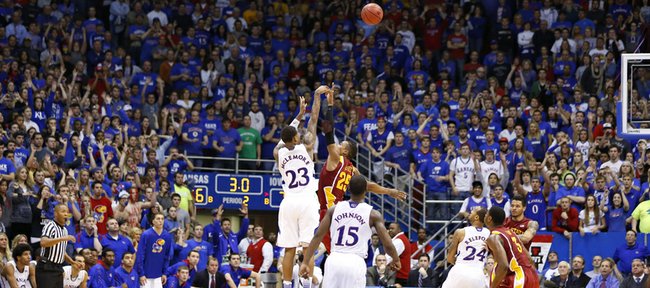 Ben McLemore's straight-on, last-second 22-foot shot that banked off the backboard, dropped through the goal, tied Iowa State and caused an Allen Fieldhouse fan eruption of epic proportions Wednesday night might have been a tad bit lucky.
"It was fortunate. He didn't call, 'glass,' I'm sure," KU coach Bill Self said, grinning, after the Jayhawks rode the momentum of freshman guard McLemore's clutch three-pointer into overtime — an OT in which the Jayhawks scored the first 11 points in a 97-89 victory over the Cyclones.
Actually, McLemore, who gave KU a quick 82-79 lead nine seconds into the overtime by cashing his sixth three of the night in as many tries, playfully disagrees with his coach.
"I mean when it left my hand, I actually called, 'bank,'" said McLemore, who scored 33 points — two off the freshman record of 35 set by Danny Manning against Oklahoma State in 1985. "The way it left my hand, I knew it was going to hit the backboard. It was a good release. It went in, so I'm glad.
"It was a great screen by Travis (Releford) and pass from Elijah (Johnson). Coming open like that, I just shot it. It felt good coming off my hand, so ..."
So the (13-1, 1-0 Big 12) Jayhawks, who trailed (10-4, 0-1) ISU by four points with :26 left, tied the score with 1.3 ticks left, by running their "chop" play — the one Mario Chalmers converted to send the 2008 NCAA title game into overtime. The chop came on KU's final possession, a possession that followed two Korie Lucious free throws at :08.4 that gave ISU a 79-76 lead.
McLemore actually had rehearsed the chop play in a three-point loss to Michigan State in the second game of the season.
"I messed it up last time," McLemore said of a late, possible game-tying three in a three-point loss to the Spartans. "I didn't read my defender right, and Travis took the shot and missed it (versus Spartans). That's what I was thinking, about getting it right this time.
"Sometimes you've got to get a little lucky. You bank one in every once in a while," added the St. Louis freshman, who hit the big shot with sisters April and Shariece and cousins Takeya and Travonica in the stands.
The chop play has a lot of options. KU point guard Elijah Johnson at one point thought he might be the one to attempt the game-tying three.
"I knew Ben had the hot hand, and his man fell asleep," Johnson said. "He deserved that shot and made it."
KU coach Bill Self was not surprised ISU coach Fred Hoiberg elected to not foul McLemore or another Jayhawk before KU hoisted the final shot of regulation, which dropped with 1.3 ticks left. ISU had no chance on its final possession, Tyrus McGee missing a halfcourt bomb.
"Hindsight is always 20/20," Self said. "We're fortunate they didn't (foul). If I was Fred, I wouldn't either. I'd say, 'Hey, let's hunker down and guard them.' I don't think that was a bad play because it's always easy to second guess.
"It has a lot of options," Self added of the chop play. "They went under the fade screen. We told our guys if they go under, I want you to stop and change the angle of the screen. Travis did it perfect. Travis got him open. They ran under the fade. We had it against Michigan State. They went under it. Ben didn't feel it and didn't see it. He did a better job this time."
ISU pretty much had no chance in overtime, not with the way the game entered OT.
McLemore — he had a huge four-point play, a trey and foul shot, with seven minutes left in regulation to cut a 63-57 deficit to 63-61 — opened OT with a three. After that, Releford hit three free throws, Withey two free throws and a bucket and Releford put in one of two free throws, giving KU a 90-79 lead with 2:30 left. ISU finally hit a free throw at 2:11.
"A lot of it is momentum," Self said of KU rolling, 18-10, in OT. "Without saying any disrespect, that would be a punch to the gut the way we tied it up and everything. The building ... we had an opportunity to try to take advantage of the emotion and the building and we did. We played pretty well in overtime. We ran an out of bounds play to start it, Ben makes a three and the next thing you know we're off to the races."
All's well that ended well as KU won its 22nd straight conference opener on a night ISU hit 14 of 38 three-pointers to KU's eight of 19.
McLemore scored 33 points — he made all six of his trey tries — while Withey had 15, Johnson and Releford 12 and Kevin Young 10.
KU will next meet Texas Tech at 3 p.m., Saturday, in Lubbock.