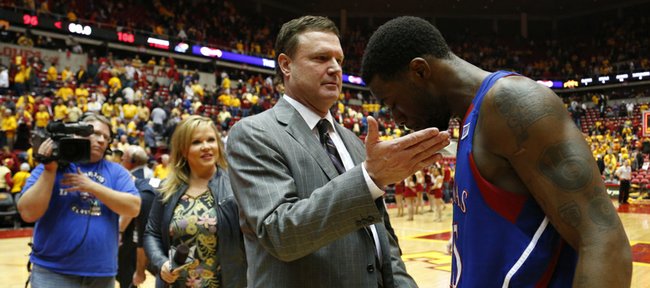 Kansas University senior Elijah Johnson, who had just scored 39 points in an amazing 108-96 victory over Iowa State, presented a gift to coach Bill Self on Monday night in a jubilant Hilton Coliseum locker room.
"They gave me the ball. It was nice in the locker room," said Self, who accepted a keepsake commemorating his 500th career coaching victory.
"I said, 'I don't remember 100, 200, 300 or 400, but I think I may remember this one.' It was an unbelievable game and win. What it means is you are getting old," added Self, 50, who has a 20-year career mark of 500-162 — 293-57 in 10 seasons at KU. "We've had so many good players. Hopefully we'll get them here and win a few more."
Self said it was the best locker room of the year and not because he'd wrapped up his 500th victory. KU remained tied with Kansas State for first place in the Big 12 race at 12-3.
"They were fired up," Self said on his weekly "Hawk Talk" radio show. "The guys love Elijah (whose 39 points were most by a Jayhawk since Terry Brown's 42 against North Carolina State on Jan. 5, 1991). They had some song or dance, and were singing with him. We were a tight-knit group. Everybody to a man was so excited for Elijah."
Self, who has thanked his family members, players, assistant coaches and administrators, said he definitely appreciates the three college coaches he worked for: Larry Brown at KU, as well as Eddie Sutton and Leonard Hamilton at Oklahoma State.
"Coach Brown to me has as good a basketball mind as there is," Self said. "Leonard Hamilton is the hardest worker I ever worked for. Coach Sutton to me is the perfect college coach, combining recruiting, family atmosphere."
He also thanked coaches he played for: Paul Hansen at Oklahoma State and Mike de la Garza at Edmond (Okla.) Memorial High.
"Mike de la Garza is the best salesman I ever learned under, selling the program to the school and community. He's so enthusiastic. Paul Hansen is the nicest man I've ever been around," Self said. "I've stolen from all of them. I remember after I started coaching, I called coach Hansen. I said, 'I understand better now why you did what you did.' I learned a ton from all of them."
Jeff Goodman of CBSsports.com points out that Self could win an astronomical number of games.
"He's averaged 33 wins per season over the past six years, more than anyone else in the nation. If he can go 15 more years and average 33 victories, that would put him in the 1,000-victory range," Goodman writes. "He's in Year 10 in Lawrence and continues to rack up the victories at an alarming pace."
McLemore's early struggles: KU's Ben McLemore, in today's USA Today, recalls growing up in near poverty in St. Louis.
"You get those hunger pains. I am so hungry. We don't have any food. What are we going to eat? Your stomach hurts. Then you get so upset and mad, like, no food. You start having tantrums and don't want to do anything," McLemore said, noting sometimes his family home was without heat in the winter.
McLemore, who is expected to be taken No. 1 or 2 in this year's NBA Draft, wants to someday take care of his mom, who he said is currently unemployed.
"My mom is proud of me. I just want to keep working hard so one day I can help my family. I am going to get a big house one day and we all can stay in it and eat," McLemore said.
Former KU coach Larry Brown told the paper: "If you ask Ben if he wants to stay at KU for four years, I bet he would want it in a minute. But he can't (needing to help family)."
Frankamp in Festival: Future Kansas guard Conner Frankamp of Wichita North has accepted an invitation to play in the 2013 Derby Festival Classic on April 19 in Louisville.