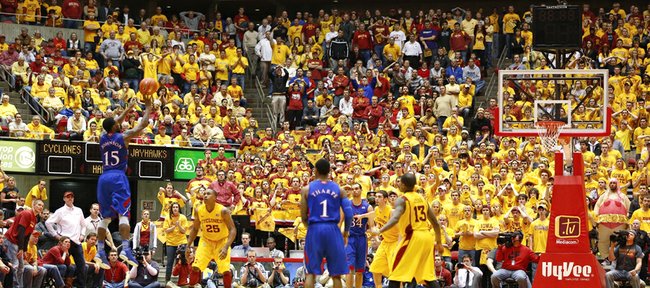 Photo Gallery
Kansas v. Iowa State basketball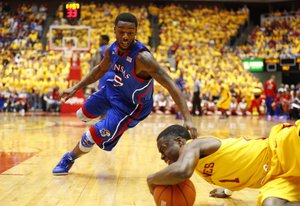 Images from Monday night's game against Iowa State in Ames, Iowa.
Podcast episode
Kansas coach Bill Self talks after his team's 108-96 overtime victory over Iowa State on Feb. 25, 2013.
Podcast episode
Kansas guards Elijah Johnson and Travis Releford talk after the Jayhawks' 108-96 overtime victory over Iowa State on Feb. 25, 2013.
Ames, Iowa — It's safe to say Elijah Johnson's senior slump is over.
Johnson, Kansas University's fourth-year point guard who has been starting floor general of a wildly successful 24-4 team despite some ugly personal shooting statistics, exploded for 39 points — that's right, 39 — in the Jayhawks' thrilling 108-96 overtime victory over Iowa State on Monday in Hilton Coliseum.
He hit 13 of 22 shots, including six of 10 threes and seven of seven free throws — totaling 30 points the second half and overtime.
"Wilt had some good games," KU coach Bill Self — eyes twinkling after the 500th coaching victory of his career — said of Wilt Chamberlain, "but this will go down as one of the best games any guard has played at Kansas. I've never had a guy make every play in a game like that down the stretch. He was huge. He was the best player in the country. I've never had a guy get 30 in a half."
Johnson had the most points of any KU player in a Big 12 Conference game in history. His 39 points were most by any KU player overall since Terry Brown had 42 against North Carolina State on Jan. 5, 1991.
"I blacked out," Johnson said with a grin, asked if he was "in a zone."
"Coach and I had a personal conversation early in the game (that helped him), which happens."
Self admitted he picked up an early technical foul to try to fire up his troops on a day Iowa State knocked down 17 of 41 threes (most attempts against KU in history, one shy of the most threes made against KU). He was hot and bothered by Johnson's play in the opening minutes.
Self let him have it during a timeout.
"He had a couple bonehead plays early," Self said. "He said, 'Coach, next play. Forget about it and move to the next play (as Self tells players to do).'
"I said, 'I'll forget about it when I'm through talking about that play,'" Self added, smiling. "It was a way of telling him that couldn't go on."
Ragged play didn't continue.
Johnson, in one of the most amazing clutch performances in KU history, actually scored 25 of KU's last 36 points — all those points coming after ISU grabbed a 79-72 lead with 5:17 left.
He hit two free throws — the second following a timeout designed to ice him — with 4.9 seconds left. Those free throws tied the game at 90 and forced overtime after a last-second 40-footer by Korie Lucious missed.
"I didn't pay it any mind," Johnson said of ISU coach Fred Hoiberg calling time to shake him.
Johnson also tossed in a deep three as the shot clock expired with :59 left, increasing a 100-96 lead to 103-96.
"I begged for the ball," Johnson said.
Perhaps Johnson's only blunder of the night was dunking in the final seconds instead of letting the clock run out. ISU fans threw objects at the Jayhawks as they exited the court.
"It was wrong," Self said, "(but) Elijah apologized. I said something to Fred and the media. I wasn't very happy about it, but nobody can say that last play took away from the game and our seniors."
Senior Travis Releford exploded for 19 points. Jeff Withey had 13 points and 10 boards. And Kevin Young who had 13 points, nine boards.
Johnson was contrite about the last-ditch dunk to get to 39 points.
"I want to apologize to the coach of Iowa State for the last play. I shouldn't have dunked," Johnson said. "I should have dribbled it out. I got caught up in the moment. Other than that, it felt good. I have not shot the ball as well as I've liked."
Johnson, who entered as a 37.9 percent shooter (31.9 from three), hit 10 of 14 shots after halftime, including five of six from three.
"It was a great performance. It was a great game," Self said, assuring it'd be a happy "12-hour" bus ride back home after the victory kept KU tied with Kansas State in the league race at 12-3. Iowa State fell to 19-9, 9-6.
KU will meet West Virginia at 1 p.m. Saturday in Allen Fieldhouse.