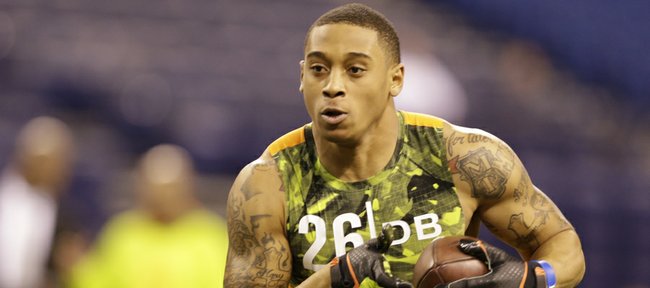 Three days after former Kansas University offensive lineman Tanner Hawkinson hit the turf at Lucas Oil Stadium in Indianapolis for the timing portion of this year's NFL combine, former KU safety Bradley McDougald capped things off with a solid showing on Tuesday.
McDougald, a former wide receiver who switched to safety during the final two seasons of his KU career, finished near the top in several drills and, according to one veteran NFL scout interviewed by the Journal-World, helped his draft stock in the process.
"What he did, he kept himself in the mix," the scout said of McDougald. "He helped himself. He did it all. He competed and those numbers are good, solid."
McDougald's 40-yard dash time of 4.74 seconds landed him in the middle of the pack among the safeties at this year's combine, but the scout said for a guy with McDougald's size — 6-foot, 215 pounds — that number was not too surprising.
"It's adequate," the scout said. "You can play with that speed."
What's more, McDougald's 19 reps of 225 pounds in the bench press, which put him fifth among safeties at the combine, demonstrated what KU fans already knew — that McDougald's game is more about power than speed.
As for the rest of his results, his 34.5-inch vertical jump landed him in the middle of the pack, his 122-inch broad jump placed eighth and his times in the three-cone (7.7 seconds) and 20-yard shuffle (4.44) agility tests were average, according to the scout.
"He's a safety with some size," the scout said. "So those are good numbers, and he's put himself in a position where now we have to see how he plays."
As for the 6-5, 298-pound Hawkinson, who participated in the timing portion of the combine with the rest of the offensive linemen on Saturday, the scout was most impressed by his mobility.
Hawkinson's 5.07-second 40 time was fifth-fastest among O-linemen — "I would say that's very good," the scout said — and his three-cone time (7.52) and 20-yard shuffle time (4.51) both put him in the top 10.
"That guy's intriguing," said the scout, who did not have either KU player on his list at the combine. "Sounds like you're gonna get a big left tackle one day. I think it was a very good showing for KU football."
Next up for both Jayhawks, should they choose to participate, is KU's annual pro timing day on March 15, when a handful of NFL scouts come to Lawrence to test those players not invited to the combine in preparation for the NFL Draft, April 26-28.