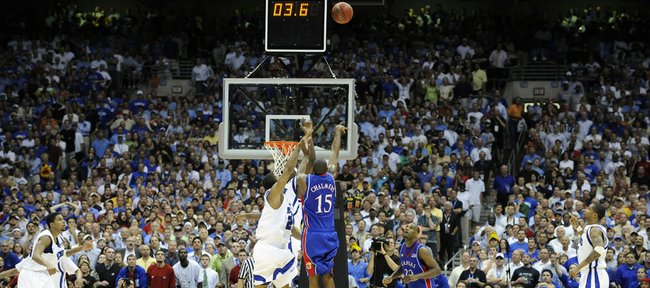 One of the loudest ovations on game day in Allen Fieldhouse the past five seasons has taken place prior to pre-game player introductions when a replay of the biggest shot in Kansas University basketball history is displayed on the center videoboard.
Tape of Mario Chalmers' overtime-inducing three-pointer against Memphis in the 2008 NCAA title game leads to an ear-splitting ovation each and every time.
"I've seen it a couple times. It is one of the most amazing things I've seen before," said Miami Heat combo guard Chalmers, who has attended just a handful of KU games — usually over NBA All-Star break — the past five campaigns.
"I'm not surprised," he added of the reaction to the shot that helps fire-up the current Jayhawks and maybe rattle the opposition. "That shot helped bring a championship to the program. I'm sure people are going to appreciate that for a long time."
The appreciation will never be greater than Saturday, when Chalmers' jersey No. 15 will be hung in the south rafters of the fieldhouse at halftime of the 8 p.m., KU-Texas game. Chalmers becomes the first player off the 2008 title team to be so honored, thanks in large part to the shot, as well as his being named Most Outstanding Player of the Final Four.
"It means a lot to me," said Chalmers, who will arrive in Lawrence tonight and will be one of several former KU players in the NBA in the stands Saturday. Marcus and Markieff Morris, Thomas Robinson and Nick Collison all have said they'll attend.
"Being up in the rafters with guys like Paul Pierce, Drew Gooden, Wilt Chamberlain, it's a great accomplishment."
In a preview of his halftime speech, he'd like to thank, "all of my teammates, coaching staff," he said. "You never forget your college experience. Those were three of the best years of my life. I made some close friends there. I just really became a man at that school."
KU coach Bill Self, who will attend a reception for Chalmers tonight, said: "I am fired up for him. Mario is so loved here. I think he's as liked or loved as anybody who has played here. Mario is such a unique guy. He was as ornery as we had, but he smiled and had that boyish grin. He was the perfect guy to coach because he loved the moment and the competition and still yet he smiled the whole time."
Self has deemed Chalmers the most clutch player he's coached.
"Absolutely. I would put Sherron (Collins) probably second," Self said.
Also, Chalmers is, "the best stealer of the ball I've ever seen in my life. He anticipated as well as anybody."
Chalmers is one of the few players to have won a state title in high school (Bartlett High, Anchorage), an NCAA title (KU in '08) and NBA championship (Miami Heat, 2012).
"It's pretty good to say you have won on every level," said Chalmers, who recently hit a Miami Heat-record 10 threes in a game. "They label you as a winner."
Asked to which is the better feeling, being a starter on an NBA titlist or college champ, he said: "That's a tough one. I would have to say maybe the NBA team because you are doing it at the highest level."
As far as Saturday's halftime speech, it figures to be short but sweet.
"I don't know yet, I am still trying to get that together. This is all new to me so I got to come up with some stuff," Chalmers said.
He said he definitely respects the jerseys that have been hung before his No. 15.
"When I saw them at my first Late Night (2004), I recognized a lot of them," Chalmers said. "I was a big basketball fan growing up. I watched college basketball all the time because I knew I wanted to be there one day."
League standings: KU, which has won eight straight Big 12 regular-season titles, will enter Saturday's game tied for first with Kansas State.
"My wife (Cindy) was talking to me last night and she was saying 'You know what? We're going to win the league. We can still win the league (despite losing three of the past four).' And I said, 'I know babe, we can do this. But if we don't, what would happen?' She said, 'I don't know, I don't know, I can't remember (not winning title),'" Bill Self said, smiling.
"It's one of those things that everybody around here is judged on the postseason. Don't you guys (media) feel like the league titles, in past years, take second place to everything else? We won eight in a row but it's 'What have you done for me in the postseason?' We understand that. But now that we're tied for first, it's like the sky is falling if you don't win the league. Later on, you guys (media) are going to say it didn't really matter as much. But it matters to our players and it matters to our staff and I know it matters to the fans, too. Certainly, we care so much about it. We've obviously made an emphasis of it to be the best in our league for a long time, or the guys wouldn't have experienced as much success as they have. But I'm not putting pressure on the guys to win the league, I'm putting pressure on our guys to get better."
Romantic dinner?: Self planned a Valentine's Day night on the town with his wife, Cindy. "I imagine there are more romantics out there than me," Self cracked. "We'll go to dinner. There's a band playing in town my daughter and daughter's boyfriend are trying to get us to go to tonight and see. Who knows? We may really live it up tonight on Valentine's Day."
Selden honored: KU signee Wayne Selden, a 6-5 guard from Tilton (N.H.) School, will play for the East team in the McDonald's All-American Game on April 3 in Chicago's United Center. No other KU signee made the game.
Randle to visit this weekend: Julius Randle, who will make his official recruiting visit to KU this weekend, didn't make the McDonald's game because he's missed most of the season because of injury. Randle, a 6-9 forward from Prestonwood Christian Academy in Plano, Texas and the No. 2-rated player in the Class of 2013, has a final list of KU, Kentucky, Texas, Florida, N.C. State and Oklahoma. His mom, Carolyn Kyles, told USA Today that Julius will return to action tonight on Prestonwood's Senior Night. He fractured his foot during the second game of the season. ... Anton Beard, a 5-10 junior point guard from Little Rock, Ark., who had been committed to Missouri, reopened his recruitment Thursday. He has a list of MU, KU, Arkansas, Tennessee, Georgia Tech, Mississippi State, LSU and Michigan.